Cox Engine of The Month
October-2018
Mudhen's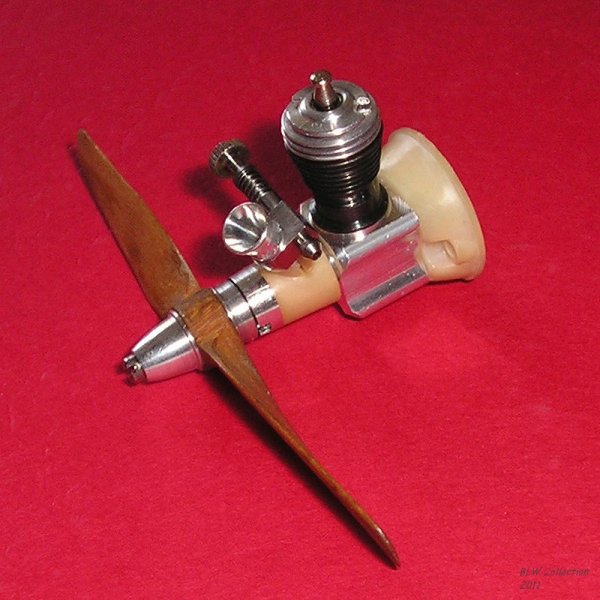 "Prototype T.D. .010 c.1960"
---
PAST WINNERS

Hi,
I'm sort of new at this R/C modeling thing I have always been into building ststic Guillows models but resently while going through a box of old toys that my son had played with back in the 90's I had come across his old U-control F4-U Corsair or better what was left of it... any way if memerory servers me right there was nothing wrng with the engine. so thinking maybe I could stick it into a Guillows warhawk that I have sitting around gatherig dust I took them both to the local hobby store and asked if anyone there could help me match them up. after a list of parts he said he no longer carried and the problem I was going to have finding glow fuel and glow plugs he did finilly did give me the web address of cox international who in turn gave me yours. I guess the question I have is there a formula or something to help me understand, what the wing loading weight is, and what would be for this .049 engine of mine; to at the very least try to put my 21" wing span warhawk in the air ?? will I need to do some wing modifing ?? or is the size o.k. any help and or advice in this matter would be greatly appreciated. Thanking you in advance for your time and reading this Rich,

old man

Guest





Wow, no answers yet, must be a slow night. One of our aerodynamic geniuses will probably be along soon. Welcome to the forums. I hope you'll join up with us.
Moderator




Posts

: 10630


Join date

: 2011-08-10


Age

: 62


Location

: South Carolina, USA



I'm only aware of two Guillow P-40 kits, the 400 series with a 28" span and the 500 series kit with a 16.5" span.

To calculate wing loading, you need two values: the all up flying weight (AUW) of the model measured in ounces and the wing area measured in square feet. The P-40 wing is a single taper planform, so the area can be roughly calculated by breaking the wing into a rectangular portion and a triangular portion. Calculate the total area in square inches and divide this by 144 --- this gives the area in square feet. Divide the AUW by the wing area to get wing loading, i.e., ounces per square foot. A model that is heavy (has a high wing loading) can be difficult to fly, may have a tendency to snap roll (aggrevated by a tapered wing planform) and will not glide very well at all.

Guillow kits have a reputation of being heavy due to the construction techniques employed and the heavy wood that is included. This can be helped somewhat by substituting lighter wood purchased from the hobby shop and being very careful in the use of glue and paint. Something in the 12.5 to 14 ounce/sq. ft. loading will be flyable. You can get by with a slightly higher loading if used for controlline, but performance will be impacted.

There is a thread in RC Groups on converting Guillow kits to electric --- .

While building a P-40 is certainly appealing, for a first plane with engine, I would be inclined to choose a different model to start and save the Warhawk for a later date.


Diamond Member





Posts

: 1231


Join date

: 2011-08-11


Age

: 70


Location

: Western Kentucky



First, Rich, welcome to the forum, I hope you decide to stay.

As to your questions, I must agree with Andrew on this one, a low wing, scale model with an .049 is definitely not a suitable combination for a first model, you have just about everything going against you!
However, that said, you don't say what type of flying you are contemplating, free flight, control line (U-Control) or radio control? Of the 3 options, control line would be the most likely to succeed, given the model and engine combination. Wing loading is not such an issue, and lateral stability is taken care of, however, due to the relatively fragile construction of Guillows kits, the model is unlikely to survive the inevitable crashes you would have while learning to fly it.
if you want to come back and give us a few more details of the kind of flying you have in mind, and your experience of model building we would be more than happy to point you in the direction of success in this great hobby.
You certainly have a good starting point with the Cox .049, and given a suitable model you will soon be flying with the best of us!

Wilf
Diamond Member





Posts

: 1752


Join date

: 2011-09-30


Location

: Northern Ireland





Similar topics
---
Permissions in this forum:
You
cannot
reply to topics in this forum