Cox Engine of The Month
May-2019
Tee Bee's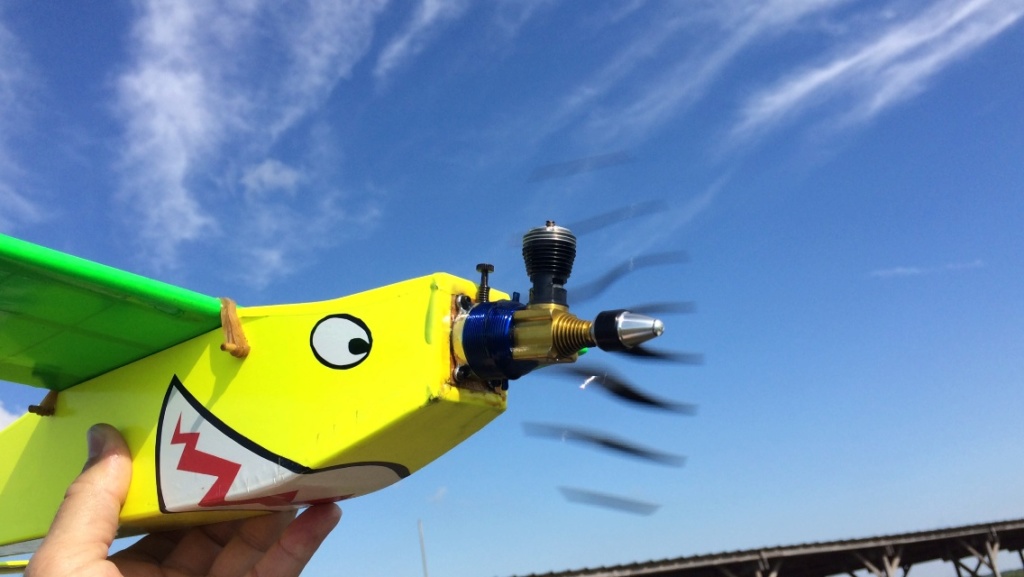 "This RR1 was restored for all the right reasons"
---
PAST WINNERS

I need a fine thread NVA for my Norvel .061. I checked Texas Timers and Kitting it Together with no luck. I read about people boring the venturi to fit it, but I'm not wild about that idea yet.
Thanks,
Rusty
Rusty, you could buy the needle and spray bar that Texas Timers sells for the Medallion.049. You can modify it by making a bracket and run it remotely. You just have to provide a way for the fuel to get into the venturi. Personally, I would remove the venturi removed all together using the remote needle. I then use a WD_40 straw siliconed into the case . I heat the straw a bit and it bends 90 deg. I allow the straw to go into the case about 1/16th. If you have a production Cox needle and spraybar with the 128 tpi this will work also. I use a Dubro wheel collar like and solder the spraybar into the center of the collar. Your essentially making a banjo bolt. Make sure no solder gets into the hole. You align the hole of the spray bar with the hole of the set screw. I solder a small piece of tubing into the set screw hole. I believe Hank shows an example like I'm mentioning on the Timers site. You can use many types of needles such as the OS #1A as well and make a remote bracket and fitting.
Drop Larry Driskill an e-mail and see if he has any of his Super Tigre style needles left for the Norvel / VA's. He was listing them for a while. These were direct replacements for the aluminum venturi's that were epoxied into the case. If your venturi is bolted into the case I would try and use the WD-40 straw method into the case like I mentioned. The bolted on venturi has the hole in the case very close to the edge of the bathtub opening. You may also try and use the Cox spray bar here as it may fit the hole (possibly) secured with a bit of epoxy on each side. Drilling the case with the through bolted venturi's is not a good idea as there is very little material left. I know you don't want to drill anything. Try and give Doug an e-mail to see the availability of the units he was selling
F1Cdoug@aol.com
. I can have my son take pictures of the examples we use. I haven't learned how to do that no matter how hard I try. I guess I'm old. Ken
Last edited by shawn cook on Mon Jul 30, 2012 3:38 pm; edited 1 time in total
Thanks, Ken, that's a few ideas I can consider. One way or another I'll get it rigged up. As far as I'm concerned, there's just nothing easier and more dependable than a pressure bladder on a rotary valve engine.
That's all I run on Norvel's. I've had the luxury of obtaining some of the VA needles which in my opinion is the best there is. These are even finer than the KK needles and unobtainable. I recently stuffed a plane a few weeks ago and bent one. I've been searching as well for good replacements. One thing for certain, the combat community isn't about using what isn't available but what we can use off of the shelf. Ken
Here's Doug Galbreath's reply
F1CDoug wrote:Rusty

I have a 3mm, which I make to fit the Picco P-zero .051/.049. It also may require a bushing on each side, and would increase the venturi area somewhat. You can see that one in the picture of the P-zero on my web page. It works fine for small engines. $20.00 + $1.95 postage.
Thx
DG
Here's the cool engine it's made for:
http://www.the-printer.net/DookCat.html#picco
Haven't heard from Larry yet, but Doug's NV could get me going pretty easily.
Rusty, a few of us were using the Picco. Very cool engine indeed. The problems we were faced with are similar to Doug's findings. The engine likes to break cranks. Some of us were using JB-weld and making a ramp in the crank cutout to help with the stresses of the squared cutout.My friend and fellow flyer Al has done the JB weld mod and to date it really is holding up well. It's quite large and shouldered square in the front and the crank breaks right there. Is your Norvel the bolted in venturi? Ken
shawn cook wrote:...Is your Norvel the bolted in venturi? Ken
Yep, that's the one, looks like a set screw. I think it's pretty recent production.
I took a look at it a while ago. I think part of my problem was too much gooey castor still in the crankcase while I was trying to crank it. If I flip it now, the pinch is indistinguishable from the compression resistance. If I flip it slow, there's still a tight pinch. I believe that's what it should be feeling like. I found my big Dubro tank, and I'll give it another go tonight with heat. I bet it cranks right up. I left the damn cap off my fuel bottle last night. Luckily the temp has only been in the 80s.
Hey Rusty,

What are you doing here typing away at us when you should be out in the shop converting glow fuel to noise and slime?
Diamond Member





Posts

: 1290


Join date

: 2011-08-11


Location

: Naples, Florida



One thing I find best to use with these is the spring starter. Although expensive, they work and work well. These are the ones that were available with the Big Mig Start Up engines. These came with the spring starter and Norvel beam mount / tank. Not necessary but they do work. I'm typically not an electric starter spring starter person. Ken
fit90 wrote:Hey Rusty,

What are you doing here typing away at us when you should be out in the shop converting glow fuel to noise and slime?
Recovering from dialysis and spending quality time with my wife Holley. I have a date with the Norvel after supper.

I ordered a spring starter last night.


Similar topics
---
Permissions in this forum:
You
cannot
reply to topics in this forum