Cox Engine of The Month
March-2018
dckrsn's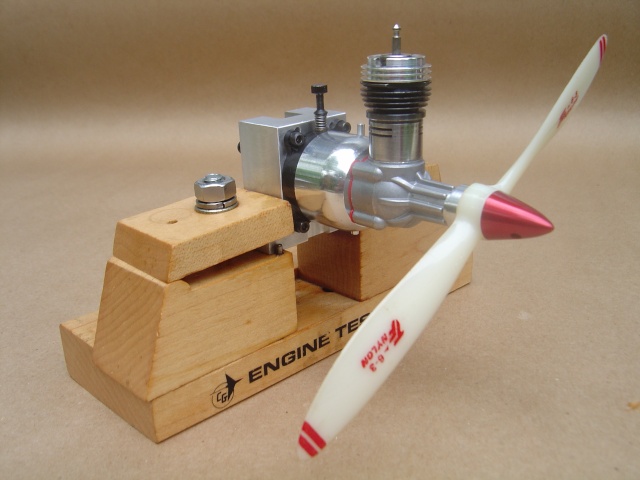 "Cast Case Diva" .049
---
PAST WINNERS

Hi, I originally asked questions and posted previously called "Starting a Diesel for the First time Tips and for Breaking in"

At this point, I have bought a Cox 049 Diesel Bomber, with an 8x4 prop. The Bomber has a spring to help start.

I have created my own fuel mix about with ether/heptane (starting fluid from the gas station), castor oil, and some Cetane booster from the auto shop. The starting fluid contains about 30% ether, rest heptane (since heptane acts as the kerosene).

I began with the compression all the way out and the needle valve 3 turns out from closed and primed by adding drops into the side of the piston, while it is all the way up and then winding up the propeller and releasing. If it didnt start, I turned the compression in just a little and tried again. Every now and then I would re-prime the engine using the description above. In the end, the compression was all the way in and no starting. Even moved the needle valve to about 3 1/2 turns somewhere in there too but no start.

I did smell it ignite the fuel at a few compressions, but the engine did not start. I also tried moving the needle valve to closed while the compression screw was all the way in, but the engine still did not start.

In addition, I bought 40% nitro fuel and tried the same method (3 turns on the needle beginning with the compression all the way out) and no starting. This is because it was recommended on the Cox website.

The starter spring came out of its position too and had to keep putting it back. Tried using tape to hold it, but the fuel dissolved it!

If you have any tips to help me start this diesel I would appreciate it. It is a brand new engine and I would like to get it started.

Sorry for the wall of text, but I want to make sure that it is clear exactly what I am doing in case I am doing something wrong.

Appreciate the help in advance. I am very new to these engines so in your responses, please be very clear and explain things simply. I am still learning the terminology.

Thanks

RUDiesel

Guest





From everything I have read about diesels, you flooded it when you primed it. I have been reading, but have never tried a diesel so find a grain of rock salt to take my summery with.
http://carlsonengineimports.net/FAQ.html
In the second half of this FAQ (below the table) it recommends bench testing by disconnecting the fuel tank, and priming with a "couple drops" of fuel in the intake, NOT the cylinder. It also says it is written for a .15 engine, so this isn't a lot of fuel, even less for a .049.
It should run briefly when you get the compression in the ball park, and after re-priming through the intake it should run briefly, again, without changing anything. Then the document says how to set the needle.
This isn't the only place I read to
* prime through the intake
* start with an empty tank or fuel line disconnected to verify or set compression
* diesel engines use about 1/2 the fuel as glow for a given displacement
it is just the only one I bookmarked...
Phil
Diamond Member





Posts

: 2941


Join date

: 2012-10-02


Location

: Ohio



I think a lot of people break them in with nitro glow fuel, but this is with a glow head in place of the diesel head. After it's run-in and loosened up, you can go back to your diesel head and fuel. When you mentioned glow fuel and adjusting compression in the same sentence, I thought maybe you didn't realize this.
40% is some really high nitro. Make sure it has plenty of castor oil in it if you use that fuel.
Moderator




Posts

: 10493


Join date

: 2011-08-10


Age

: 61


Location

: South Carolina, USA



I have never messed with a diesel......

That said, I took your post the same way Rusty took it. I assume you are using a glow head with the glow fuel?

Seems to me to run a diesel all you would need is fuel and compression. If you have compression then you may want to take a look at your fuel. Eliminate possibilities one step at a time.

Keep posting, eventually we will help figure this out.

Ron

Moderator






Posts

: 9643


Join date

: 2011-10-24


Age

: 44


Location

: Tuttle, OK



i dont claim to be proficent with diesels but ive had an run a few in my time

firstly the fuel ...either needs to be 100% either not 30%mixed with something else
either only reduses the flash point of the fuel so it can start easier

fuel...here in australia we use either diesel fuel...or kerrosine

oil is usaly caster or caster based depending on manufacturs requirements

the mix/ratio i use is 1/3 of each of equal parts


Gold Member





Posts

: 334


Join date

: 2011-08-08



To answer a previous question, I did not try to run the engine using a glow head when using the glow fuel. I did not know I would need to. Since the flash point is lower, I thought it wouldn't matter much anyways.

Another poster mentioned priming through the intake port by disconnecting the fuel line. I'd also read this and the side of the piston, and since it is a pain to get the fuel line back on again, I had figured this would be easier. Also, wouldn't priming the engine be difficult since the fuel intake is at the bottom of the engine? And it's a small port too.

On a side note, with the fuel line on, I had tried with my squirt bottle to squirt fuel into the fuel line but very little went in and it was quite difficult to get it there too. Just wondering if anyone else has this issue. The fuel line is the diesel fuel line sold from the Cox website.

At the moment, I have no fuel "tank" per se. I was intending on using the small squirt bottle as the fuel "tank" and having it gravity feed into the bottom of the engine via the fuel tubing.

RUDiesel

Guest





It sounds like there is something wrong with your fuel, just buy a commercial, ready mixed, fuel and use that until you get a feel for it.
Diamond Member





Posts

: 1437


Join date

: 2010-11-20


Location

: Sweden



First, diesel engines are not for the faint of heart as they can be quite difficult to start for a novice.

Secondly, it is absolutely recommended, especially for a novice, to break in the engine with glow fuel (nitro based), using a nitro glow head (using the diesel head will not work).

Third, proper diesel fuel must be used. It is not that one cannot deviate from the recommended mix but, if a diesel novice, it is best to experience some running time with the proper fuel mixt first before experimenting.

Lastly, a proper tank setup is highly recommended to begin with before experimenting with alternate fuel supply setups.

Diamond Member







Posts

: 2489


Join date

: 2011-08-08


Age

: 59


Location

: Williams Lake, BC, Canada



i know i am late for this topic

buy i would still drop my info

open the engine
and look at the reed
mine (one with the purple head) had a double reed and would not start becaus of that

maybe its to late but hey that is my advice
Gold Member





Posts

: 293


Join date

: 2013-07-28


Age

: 27




---
Permissions in this forum:
You
cannot
reply to topics in this forum