Cox Engine of The Month
October-2018
Mudhen's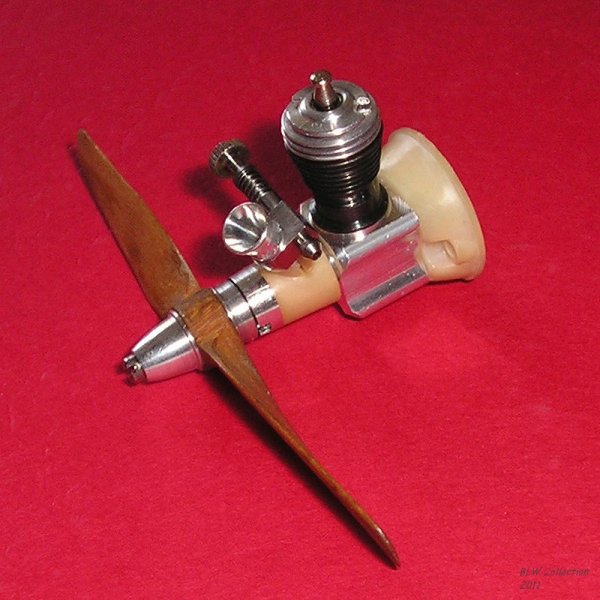 "Prototype T.D. .010 c.1960"
---
PAST WINNERS

This has been hanging in my old room at my parents house for about 40 yrs. I decided I wanted to find out who made this helicopter. I thought it was Estes since I was doing the rockets at the same time as I remember. I bought the Cox .020 Pee Wee engine at the only toy store we had in our small town at that time. There are no markings on this helicopter. Not even a "Made in the USA". Kinda of unusual. I have Googled everything I could think of, but could not find a single pic of this model. Thanks for your help.
New Member





Posts

: 2


Join date

: 2013-01-14



I had one identical to that in the early 70's. Same color same motor. I don't remember where we got it or who made it. I do remember that it flew well and we had alot of fun with it. I always assumed it was a Cox model and I tried to research it but came up empty. Someone out there knows. Mike
It looks like the engine lifts it off. It's platform must be locked in that direction keeping the engine and heli blades from spinning. And then when it shuts off, it counter rotates back down in free-flight with the whole engine platform turning with the helicopter blades. Did I get that right?
Moderator




Posts

: 10630


Join date

: 2011-08-10


Age

: 62


Location

: South Carolina, USA



The way it works is the engine and blades spin together. Nothing is locked. The body is really for show, it just spins opposite the propeller. The propeller provides all the lift while the lead weights on the blades provide stability. The blades pivot on the wire they are attached to, IE they can change pitch. They are pitched one way on the ascent and reverse pitch after the engine quits for autorotation back to the ground. They come down pretty fast but as long as it lands on grass it usually wont break. Ours only broke when it landed on an asphalt road. Mike
Well, the original poster only has the one post and that was in January. Let's hope he sees this. Good find!!!

Ron
Moderator






Posts

: 9815


Join date

: 2011-10-24


Age

: 44


Location

: Tuttle, OK



That's very interesting. Thanks for posting that.
New Member





Posts

: 2


Join date

: 2013-01-14



Last edited by kevbo on Tue Jun 11, 2013 2:44 pm; edited 1 time in total
Silver Member





Posts

: 89


Join date

: 2013-03-05



Estes sold them under their own name for a while. I bought mine via a little fill-in-the blank advert/order form. (man the internet makes buying simple!) Perhaps they were reselling Tried & True, or maybe Estes bought them out so they could run them into the ground like they did to Cox.

The Estes version came as a kit of parts, supply your own pee-wee. I think maybe the T&T version came RTF with an engine, but that is just a WAG. The Estes instructions had you drill a 1/16" hole in front of the tank for venting, then you put a loop of fuel tubing over the filler pipes to fly it.

The pee-wee would not make enough power to fly it in Denver. Maybe if I had known about high nitro fuel. Mine didn't survive too many flight attempts. The fuel tended to degrade the plastic, especially where the glue had solvent welded it. I wanted that thing to fly in the worst way. A few years later I bought the cox sky-copter, and found it to also be unable to rise out of ground effect.

That pee-wee ended up on a Goldberg Ranger 30 FF. I had no way to measure the fuel, so I typically just topped it up to the hole from the helicopter fiasco. That sucker would get really high if it missed the ground on the first stall recovery (trimmed perfect for glide, but would stall under power....probably needed more downthrust on the engine.) Wonder I never lost it. I'd fly it on calm summer evenings, so fortunately it never found a thermal. My flying site at a big wetland in the middle. I remember the skeeters were fierce!
Silver Member





Posts

: 89


Join date

: 2013-03-05




---
Permissions in this forum:
You
cannot
reply to topics in this forum