Cox Engine of The Month
May-2019
Tee Bee's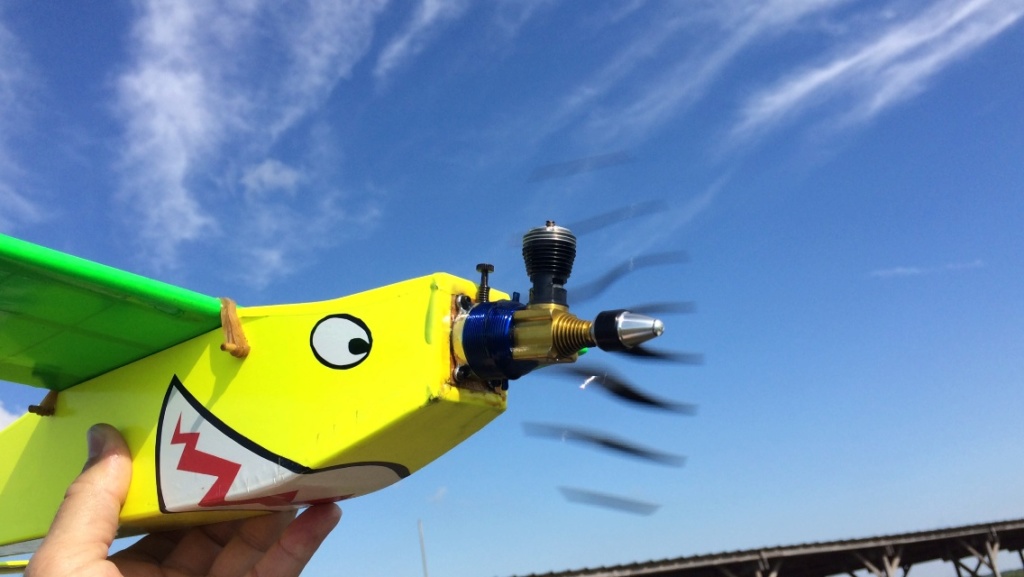 "This RR1 was restored for all the right reasons"
---
PAST WINNERS

After feeling how hard my Shoestring pulls on the lines, I'm second guessing my choice of leadout wire. The plans call for .025"-.031" cable. This cable is 7 strand steel, not braided, and including the nylon coating it's .026". It's fairly stiff and 45# test. I thought I was buying what was originally on it, but then realized it was not quite as thick.
I'm thinking I need to replace the leadouts before my next trip to the field. Any thoughts?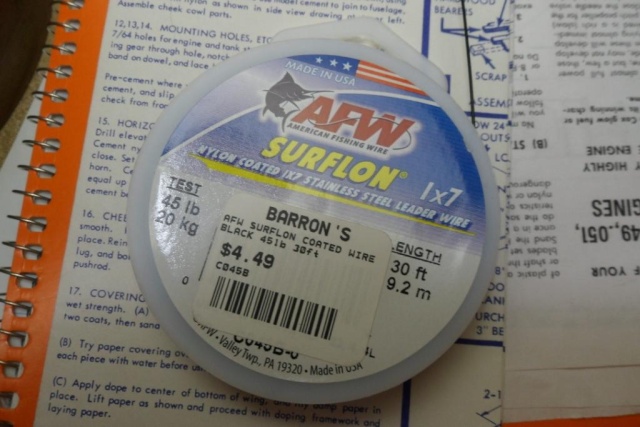 Rusty, my choice would be the Sullivan C-D leadout wire. That wire is extremely flexible and really stands up to the job. The downside is the wire has many strands.It's a bit pricy as well but you do get a quality cable. The cable can come unwrapped when cut or ground with a grinder which can be problematic to stop unwrapping. Once terminated, all is good. Brodak leadout wire seems to be quite stiff and is hard to work with especially when trying to use crimp tubes. It works well however. Lately I have been using a reel of Sig .027 flying wire. Tom Morris provides some of the finest wire and control systems in the hobby.

In terms of pull, the plane should be pulling but not that extreme. Remember, the weakest ling is going to fail first and your line diameter is only .015's. The breaking strength of .015's are in and around 55-65 lbs. That's quite a bit and I certainly don't forsee you breaking them. When we fly combat, our flying line is our leadout line which due to the abuse we put them through are required to use .018's for .25 size models regardless of weight. What will break a line is if the plane flies across the circle or gets blown out of a maneuver and you jerk the lines trying to regain control. That jerk can instantly snap a line. We don't use leadouts on our combat equipment and the lines attach directly to the bellcrank via buttons on the bellcranks and loops on the flying lines. No mechanical fasteners hold the lines to the plane as line tension does this for us. These models are slightly lighter but for the most part finish at or around 24 oz's. the speeds are not to exceed 75 MPH. Ken
Top Poster





Posts

: 3489


Join date

: 2012-03-27


Location

: pennsylvania



True about the flying line, mine is .015 as recommended for a .25 engine. Maybe I should use the .018 since my .25 is stronger than in Goldberg's day. But anyway, what I have for leadouts is probably safe, but I don't like "probably", so I'll get something stronger. Thanks.
Uh oh,

I just picked up an old set of SIG .015 lines at a LHS here in Kansas. Are you guys saying that's too small?
Moderator






Posts

: 10309


Join date

: 2011-10-24


Age

: 45


Location

: Tuttle, OK



Remember, flying line sizes were based on engine size from yesteryear. The rules have been changed and is solely based on your model weight. FLying with .018's can have an extreme negative affect on your plane. It can make the inboard wing drop and it can certainly cause your model on take off to roll in if not careful. There would also be a drag factor to consider which will slow the model slightly as well. This is one reason I hate flying plain bearing engines in combat with .018' stainless due to them severely handicapping the plane's performance. Switching to Spectra Pro Braid for me resolved that on my .25 size planes as it allowed me to even remove tip weight as well and no slowing in the maneuvers. I personally have never witnessed a line break due to the malfunction of the wire itself. It's always been something in terms of a failed termination or a severe kink that was in the line. 015's are quite strong and I use them flying models which are .46 powered. Most larger sized stunters however are trimmed not to pull like that but adequately maintain line tension. I wouldn't fear the line tension due to being accustomed to flying 1/2A's. But if your that concerned a little peace of mind isn't a bad thing. Ken
Top Poster





Posts

: 3489


Join date

: 2012-03-27


Location

: pennsylvania



for years .015 was good for .40 and .018 for .46 and bigger, but i think the AMA changed it and you can fly .015 up to .51 now????
Top Poster





Posts

: 3725


Join date

: 2011-09-01


Age

: 60


Location

: Rockford, Il



Just for further info, here's the 2013-2014 rules for the Dyneema fishing line, such as Spiderwire:
5.3.5.1
Spectra Lines.
Lines made of Spectra fiber, made of gel spun ultra high molecular weight polyethylene are
permitted for sport flying and demonstration purposes. Spectra lines are not permitted in competition unless the specific rules for the event flown expressly permit such use. The use of high visibility yellow
lines is recommended, but not required. For sport and demonstration flying with two lines, Spectra lines
shall have the following strengths:
(The columns don't line up right when I pasted it)
Weight Displacement Watts Rated Spectra St.
24 oz .09 300 20lbs. .010"
40 oz .25 450 40lbs .013"
64 oz .40 600 60lbs .016"
75 oz .75 750 100lbs .018"
All lines shall be pull tested to 10 times the model weight. An aircraft must meet both the weight and power standards to qualify for the stated line size. Exceeding either standard places the aircraft in the next larger line size bracket. Aircraft shall be weighed with either a full fuel tank or battery on
board.
Terminations shall be constructed using a 5 turn uni-knot, tied on a bight, or two strands of line looped back from the free end. An instruction film of the knot can be found at
https://www.youtube.com/watch?v=cGL2aD9q-cE
So for a 40oz plane with a modern .25, 40# spiderwire is legal. Following this logic, my 45# test steel leadouts should be safe for my 31oz, .25 powered plane.
Nice info, Rusty. I've bookmarked the video on the uni-knot for future reference.
Diamond Member





Posts

: 1235


Join date

: 2011-08-11


Age

: 71


Location

: Western Kentucky



andrew wrote:...I've bookmarked the video on the uni-knot for future reference.
Yes, That's a good knot. Up until I saw it, I'd been using a Palomar, but that's impossible for tying to any object too large to pass through the loop. In such a case I would double the line and tie my version a 4 wrap fisherman's knot which seemed strong, and is great for monofilament, but always worried me with Spiderwire. This slick Teflon coated line is pretty slippery. The good thing about that is you don't have to count your loops(with 1/2A at least). I've twisted it up a ridiculous number of times in flights and it never binds.
Remember it is a doubled uni-knot, you take the end of the line and fold it over, pass it through the terminal tackle, then tie the knot. This way there are 2 lines included in the knot, and 3 tag ends when you are done and trimmed.

A tag end is a free end sticking out of the completed knot.

Phil
Diamond Member





Posts

: 2983


Join date

: 2012-10-02


Location

: Ohio





Similar topics
---
Permissions in this forum:
You
cannot
reply to topics in this forum