Cox Engine of The Month
March-2023
rdw777's
"Cox .020 w/Homemade Throttle - Pageboy"
---

---
PAST WINNERS
Today myself and a few club members managed to make it to our yearly get together. The Flying Dutchmen of Reading, Pa is to my knowledge one of the oldest clubs still operating in existence. We had quite a turnout for a rainy dreary overcast day. All circles are paved so for me it was plenty of speed stuff including pulse jets and rat racers. I built a 1/2A proto speed plane strictly for fun and enjoyment powered by one of my worked over Tee Dee's. Unfortunately, and sad to say I replaced it with a more modern AME Zeuss. I managed 10 laps at 90+ mph. I figured not too shabby for the plane. Speed takes a lot of patience and testing. This includes several prop choices and head shimming, etc. A lot of documentation and constant monitoring of the flights. I for one was out to just fly a few flights and enjoy. I managed to do both.
I was able to see some of the new builds from this winter but also some of the neatly restored old relics from years back. Here's a pic of something you don't see too much which is the Sterling Corsair. Not a graceful flyer, but sure looks pretty on the ground. Also, a picture of a reconstructed P-38 Lightning, 2 Enya 35's for power, 73" wingspan weighs in at a whopping 96 ounces. That's right, 96. I was shocked at how well it flew actually. My son put it through it's paces. Low level inverted laps and just hard core flying. Flying over asphalt is different and for me seeing as I do most of the building becomes a bit scary. For my son, he shows no fear and just goes all out. Ken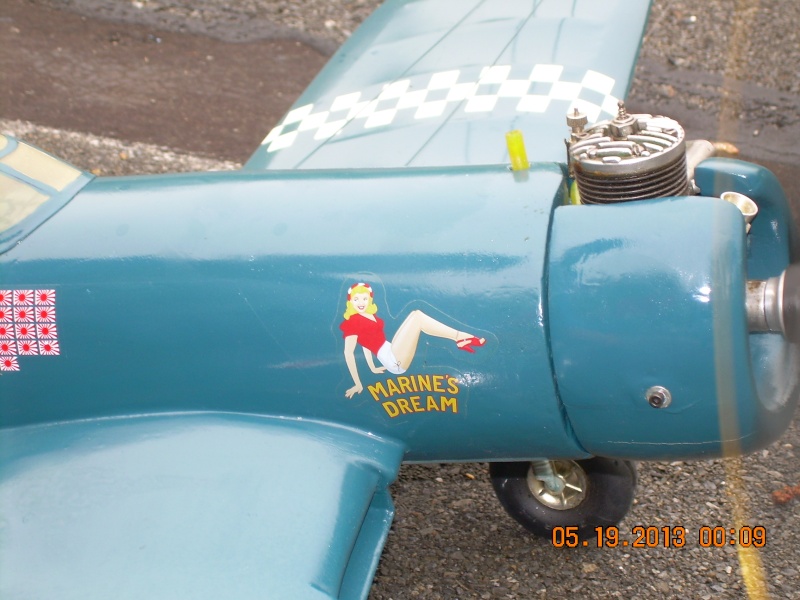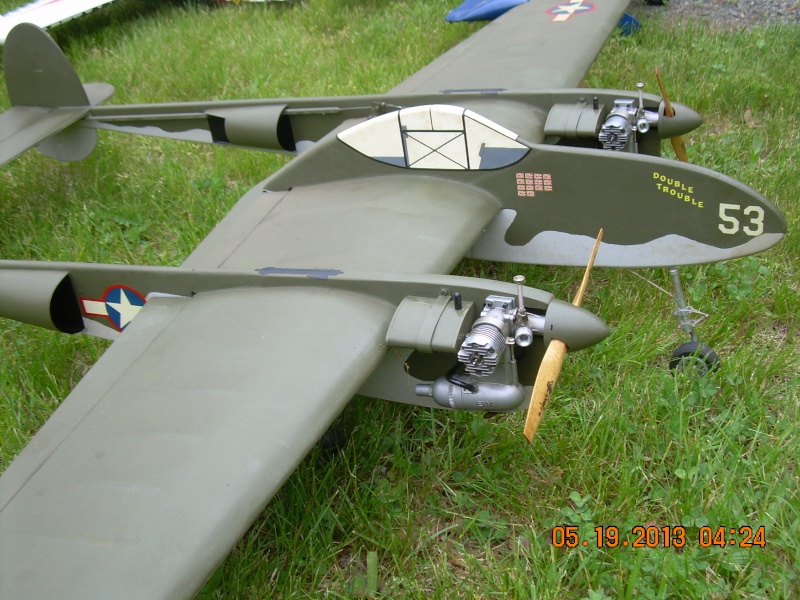 Ken Cook

Top Poster





Posts

: 5111


Join date

: 2012-03-27


Location

: pennsylvania



Nice. Both planes. But really I love the Corsair. It looks so real swinging that big ol' yellow tipped prop.

RknRusty

Rest In Peace





Posts

: 10869


Join date

: 2011-08-10


Age

: 67


Location

: South Carolina, USA



A few more from today The red plane is my friend Dan's Galloping Comedian which is a Red Reinhardt design. Everything on the plane is Sig dope aside from some of the lettering which is letraset. All panel, rivet lines are inked on. The plane itself is a work of art. Dan is quite talented spinning the aluminum cowling himself and making the aluminum wheel pants (Not shown). Fox .35 for power and a terrific flying plane. For us Bug's Bunny fans, take a peek at the recommended fuel the plane uses in the white lettering on the wing. I bet Marvin the Martian knows. Ken
[/url]

Ken Cook

Top Poster





Posts

: 5111


Join date

: 2012-03-27


Location

: pennsylvania



My favorite ever! I was a huge Bugs fan. Marvin's explosive space modulator. "Oh my... where's the kaboom!?"

Man, Ken, you're in the company of some fine builders. Thanks for sharing.
Those guys over at Stunthanger.com are so far ahead of me, I'm in awe of what a real balsa artist can do. I was hoping to meet Derek Barry, the builder of the Matrix featured in the last PAMPA mag, at the Joe Nall. But alas, family business prevented me at the last minute from making the 90 mile trip. Derek lives about 60 miles from me. I'd like to rub elbows with some of these guys.

RknRusty

Rest In Peace





Posts

: 10869


Join date

: 2011-08-10


Age

: 67


Location

: South Carolina, USA



Derek's Matrix is an amazing piece of artistry. Dan and Derek know each other. I hope you do get to meet him and I'm sure you will be quite enamoured by the quality and beauty of a top notch stunt ship. Ken

Ken Cook

Top Poster





Posts

: 5111


Join date

: 2012-03-27


Location

: pennsylvania



Some guys have all the luck!

It never fails to baffle me that for miles around me there is field upon field and yet so very few fliers. Looks like PA is a good place to be if your into CL. Nice planes! Hope you had a good time.

Ron

Cribbs74

Moderator









Posts

: 11880


Join date

: 2011-10-24


Age

: 49


Location

: Tuttle, OK



Similar topics
---
Permissions in this forum:
You
cannot
reply to topics in this forum