Cox Engine of The Month
September-2023
balogh's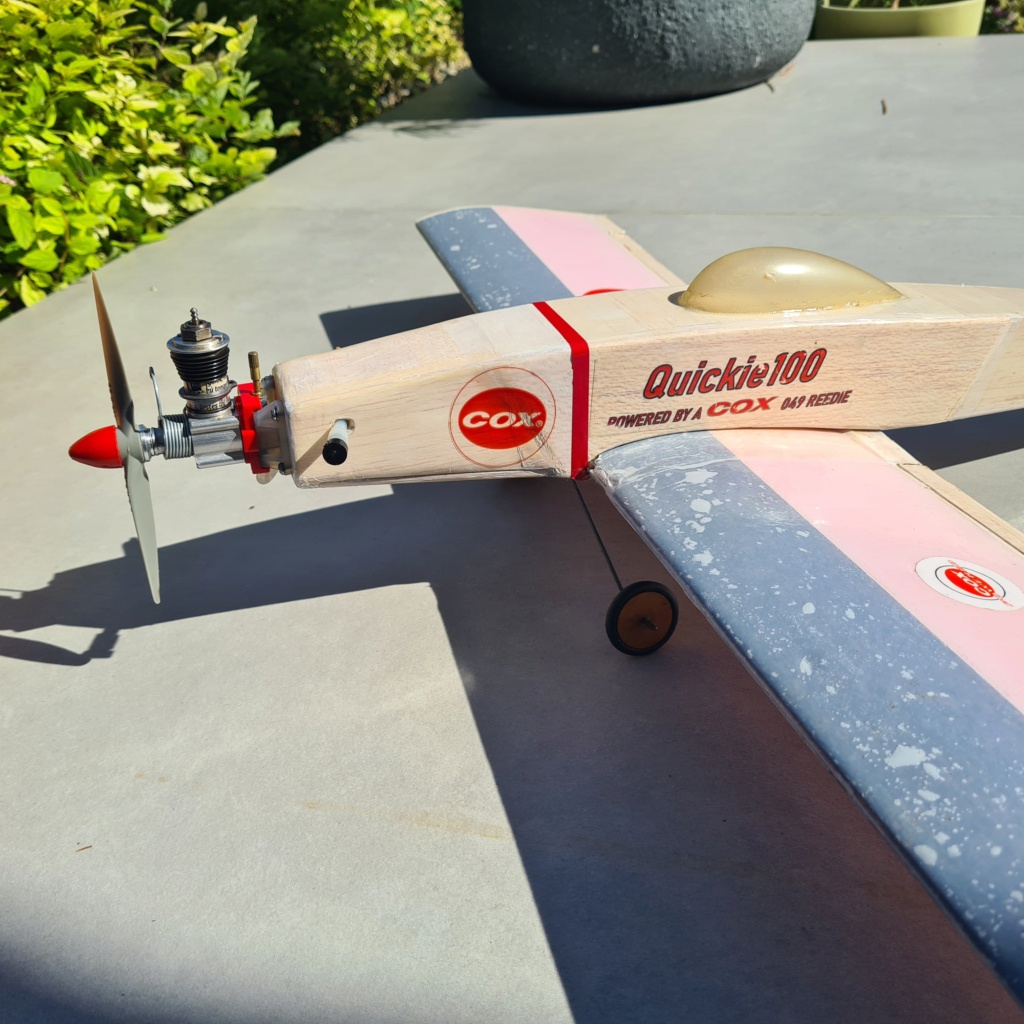 "Beefed up old stock 290 on my Quickie100 RC after plenty of airtime hours..."
---

---
PAST WINNERS
Page 2 of 2 •
1, 2
Take some 2x4 and screw the engines on the end or side.    I prefer the end of a 2 ft piece for bulkhead engines.

For the tee dee take a 1x4 or 2x4 and cut a notch in the end of the board so you can screw down properly into the fork you cut.  

I would add some castor to the fuel, at least 1 oz per quart, up to 2.5 oz per qt.  This will boost the total oil to 20% (1 oz added castor) and the impact on the nitro will be about .75%.  Methanol is balance, so don't worry about it.  

You can run the engines on 25% castor oil without nitromethane.  They are finicky and difficult to needle like this but they run fine.  If you want to blend some of this wonderful stuff you can get pure methanol in the yellow HEET fuel additive at most auto parts stores.  (Yes, I have flown on this fuel.  The needle setting is very "lean" providing a long run time, and the reason it is so difficult to needle.  Nitromethane brings some of its own oxygen to the party so more fuel is used.)

What I am saying is don't sweat the nitro or the methanol.  The oil is really more important.

Phil

pkrankow

Top Poster





Posts

: 3025


Join date

: 2012-10-02


Location

: Ohio



Got it!
Just for a second though.
Now I have to work on my fuel line and supply. (The engine died as soon as it used the fuel in the cylinder.)
BRB!

policetac

Moderate Poster





Posts

: 10


Join date

: 2013-08-01



policetac wrote:Got it!

Just for a second though.

Now I have to work on my fuel line and supply. (The engine died as soon as it used the fuel in the cylinder.)

BRB!
Keep the line as short as practical and the tank high enough so the engine doesn't have to suck it uphill, but not so high that it gravity feeds the engine and floods it. It's easier for a right handed person to back flip the prop. It's a tossup as to which way it'll start unless you are using a spring. If it starts backwards, pinch off the fuel and try again so it doesn't overheat. It needs the air flow over the cylinder.

RknRusty

Rest In Peace





Posts

: 10869


Join date

: 2011-08-10


Age

: 67


Location

: South Carolina, USA



SUCESS!!!
https://fbcdn-sphotos-c-a.akamaihd.net/hphotos-ak-ash4/1004843_10201642514606254_117413553_n.jpg
I got her going today!
(She didn't fly very well, but that's a different thing all together.
I'm going to post a new topic and go over all the newbie stuff again.
Thank you all who helped in this!
Sincerely,
policetac

policetac

Moderate Poster





Posts

: 10


Join date

: 2013-08-01



I also use Sig Champion "25" in my Cox engines. If you acquire a used engine or find one somewhere (yard sale etc.) that feels seized-up... it is often merely a result of the castor oil hardening (it oxidizes) over time of non-use (years)... DON'T try to force it to turn. Soaking the engine in a container of solvent (kerosene) for a few days may be all that's needed.
If it's a reed valve engine; Baby Bee, Pee Wee, Sure Start etc... The reed may be stuck to the seat. An indication of this is where the engine "will start" with an exhaust prime, but won't stay running. In this case; disassembly is required to access the reed and it's "retainer". A small screwdriver is all that's needed for this. I work over a "cookie sheet" so as not to lose any of the parts (screws, gaskets etc.) The reed is a small, thin, FRAGILE part that must be handled with care. It "is" however, replaceable. The area where the reed "seats" (against the venturi opening) is where it can get stuck from hardened castor oil. The retainer that holds the reed against the seat, may be a metal spring-clip, and can be removed with small needle-nose pliers. DON'T scrape or scratch the seat area, or else the critical seal between the two will be compromised. Again; "soak it" with solvent, and "carefully" try removing the reed gently, with a wooden toothpick. Clean the seat area with a soft rag, soaked with solvent. On engines with "integral" fuel tanks (Baby Bee, Golden Bee, etc.) inspect the fuel pick-up line which presses onto a sm. nipple on the inner backplate. If the line is cracked or brittle; it should be replaced. Inspect the sm. venturi gasket which is between the backplate and the venturi. Remove the needle valve and shoot solvent through with a syringe before you put it back together.When clean, reassemble; making sure the crankcase gasket is aligned with the 4 mounting holes in the crankcase and is not torn (if you have a new reed, gasket(s) and screws... use them) Tighten the 4 screws "gradually and evenly" which hold the assy. onto the crankcase. These engines benefit HUGELY from being cleaned properly... and kept clean. Can't stress that enough.

Sig Champion "25" is a really good choice for Cox engines. Keep your fuel tightly cappedand store it in a cool dark area, out of the reach of children. I would caution against blending your own fuels or "adding" castor, until you get used to starting, running and tuning your engine. There are lots of performance variables with these engines... consistent fuel quality is a biggy... along with cleanliness.

Parts are available through miniglowplanes.com I have had very good experience with them.

Hope this was of some help to you,
Roger

Thanks, Roger. Welcome to CEF.
Rusty

RknRusty

Rest In Peace





Posts

: 10869


Join date

: 2011-08-10


Age

: 67


Location

: South Carolina, USA



Thanks Rusty. I noticed that Rick (Policetac) posted a pic of engines that were given to him! How cooool!

A note for Rick, concerning the reed valve engines; by their design, they "suck" fuel and air into the crankcase when the piston travels "up" (pulling the reed away from it's seat) and when the piston travels "down", it pressurizes the cranckcase (pushing the reed against it's seat) not relying on a "gravity" fuel delivery as much.

This action makes "external fuel tank" position less critical than with the front "rotary valve" induction as on the Tee Dee. Either type; keep fuel lines short as possible.

It's good practice to filter your fuel from it's container, and use an "in-line" filter on your engines with external tanks... This will again; lessen variables, when it comes to troubleshooting.

Another great function of the reed valve engine; is it's ability to run in either direction, as long as the engine is cooled sufficiently. This is useful in custom applications; cars, boats, pushers and especially a twin engine rc plane; where it would be advantageous to run counter-rotating props. (i.e. front facing you; L/H engine-conventional ccw rotation and R/H engine-cw rotation... using the correct props) This prevents a catastrophe if the L/H engine fails... Electrics can benefit from this as well, but not the majority of glow/gas model engines because of their rotary valve induction, restricted ccw rotation.


Page 2 of 2 •
1, 2
Similar topics
---
Permissions in this forum:
You
cannot
reply to topics in this forum