Cox Engine of The Month
September-2023
balogh's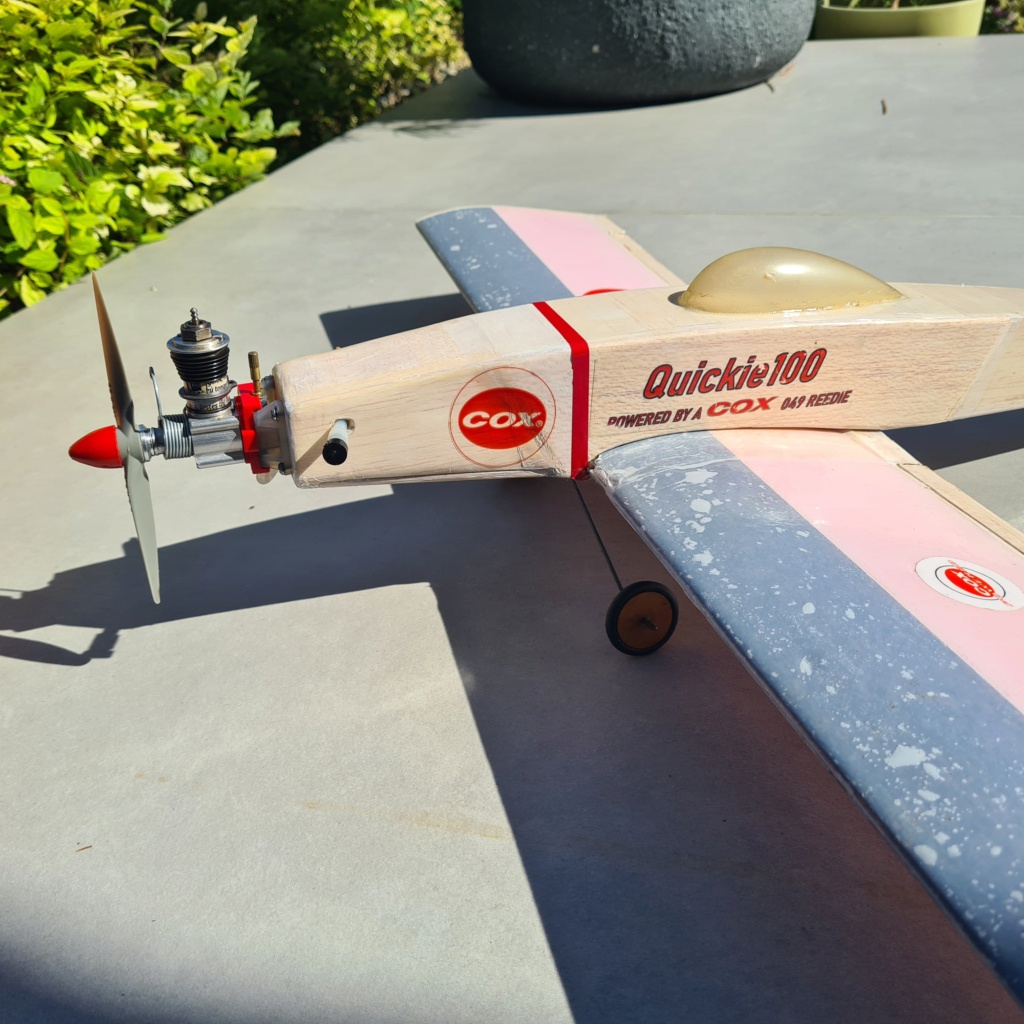 "Beefed up old stock 290 on my Quickie100 RC after plenty of airtime hours..."
---

---
PAST WINNERS
Howdy,

I got my son into RC at age 9 and now at age 30 he has since flown about everything RC from soup to nuts. The last planker we had was a 1/4 scale Pitts. Then he got into Helicopters and lost me.
The other day he says, "remember that small 1/2 A we had years ago? It was a pain to start but flew really fast." So being from model building lineage I says "I will build one for you son ", (cue laughter). So I am building a Guillows P-51 with 27" wingspan. I am modifying it for RC with (maybe) rudder and elevator as well as ailerons. I have been looking on line and everyone seems to be modifying this plane for electric vs nitro. As I am carving and gluing and planking away I had a thought about weight. Since the whole point of this plane was going fast I am now concerned how much the finished? product will weigh and how much a TEE DEE .049 or .051 can pull "fast" . I bought a scale so that I could measure these things a piece at a time.
What advise can you give me on stout vs light on this model?

We will hand launch and there will be no gear nor throttle, (we like to live dangerously)
At this point I have given up "scale" for "fun".

"In Over his head"



Wiztom

Moderate Poster





Posts

: 10


Join date

: 2013-09-01


Location

: Dallas Texas



The bees are happy with 6 oz, but no more.  Engine included

My "fat" Zinger I built for a bee that weighs in at 7+ oz (with a stunt bee engine) is pulled with authority by a tee dee .049.  I haven't re-weighed it.

Not really an answer, sorry.

These are control line numbers.

you can double the weight for RC plane, and quadruple for glider type.

Phil

pkrankow

Top Poster





Posts

: 3025


Join date

: 2012-10-02


Location

: Ohio



---
Permissions in this forum:
You
cannot
reply to topics in this forum