Cox Engine of The Month
October-2018
Mudhen's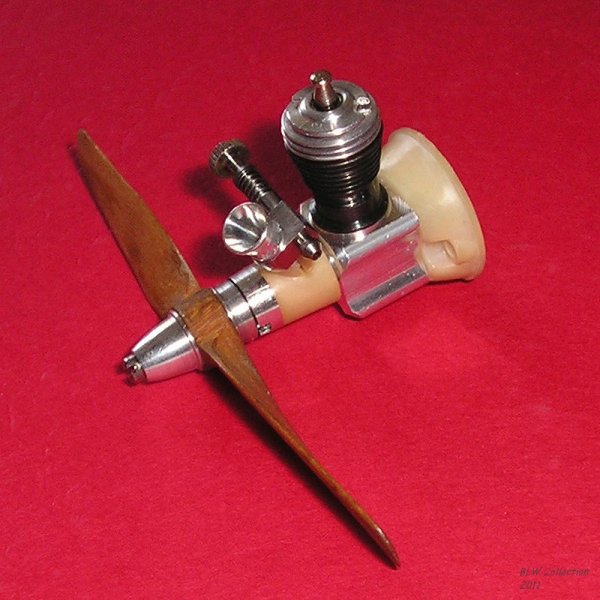 "Prototype T.D. .010 c.1960"
---
PAST WINNERS

Do you have a one inch micrometer, a number drill set, good measurement skills, and an RR1? I have an RR1 in very good condition, but it is missing it's rear rotary drum valve. I have the skills and equipment (lathe, milling machine, dividing head, and measuring tools) to produce a new valve, using measurements of existing parts (crankshaft rotary valve drive pin, fuel tank rotary valve bearing, and the relative spacing between those parts), trial and error fitting, and best guess method to determine intake timing, but if I could get a few measurements of an actual valve, it would save a lot fiddling.

The basic measurements that would be most helpful, in descending order of importance are;
1. The outside diameter of the valve drum which slips into the fuel tank bearing +/- .0002 of an inch.
2. The thickness of the drive flange +/-.0005 of an inch.
3. The total length of the valve, drive flange and drum combined, +/-.0005 of an inch.
4. The number drill size of the inside diameter of the drum.
5. The number drill size of the drive pin hole in the flange.
It seems to me that 2 cycle engine timing is more art than science, so if anyone has any information on the actual RR1 intake timing I would really appreciate it. I was going to start with a total intake duration of180 degrees, and make both the opening and closing 35 to 40 degrees after bottom and top dead center, and see what happens.
New Member





Posts

: 1


Join date

: 2012-11-05



If you don't get all the responses you need, send a PM to Mudhen. He's the best RR1 builder on this forum.
Good luck, and welcome to CEF.
Rusty
Moderator




Posts

: 10630


Join date

: 2011-08-10


Age

: 62


Location

: South Carolina, USA



Sounds like a GREAT project, jleboida !!!!

Rusty's right...Mud oughta be able to get you the info. If possible, please keep us informed on your progress!

And Welcome to the Forum !!!!

Kim
Top Poster








Posts

: 6246


Join date

: 2011-09-06


Location

: South East Missouri





Similar topics
---
Permissions in this forum:
You
cannot
reply to topics in this forum