Cox Engine of The Month
May-2023
sosam117's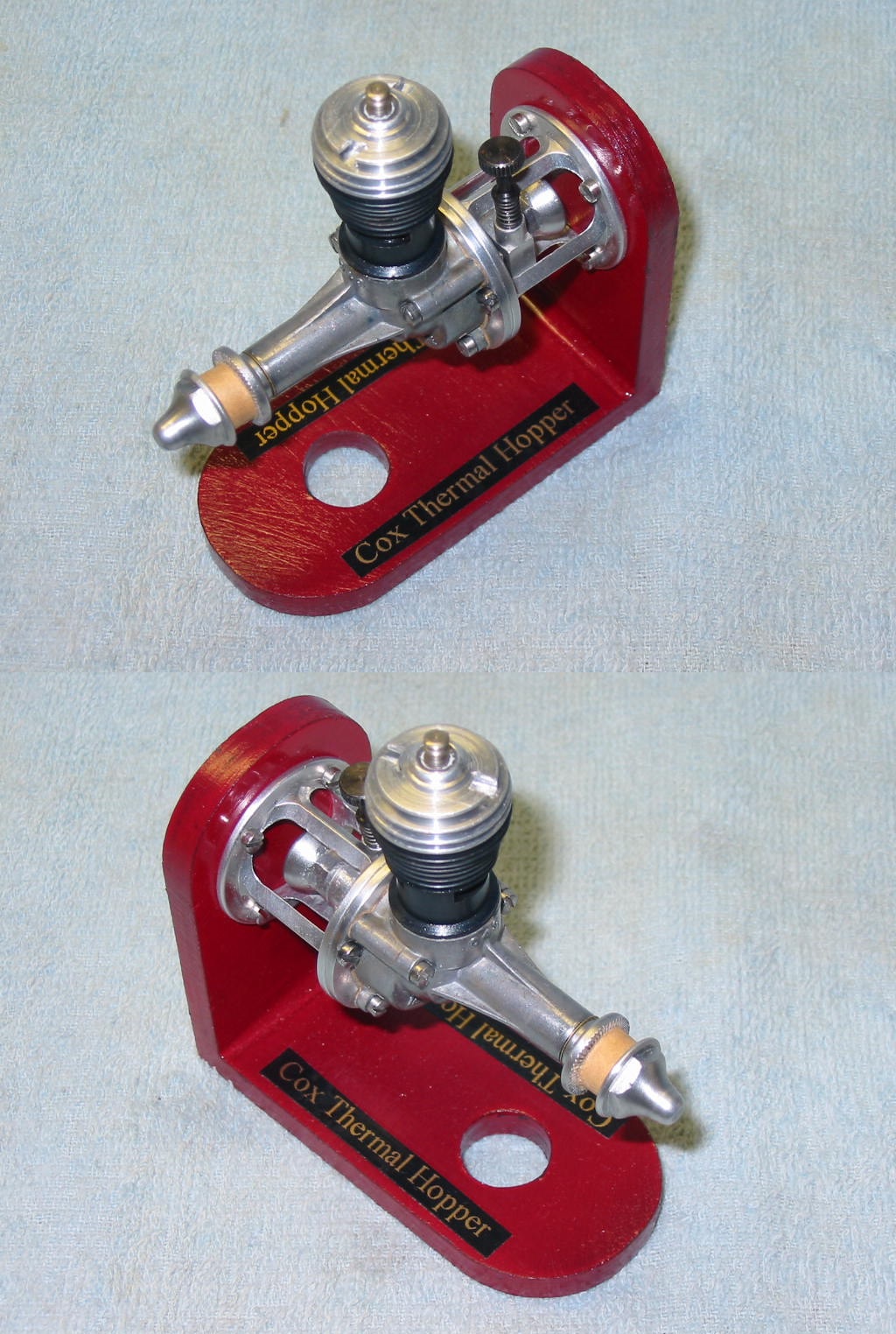 "Pre-1956 Thermal Hopper -- cleaned and completely rebuilt."
---

---
PAST WINNERS
Good Afternoon All;

Trying to get a recently acquired Super Chipmunk airborne...

Can not get a lengthy engine run, and I believe a major cause is that the factory plastic tank is leaking around the seam joining the top and bottom halves (large air bubbles form in the fuel line from the tank to the engine).

Will an external application of plastic cement around the seam likely seal it, and if not, is there a better approach? (I realize I'll likely have to soak the tank in Isopropyl or another solvent to ensure all the fuel/castor is gone before attempting a repair)

Failing that, is there a commercial tank that is properly vented and the correct physical size to fit within the fuselage in the spot the factory tank resides?

Thanks in advance,
Dave

David_Stack

New Member





Posts

: 4


Join date

: 2013-10-21



David, I had a tank from a dragster that leaked as the top was a seperate part. This was the red plastic. The advice I'm offering may work or may melt your tank. My thoughts are that the plastic used is probably a ABS plastic. I would think if cleaned properly a PVC glue may just do the trick. It worked for my dragster tank, BUT it was a red plastic that was slightly more flexible than the white plastic in the Chip. So my thoughts are, try and use silicone which may work but it might not as well. If it doesn't it can be peeled off and the other option can be chosen. Plastics are funny and sometimes some things work and some don't. I know of no commercially available tank that would work. I'm quite sure though a Perfect tank of some type could be easily modified to work. It really wouldn't be a big deal to rework a Perfect tank as the tubing they provide isn't the correct size anyhow and the tubing should be copper and not brass. Taking out the old pipes and redoing them is really quite simple. Just use the proper solder and cleanliness is of the utmost importance next to a quality soldering iron. Ken

Ken Cook

Top Poster





Posts

: 5158


Join date

: 2012-03-27


Location

: pennsylvania



Take some thin fiberglass cloth cut into strips and build a shell around the old tank. You can use epoxy instead of fiberglass resin to hold it all together. I fixed a Stuka tank that way. Be sure to keep your tolerances tight.

jsesere

Rest In Peace





Posts

: 1606


Join date

: 2010-09-05


Location

: Salem Oregon



Similar topics
---
Permissions in this forum:
You
cannot
reply to topics in this forum