Cox Engine of The Month
May-2019
Tee Bee's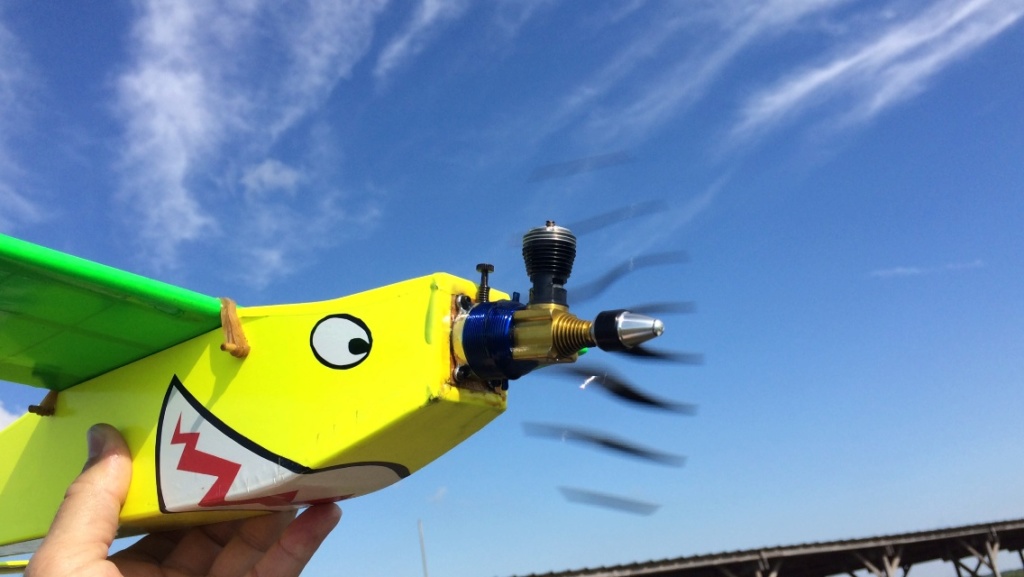 "This RR1 was restored for all the right reasons"
---
PAST WINNERS

This steam engine, using a 049 Babe Bee, was made without a lathe or milling machine. All materials can be bought at a DIY shop or come from the skip.
I removed the tank and made 2 aluminium L shaped profiles with 4 brass tubes to be able to reuse the 4 fuel tank bolts.
The glow plug was replaced by a cylinder head that can take a standard plug. in the end of the silicone tube, I inserted a small piece of brass tube of about 4 mm long. The tube was then inserted in the hole starting from the cylinder end. The silicon-and-brass end screws thight in the spark plug hole.
The excentric for the valve was made out of a bearing you can find in roller blade wheels. The conrod was made with a 2mm piano wire bent around the bearing and soldered. That took a bit of a struggle and a lot of cursing. Inside the bearing, I glued a piece of dowel wood with a 3 mm hole drilled off centre for the mounting bolt. The crosshead comes out of an old lamp fitting.
The valve is a piston that moves back and forth and connects the silicon tube to the steam inlet or outlet. The valve cylinder is made out of standard copper tubing and end caps. First, I made the piston out of dowel wood that I doped, but that seemed to bind in the cylinder due to humidity. I replaced it by a aluminium piston. The piston rod is 2,5 mm piano wire.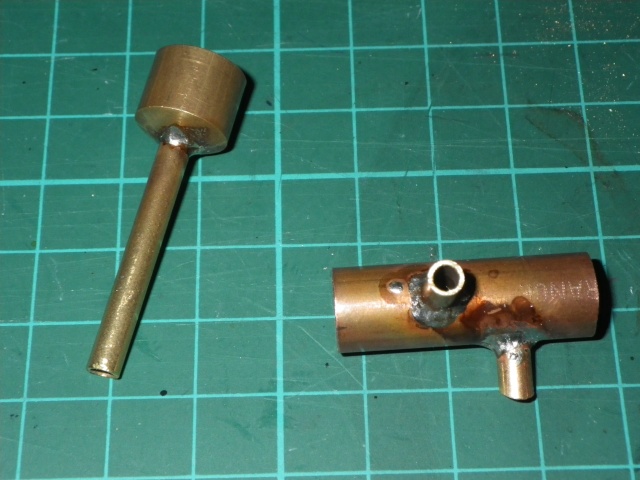 Because the Babe Bee is a square or even over square engine, it needs a big fly wheel. I replaced the original fly wheel by a heavier one and I also closed off the cylinder exhaust slits. If it works? I don't know. It should do. I don't have compressed air and my lungs or the the aquarium air pump only give enough pressure for 1 down stroke.
It is a nice experiment and it can evoluate to a compound engine using a Pee Wee for high pressure and a Babe Bee for low pressure.
Lieven
Diamond Member





Posts

: 1307


Join date

: 2013-03-19


Age

: 52


Location

: Normandy, France



Lieven:

Nice!  A feate of dedicated engineering and skill.

SD
Rest In Peace





Posts

: 3552


Join date

: 2011-08-13


Location

: Washington (state)



I read a book by Ken Follett called Hornet Flight. A Danish teenager converted his motorcycle to run on steam, powered by slow burning peat. Seemed like a pretty cool contraption. You just have to plan ahead before you have to make a beer run. That was a great book, a riveting tale of besting the Nazis... and an airplane!

Rusty
Moderator




Posts

: 10737


Join date

: 2011-08-10


Age

: 63


Location

: South Carolina, USA



Very cool! thanks for posting 

Gold Member





Posts

: 105


Join date

: 2012-12-17


Location

: Whistler BC



A video of it running would be great.
Rest In Peace







Posts

: 1606


Join date

: 2010-09-05


Location

: Salem Oregon





Similar topics
---
Permissions in this forum:
You
cannot
reply to topics in this forum