Cox Engine of The Month
October-2018
Mudhen's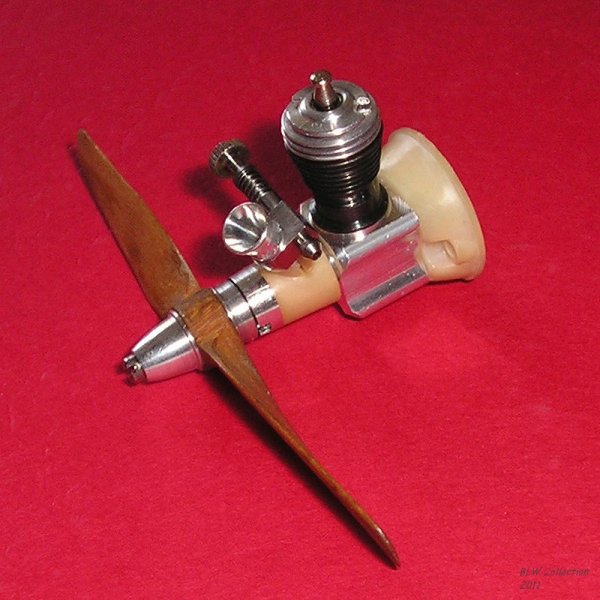 "Prototype T.D. .010 c.1960"
---
PAST WINNERS

Nice 1994 engine. It is basically a Fox 45 with and ABC piston cylinder. The stroke stays at .790", but the bore is .860" instead of the 45's .850".
...so is this basically the same as the .50 R/C engine? I ran one for several years in a highly modified Sig Kadet, good power, easy to start, but was never happy with carb adjustment, always sagged a little during transition.
Top Poster





Posts

: 3612


Join date

: 2011-09-01


Age

: 60


Location

: Rockford, Il



Well, kind of. The 50 was a ringed engine and again was based on the 45 B (Big) case. It used the 45 crank for a .790" stroke, but a .906" bore. A way over square and very strong engine. I need to dig out the details, but Fox had a large lot of pistons for the .60 (.906 bore) that were made in error and unusable for the 60. But with some mods, voila, the 50.
GWILLIEFOX wrote:Nice 1994 engine. It is basically a Fox 45 with and ABC piston cylinder.  The stroke stays at .790", but the bore is .860" instead of the 45's .850".
Thanks for the date, the relevant engine bible that I have only goes to 1975. Hence the 1975+.
You hold quite a lot of information on Fox engines and, under this topic, displayed some inside knowledge. Here I refer to the reuse of the "flawed" .60 pistons. You must have followed Fox quite closely..
Do you have any recommendations on tuning or fettling particular Fox engines. There are a few Fox 35 "worshippers" on this site that regularly use 35s for stunt (albeit those silhouetty things!). I often see elsewhere that there have been (still may be?) a few chaps that re port and modify the heads for optimum performance. Do you have any insight into this?
From this site, you will see that my favourite manufacturer is PAW (still building British diesel engines). There is a dramatic difference between Fox and PAW - when I look through the pre 1975 Fox engines you can see a slow but constant strive for improvement which I have no doubt has continued.
The PAW engines are much the same now as they were then and you get what you pay for! Plain bearing, single ball race, twin ball race, competition specials and tuned motors. Occasionally schneurle ported make an appearance and "limited editions" for collectors.
Thanks again for your input so far.
I think your relevant bible must be Tim Dannels' American Model Engine Encyclopedia.  Sometime around September of 2015, Tim will try to have a volume II available.  It won't be a replacement for Volume 1, but will add new material, corrections, etc to what was in Vol I.  And then it will go on to 2014.

Tim also puts out an edition of Engine Collectors' Journal about 6 times per year and has been since 1963.  His contacts from all over the world contribute.  He is still publishing it and most back issues are available. xxx.modelenginecollecting.com

I love these forums and regularly contribute, but people must remember that all is not free.  And it is still quite useful to be able to go to a printed volume and find good reliable information.
And even there is a lot on paper, paper from 1963 is still around, 52 years later.  With due respect to our web hosts, will these forums still be accessible in 2063?

Anyway, from early days, Tim has been putting together indexes of the engines from various American manufacturers and from early days he tried to get someone to work on the listing of Foxes.  Well in 2003 Doug Martin finally took it by the horns and started the thing.  John Hall and I jumped in to help him.  "Wild" Bill Ives, the world's greatest Fox collector provided invaluable help. And starting with ECJ issue 161 in 2003, going thru 162, 163,164,170, 172, 174, and finally 175 in 2006, we cataloged 306 different Foxes.

I've been flying with Foxes since 1955, CL and RC.  I've got a fair collection and love to show them and BS about them.  I stay away from advice for the most part.  There are bonifide users out there whose advice you can take to the bank, but there are many others who just repeat what they heard.  I don't want to get into silly disputes.

Last summer I decided to learn to run diesels and fired up my Mills .75 and my PAW 1.5 Contest 2.  But I'm far from being comfortable with them yet!
Regarding Foxes, Ron Cribbs gave me an older 3 bolt backplate Fox .35 Stunt in very good condition to try as an alternative to the Testors McCoy .35 Red Heads, for which I am truly grateful. Two I had, red paint on the heads darkened quickly to a black. I could not discern that I was running too lean as these were run rich. It seemed no hotter than the Fox on Ron's Ringmaster.
With inputs from others, I gather that the stability of the paint on the red heads wasn't that great. I'm still learning, revisiting CL after a long recess and moving up to the larger engines and planes, which are a blast to fly. I'm running these engines on 25% oil unmuffled.
The older Fox seems to be on vibrating monstrosity compared with the McCoy. I gather that its counterbalancing isn't as strong as with other engines. I am told it works best in upright position in a solid full fuselage model, not in one of those frightfully silhouetty things. (Sorry Ian, I couldn't resist.)

Diamond Member





Posts

: 1651


Join date

: 2013-07-13


Age

: 64


Location

: Clovis, New Mexico



You are quite correct - it is the Tim Dannel's book and I will definitely be in line for the new version. I find the book an interest archive and don't view it from a collectors point of view. My stash of American engines is small (apart from Cox engines but we won't go there!) - I am a dieselolic! What I like in the book is that it take a manufacturer and basically serialises the development and improvement of their products. While the information may not be complete or totally accurate it is a mighty effort. I have a few USA 049s and some McCoys in need of TLC but I seem to end up with Foxes because no one else here seems to want them and I like restoring engines.

I have often considered the ECJ but I am not a "reader", I only use "books" for reference. That is why I like condensed catalogued information. We are all different! I sometimes buy a copy of one of the "aeromodelling" magazines - let's face it, there are a lot to choose from - RC Model Flyer, RCM&E, RC Model World, Aeromodeller ........... - but after I have ploughed through adverts, I find very little in the articles that interest me. Even then they portray an opinion and are often factually wrong! However, my wording may imply criticism but that is not my intention. I have learned through this site that imparting information is difficult. I get engineering magazines and have learned not to build using these until the articles have finished and all corrections have been published! No one is perfect and I don't like the impolite responses I see in letters or on forums.

I uses this website because it is the only one I have seen that doesn't engage in silly disputes but members are quite willing to express an opinion, offer alternatives and try new things! We all have our own preferences and see ways to improve and learn from other peoples experiences.

I have entered the "Grumpy Old Man" category in lots of areas of my life but not in Model Engineering and Aeromodelling. My biggest eye openers recently have been watching Windy's videos and those produced by Stunt Hanger. They both have differing approaches to building stunt aircraft (and opinions on modelling) but both end up at the Nats.

Please feel free to express ideas or tips here - I have yet to see a silly dispute. I see a lot of us expressing our expertise in hindsight but there is nothing wrong with that.

I have raised the issue several times of my dislike of those "frightfully silhouetty things" (no offence taken, it will now form part of my phraseology!) but they have me building them now. I still haven't gotten around to finishing the slab sided P51D I am building - I have all the photos leading to a horror story after applying finishing (you can all wait for the tale!). During the initial build posting, there was advice which I dismissed but I am on a learning curve. I am now looking at a strangely shaped P51d (Ooops! Too many clues!) and considering matches, a hammer or both - Aaargh! Is the Grump making an appearance here?)






GWILLIEFOX wrote:If you enjoy videos, check GW MOHRBACHER on Youtube.  I've posted some more boring engine running.

These are excellent, I enjoyed watching them
This one looks as if it could fly the workbench!
This is my favourite
Why?
https://www.coxengineforum.com/t7632-g-mark-5-cylinder-radial-030#96081
Even though I have one, I have not run it. I enjoyed seeing one in action! Thanks.

---
Permissions in this forum:
You
cannot
reply to topics in this forum