Cox Engine of The Month
June-2018
Davenz13's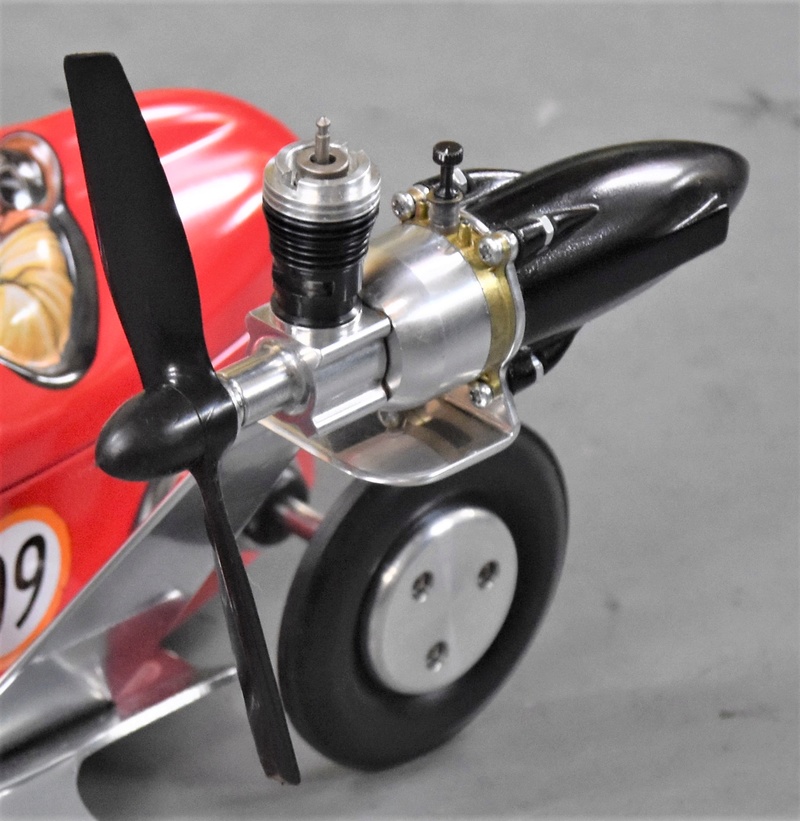 ".049 Bee"
---
PAST WINNERS

Today was mid 80s with variable clouds and a pretty steady 10-15 mph wind. Wayne and I got trained on the mower. What an awesome beast, a John Deere rear wheel hydraulic drive with levers like a tank. It's a squirrely sucker until you loosen up and get the touch, but that thing will mow at what felt like 30 mph. Seat belt, roll bar and all. That type of system is new to me, but I was able to back it up the narrow ramp into its storage ... box on the first try. The box is called a conex, like a shipping container. Fort talk I guess. So we don't have to worry about weeds any more, that's nice with Summer coming.

We did a bunch of flying. Wayne did one last trim flight on his eNobler that he's going to fly at Brodak, and then cut loose with some full patterns. He maidened his new e-conversion Vector and it looks like a really sweet flyer. I took the Yak and the Shoestring. Still haven't re-covered the wing on the old Skyray. I added a trim tab to the OB flap on the Yak because I cannot bend the coupling wire without breaking something. It leveled out pretty well and I got in a couple of flights. It still cuts off a half ounce early, so I'm going to get a bottom feed tank. No sense in fooling around with this one.

Best of all, I finally got the Thunder Burper running without a hiccup. I changed two things, and I don't care if it's one or both, because I'm sticking with this formula. A Sig RC Long plug and 20% nitro(or thereabouts) and it flew like I always wanted it to, but never could. I could rip it through tight turns in my squares and wingovers and it didn't care, it just ran and used every drop of fuel. If only it had run that way in the contest. I have a video of it that I'll crunch and publish tomorrow. Unfortunately my pattern flying was crap today. I've been fooling around and not seriously practicing and it shows. I was letting the wind get the best of me instead of showing it who's boss. The SS is a quick turning plane and it was ahead of me today. I need to get back on that docile Skyray a couple of times before May 3rd and 4th. I think the Ray will be better for me if the contest is windy. I can fly the Shoestring well, and did last month, but it's less forgiving if I'm not really on the ball.

But I am thrilled to finally solve the Thunder Tiger problems. It was simple. I hope I didn't fail to take advice along the lines that might have fixed it sooner. But I now have three good running planes with no flyability issues. I flew it 3 or 4  times without a single engine hesitation. It's pretty fast being a ball bearing engine, I wish I could find a 9x3 prop besides APC. I'm flying a 9x4 now. I'll just have to try an APC and if I like it, I'll dye it black. The Yak has one of those uglyass APCs too.

I'll say this about APC though. The other night when I balanced ten props, I came to appreciate the quality of APC. I can balance five APCs in the time I can do one MA, and the MA still might have an out of balance hub.

So anyway, pics and vids. I'll get to it tomorrow.
See ya,
Rusty
Glad it all came together for ya Rusty!
Moderator






Posts

: 9749


Join date

: 2011-10-24


Age

: 44


Location

: Tuttle, OK



Cribbs74 wrote:Glad it all came together for ya Rusty!
It's always good to have a great day at the field, accomplishing all of your goals for the day. The RC guys wouldn't fly because of the wind, so we didn't have to take turns with them. Our site is about the highest elevation at the fort and it's always windy, but that can't help but make you a better pilot.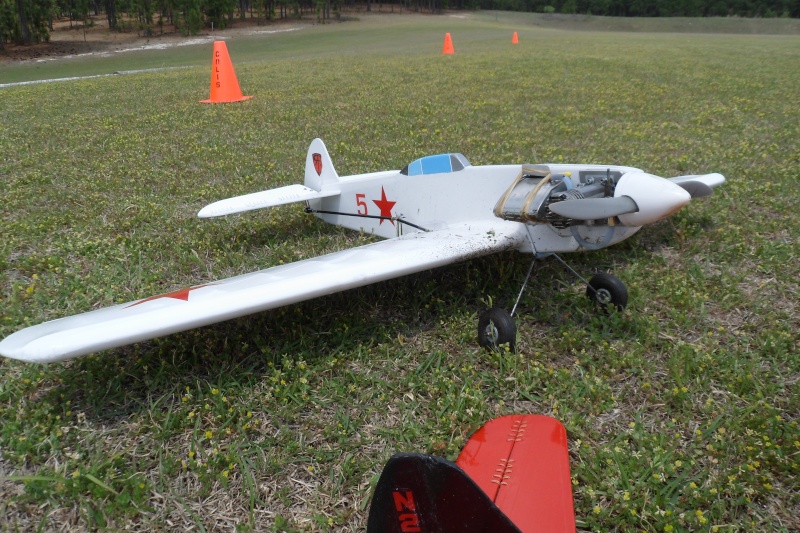 https://youtu.be/BF2DOvkI0n8
Shoestring and amazing Thunder Tiger video coming soon.
Rusty
Almost forgot to post my video. This is my Thunder Tiger test flight, and it ran superbly, wet two stroking. The only time you'll hear it slow would happen to any engine forced into a nasty tight turn like that one I did. It never threatened to bail on me. I did bail on the H8s because I was not attacking the wind like I was the boss! It was still a good hard shakedown for the TT. I want to get a tank that draws off the bottom for added reliability, and one for the Yak too.
I couldn't pattern fly a lick yesterday, but the main mission was accomplished. Two good planes flew well for me and Wayne too.
Now that these are all airworthy, I can do as I said earlier, and focus on the Skyray from now til H'ville. I thought I was so cool after Christmas, just busting out beginner patterns kike it was easy, and capping them off with advanced stunts. Bu all that does no good if I don't keep doing it and I need to hang up my fun planes and get the winner back on the lines. Three more weeks and I really want first place and to move on,  I have a brand new Ray to learn the full pattern on over the Summer and an Oriental to execute it with in intermediate.  But that's then and this is now... gotta get on the ball and practice practice practice.
Enough babbling, here's the Thunder tiger showing the SS who's boss!
https://youtu.be/rRgWfTH1lo8
Wayne has his Nobler trimmed and ready for Brodak:
https://youtu.be/lctJGtJvXHU
Hot damn Rusty!

That sir, was an excellent run! Now I want to build my Shoestring again!

Engine run was spot on. Good flying Rusty, that was the best video of the SS to date. I dare say even better than the contest video. You flew better at the contest, but the plane is more dialed in now.

I say keep that tank for that one and enjoy. Greenie for perseverance.


Moderator






Posts

: 9749


Join date

: 2011-10-24


Age

: 44


Location

: Tuttle, OK



Haha, thanks, Ron. I wasn't expecting a Hot Damn. And a greenie too. I Absolutely detest having a machine of any sort whip my ass. It's like a giant 1/2A plane, it flat goes where you point it. I must admit I was caving to defeat the other day trying to get that eBay Os 25 to fit on it, but the old girl wouldn't allow it. It feels good to fix a problem through sheer bulldogging. I should add Kill Stars under the canopy for all the people I drove nuts with questions. And two of the Kill Stars will be gold for Mark and Ken. All of y'all stuck with me on it.
Rusty


Similar topics
---
Permissions in this forum:
You
cannot
reply to topics in this forum