Cox Engine of The Month
July-2017
Mark Boesen's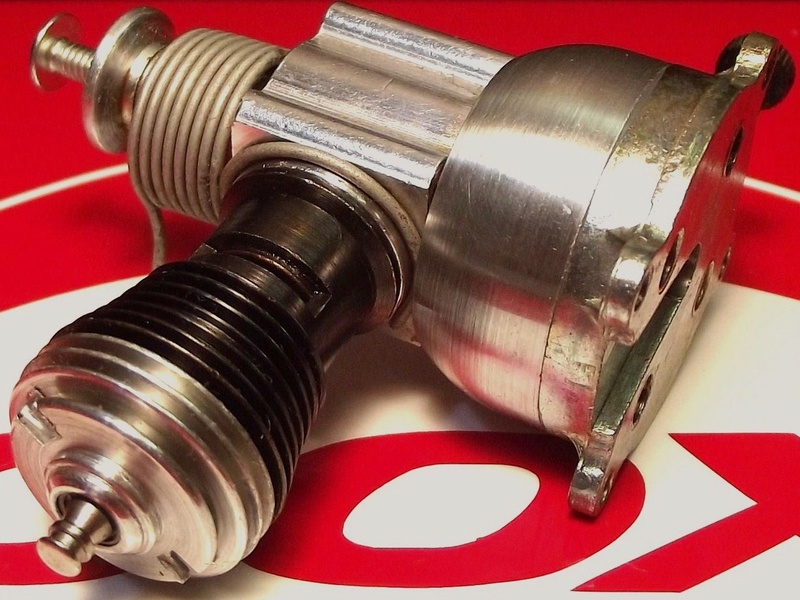 Nice original Babe Bee from a Super Cub 105, late fifties.
---
PAST WINNERS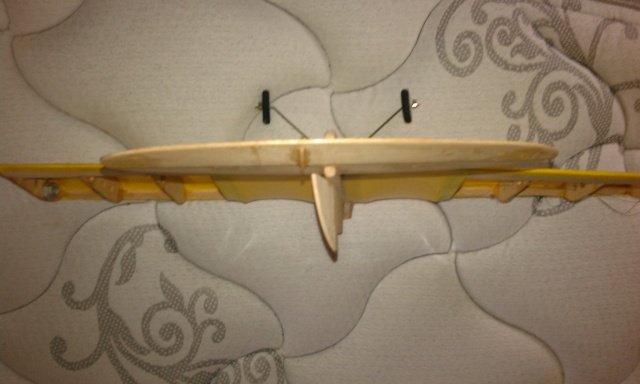 ok I don't know a lot about tring to straighten a wing I have read some on it and am not sure what to do still 
 I have cut both sides at the TE where the spars stop outside , should I try and warp it and glue it or what would you do 
  Thanks ! Getback is going to mow before the storm hits...
It appears to me that your inboard wing is high. This can be a result of the ribs not being glued to the leading edge properly. You might just be able to break free the glue joint there and pull the trailing edge back down and reglue. Your picture being upside down makes it difficult to see. A side shot from left to right looking down the trailing edge would help from both sides and a head on as if the plane was on it's gear. I personally see something here that could be a factor in trying to take out this warp. You started and stopped your covering on the top. I personally would remove that back to the fuse and cover from the fuse all the way to the tip. What type of covering is this? Certain coverings like Monokote are very tolerant of heat while others will quickly shrink back. I prefer Monokote as I've found this to be very successful in not only covering but removing a twist AND STAYING put. The wing could be covered in it's entirety and grab the wing using your thumb on the trailing edge and pinky on the leading edge and twist the opposing direction. A heat gun is a must here . Once you twist the wing the covering will sag in the affected areas. Heating with a heat gun will shrink the saggy bays in the wing. Take your time and wave the heat. It will burn through the covering if your stay in one place too long. Monokote has a great quality to it due to it getting darker just prior to burning through. DO both sides and don't release your twisting pressure for about 30 seconds. It may take several attempts. You also might do too much. I personally wouldn't let that bother you as I would leave it overnight and sight it the following day.

As a side note, you might reconsider how your tip weight is adhered. It could possibly and more than likely exit through your covering if the plane hits the ground. It appears that the weight which looks like a nut is plated which doesn't accept glue very well unless scarified. 5-7 grams is all the tip weight this little plane requires and it should be glued into a intersection like where the rib meets the leading edge. Currently the way it is now it could certainly break that rib on impact. Let us know how you do. Ken
Thanks Ken yes it is Monokote and the more I thought about it the bottem was covered first with yellow then the top with some i  think much older black Monokote , I had some problems with it not wanting to shrink correctly , this could have been the problem from the start , but that don't matter now , I just need to get it straightened out . I think the way you explained how to use the heat  
 will help me a lot ,Thanks again I will keep u informed on another thread .... Getback 
stuff almost forgot ...
...
59]
[/url]
I should've even mentioned this prior. Seeing the twist that has formed in the wing isn't all that uncommon on a wing that isn't covered completely. It's pretty obvious once you think about it though that the covering on the bottom has already somewhat shrunk and you have nothing on top to stop the torsional twist until you cover the top. The reasoning behind my suggestion of taking what covering you already have on the top off is due to the lap joint that will be created. It can sometimes be difficult to get the proper attachment due to the covering fish mouthing in areas. Eventually areas like this can release and this can happen if too much heat is applied to it. At a minimum you should use at least 1/4" overlap. From the side view of the inboard side looking at the picture you can clearly see the relationship of the wing tip to the 0 deg thrust line of the plane. If you fly the plane like this, it will drastically drop it's inboard wing leaving little to no line tension and a very scary flight. Wind coming from the side can quickly roll the plane inboard. It would be a far better scenario to have the trailing edge low which will roll the plane outboard.

What I've done prior to covering is to use reinforced fiberglass tape and place it on the balsa in a V fashion from trailing edge at the corner of the wingtip and then to the fuse. Proceed to cover over it. The tape can stiffen the structure up immensely with adding little weight. The heat sets the tape to the balsa and the covering adheres to it making it quite structural and warp resistant. Ken
Just for future reference so as not to complicate things, I have some suggestions.
Balsa as with any wood will always be warped to some degree. A very straight piece may change shape as you sand it, releasing cellular bonds that had been holding its shape.

First, of course, is to build on a flat surface where you can always measure, check and recheck the wood and take note of any bends and twists so they can be strategically placed so as to combine for as straight of a structure as possible. In extreme cases you can try straightening with the methods I'll describe in a moment. The fuselage of a profile is one piece I would always pay attention to before using it.

Organic polymers called Lignins are part of the cellular support that binds and strengthens wood. They can be forced to be  weakened and reconfigured into desired shapes. There are several methods of doing this. Once the airframe is built as straight as possible, but still needing correction before any finishing is done, you can start the straightening process with heat and pressure. Dry heat and a hot hair dryer are sometimes all that's necessary to reshape one section at a time. Using a waving motion as Ken mentioned while applying a counter twist may sufficiently soften the lignin while you reposition it, holding it until it's cool. In more stubborn cases, steam is more aggressive and can be applied with a tea kettle to help focus on an area as you counter twist the wood. In this case, weight and clamp as necessary overnight until it's dry, and re-check. In either case, if it reasonably holds its shape after drying, you may start your sealing and priming now so as to keep humidity changes from changing it again.

You likely won't get it perfect, but for some parts that can be acceptable. For instance the fuselage is okay with a slight bend to the outboard side, and you can consider this while adding your engine thrust offset. And when installing the stab and wing, make sure they point straight forward in the direction the plane will fly; tangent to the circle, and parallel with each other in all directions. Do this by measuring the distance from the wing TE(or flap hinge) to the stab hinge line on both sides. And then use a square to assure that they are both level and 90 degrees to the fuselage at the root area. If you already did any straightening of the wing prior to installation, it can be fine tuned later without breaking any joints.

If you have a really stubborn major component that neither dry heat nor steam can fix, ammonia will relieve the lignin bonds to the point that the wood becomes very plastic and moldable. Spray Windex can be used. Make sure it's the blue ammonia type and not the vinegar type. Thoroughly wet the wood and counter twist to shape it, then clamp and weight it flat until dry. Or if it's a profile fuselage, clamp and weight it flat between towels so the moisture has a route to evaporate and let the wood harden up again.

Once the wing is built and ready to cover with Monokote, as Ken mentioned it can be fine tuned. As for tissue covering, I'll let our forum dopers address their methods. My method is to apply the bottom Monokote panels first, and then the top panels, but do not shrink any of it. Just use an iron set to the adhesion temperature to fully adhere the film to the solid parts around the edges. While it's warming up, use a soft cloth and clean the surface of the Monokote so as to avoid scratches. I do not ever use a sock. It's a matter of preference, but I like a light touch and the sock slows the heating down. Get good lighting from several directions and clear your work area of obstacles. Heat it with slow light strokes everywhere it contacts the Lead edge, trail edge and center sheeting. Use the heat from the iron and NOT pressure. You will find that some areas over solid sheets must be heated first and then pressed with your thumb until sufficiently cooled. Take your time. Some modelers may find it easiest to do the wingtips from the last rib to the tip separately. That way if you botch one of the compound tip curves, it's easier to redo. That can also wait until the rest of the covering has been shrunk. Just make sure the main sheet is firmly attached to the last rib with a slight bit of overhang. Don't worry about sticking it to the other individual ribs yet either. Personally, I prefer to just cover the tips with the main sheet, but it depends on how practiced you are with covering the curves without wrinkles.

Now that the four panels are all in place, shrinking can begin. I try not to use a heat gun as it can be very aggressive and unevenly over tighten the Monokote. But some rolls are easier to shrink than others, and might force you to get the gun out to finish the job. Turn your iron up from your adhesion setting to well into your shrinking setting. Start with the inner rib bay number one on the bottom panel. Wave the iron over it back and forth barely touching it and watch for shrinking and darkening. Move a little quicker away from any darkening without lifting the iron until you see a uniform shrinking. Once it's shrunken only enough to pull the wrinkles out and uniformly taught, it's done for now.

Turn the wing over and do the same number one bay on the top side. Now on to bay number two, alternating from the top panel to the bottom panel until it's all tight. Once the whole wing is neatly tightened, it should look very nice. Now eyeball for twist. If it needs any adjustment, this is where you may want to carefully hold it in position and wave the heat gun over it to pull the whole wing tighter. Once you get it straight, touch up any leftover wrinkles with the iron and then turn the heat back down to the adhesion setting. Now lightly draw it along each rib to stick it down. If there are any bubbles of air over the solid sheeted parts, put a pinhole in the covering and reheat and press until cool with your thumb.

If the wingtips are not yet done, do this now. But be careful not to heat one side so much it pulls the wingtip into a curve. This will make the plane fly badly. You may very well need the gun to get the last wrinkles out of the tips. This is the hardest part do get looking like a pro.

Hope this helps.
Rusty
_________________
Don't Panic!
...and never Ever think about how good you are at something...
while you're doing it!
My Hot Rock & Blues Playlist
Moderator




Posts

: 10297


Join date

: 2011-08-10


Age

: 61


Location

: South Carolina, USA



Thank you both Ken and Rusty , this really helps and enlightens me on some things I have been doing bassakwards , and I did just get me a good piece of glass to build on from a trash pile  

 that I did not have before when I built this scratch build (my first built up wing ) As I had said before I have some older planes that don't fly well because of being stored and moved over the years , this being said I want my models to do there best even then when I do crash it will be my fault  

I know some of my problem is rushing a build as I don't always have the time I need to sit with it to make things right. Thanks again for all the good advice I will try and put it to work for me now 
 Getback
When dealing with 1/2A, this is pretty much an easy eyeball to true up the framework. When working on larger wings that aren't constant chord I found arrow shafts rubber banded to the leading edge/trailing edge works great. Put one on one side and one on the other. Even if the fuse is glued on, sighting the arrow shafts allows you to see the twist if present. The arrowshaft in the foreground should cancel out the one in the background, if you can see the one in the back you know the warp is present. While this works well in one direction, it doesn't allow you to check a trailing edge or leading edge that is bowed. I constantly refer back and forth while fixing. While this technique for me isn't needed on the smaller stuff, it still could be done using even 1/4"x1/4" straight stock like spar material. Ken

Similar topics
---
Permissions in this forum:
You
cannot
reply to topics in this forum