Cox Engine of The Month
October-2018
Mudhen's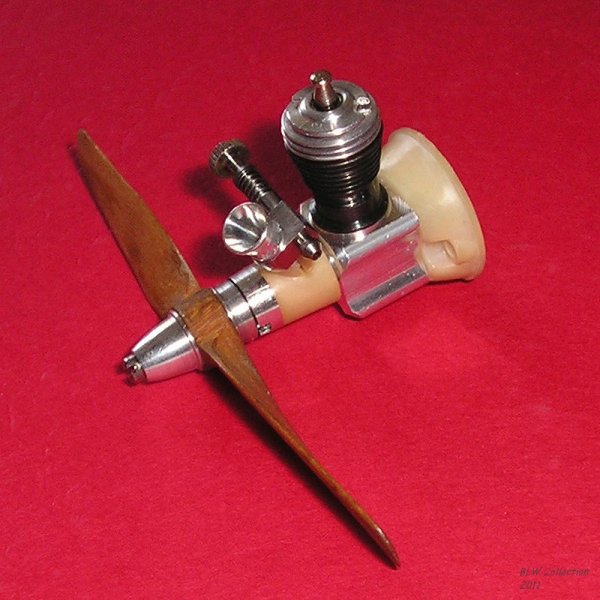 "Prototype T.D. .010 c.1960"
---
PAST WINNERS

Hi Everyone,

I have a general question relating to diesel blends. After considerable reading on blends and their consituents, its pretty clear that Ether is the ideal combustion ininitiator for Diesel engines.

The problem is that it is not readily available, or is strictly controlled due to its use in the illicit drugs fabrication racket. Many years ago I was able to obtain a 50mL bottle of it from a of pharmacy known as "solvent Ether" and it was used for the removal of sticky tape/bandage gum residue from skin. I've been trying to locate a viable supply of it to no avail. The best source I can locate to date is a 30% blend with other hydrocarbons in the form of engine starter spray. Over here (Australia) it is a strictly controlled substance which requires application for a licence from the local police station. Its not surprising therefore that NOT ONE local hobby shop stocks premixed Diesel fuel.

According to my research, it is the self ignition temperature of the Ether (~160*C) which causes it to spontaneously ignite on compression, then igniting the kerosene in a manner analogoue to a bullet primer initiating the bulk powder charge.

Has anyone tried different combustion initiators such as Acetone? A local solvent's rep pointed me towards a solvent called EXXSOL S1425 or DSP80/100. It has a flash point of -15*C as opposed to -45*C for Ether and the Self-ignition point is 200*C. He told me it would definitely ignite on compression however I'm not sure it would start an engine. (Cox 049)

Have any of you experimented with different blends of fuels which do not incorporate Ether?

Thanks in advance,

Martin

Martin AUST

Guest





Hi Martin, glad you dropped in on us. We have several diesel lovers, so keep checking and some of them will eventually respond to your questions. You're welcome to join us, Lots of guys into all sorts of things, Cox and non-Cox.
Rusty
Moderator




Posts

: 10628


Join date

: 2011-08-10


Age

: 62


Location

: South Carolina, USA



Hi Martin,

I can see you are in Australia. What you need to do is hook up with your local controline guys and you will be able to buy as much as you need. Also castor and perhaps Jet A1 if you need it.
These guys buy in bulk and are happy to share with the right people that use it correctly for model aircraft diesel fuel.
Take your own container........A glass bottle with metal screw cap is ideal.......i.e. an empty brandy or gin bottle.
If you tell us where you are I should be able to point you in the right direction.

Cheers.
Gold Member





Posts

: 133


Join date

: 2011-10-18


Location

: Gold Coast Australia.



Thanks RknRusty, Gossie,

I am in Kellyville New South Wales.

I already have the castor oil and Kerosene and just a fall-back I bought a can of "Engine Start" from Repco. It contained the highest concentration of Ether I could find anywhere unfortunately its tainted with other additives so a degree of experimentation would be required if I can't get Ether.

I haven't begun blending yet as I'm still waiting for the propellers to arrive and probably won't blend until I've run the engine in with a Nitromethane based fuel as recommended.

Any help is greatly appreciated as well as any anecdotes regarding alternative initiators other than Ether.

Thanks again

Martin

Martin AUST

Guest





Hi Everyone,

Just thought I'd post a progress report on the blending...

The engine is the Cox Surestart 049 with throttle body and Diesel conversion.

So far, I've blended up some fuel with 25% Ether, 25% castor oil and 50% Kerosene with very good results. I have found however that the compression screw had to be wound in quite far, perhaps 1/4 out from fully screwed in. The RPM increases but it doesn't ebb and fall as I tighten the head screw further. I used up the remainder of my "solvent ether" for this. On several occasions I dry flipped the propeller before opening up the needle valve 2.5 turns where it started first flip.

I also blended up an experimental batch of alternate diesel fuel from readily available constituents...

I used the 35% blend of "engine start" + 35% Kerosene and 25% Castor oil. The remaining 40% was the Ether blend so the total Ether content was about 14%.

The engine was difficult to start and required consistent minimal priming of about 1-2 drops maximum in the exhaust port. I found that a good starting point for the needle valve was about 2.5 turns. It floods VERY easily.

So for those of us who don't have access to Ether, yes Diesel fuel is still a viable option. Much more economical than $34/liter of nitro fuel. The "Engine start" blend works out at about $13 per liter.

I just have a question about the compression... The diesel user guide suggests turning in the screw to max, then backing off one turn. I've found that even with the good fuel (pure ether), the engine won't start with that compression screw setting. I've found I've really had to turn in the compression to get it to fire on a prime and then more to sustain combustion. Pretty close to maximum actually...

Have any of you found that you have to max out the compression screw to bring up the RPM and stabilise the ignition?
Beginner Poster





Posts

: 6


Join date

: 2014-06-08


Location

: Australia





Similar topics
---
Permissions in this forum:
You
cannot
reply to topics in this forum