Cox Engine of The Month
September-2023
balogh's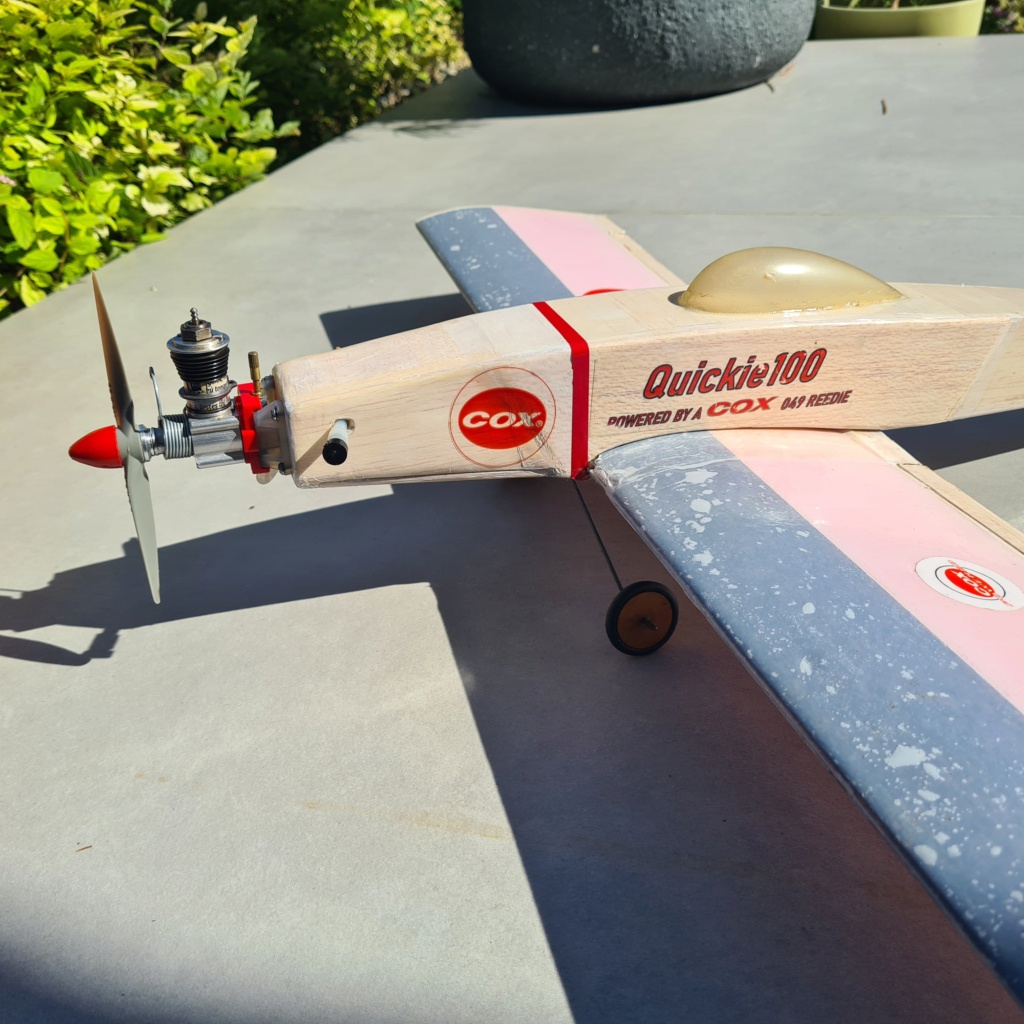 "Beefed up old stock 290 on my Quickie100 RC after plenty of airtime hours..."
---

---
PAST WINNERS
I thought I would start another thread because despite beacuse I am having difficulty matching what is available today with what I used to use. I postes this in Lieven's topic

"I am flipping from the "quick" iron on finishes back to the traditional doped finishing.

I have found though that what I used to use 50 years ago isn't made any more! Neither is the range of modelling tissues, nylons and silks."

and so I will expand it here.

The local model shops held a wide range of tissues - lightweight, medium weight and heavy weight. They also stocked these in a wide range of colours.

We were also able to dye tissue using tins of household "dylon" dyes - it was simple to get tissue to the colour that you wanted. The modern "dylon" dies don't seem to take very well to the new tissues. Any suggestions?

Also, dopes came in many colours - now the range of colours is more than limited.

Has any one found a method of colouring dope?

In the tissue range - I can see Esaki, Litespan, Silkspan and Polyspan.

Polyspan is tough and "waterproof" - it also looks like it may require ironing to remove wrinkles and place wrap arounds.

Do you have preferences or specific applications where you prefer a specific tissue?







ian1954

Diamond Member





Posts

: 2688


Join date

: 2011-11-16


Age

: 69


Location

: England



This is closely related to Lieven's thread. For free flight models, Esaki tissue is the tissue of choice. All of my experiences is based on control line models.  Why one would ask in regards to Jap tissue? This tissue has one sealed shiny side. The shiny side gets placed on the outside of the model. It's essentially sealed to a slight degree and it's wet strength is superior to domestic tissue. In addition, overlaps are hidden with a greater chance of not being seen. Domestic tissues have essentially NO wet strength with a grainy texture and require more dope hence a heavier model over Jap Esaki tissue. Silkspan was the choice for decades in control line. K&S made the best in my opinion. Now no longer made or available it has also become a product of yesteryear. Brodak sells a silkspan product, not the same as the original however. As for silks, silk is a wonderful material. Thai silk has good quality silk  http://www.thaisilks.com/index.php?cPath=1  
Silk has superior strength and lightweight. Many problems however are faced with silk. Be aware that some silks have sizing on it. IT MUST BE thoroughly washed and wrung out prior to use or it will not shrink. It also should be placed on the model soaking wet. This requires the model to be properly prepared for this process and thus doping everything the silk will come in contact with due to swelling and severe grain raising.   For starters, silk shrinks far greater than any material we use for covering. In addition, one needs to use high shrink dope which keeps on shrinking mixed with the shrinkage of the silk itself results in wings becoming so twisted they become trash. I've seen this with our club members who used Randolph dopes from leftover full scale aircraft. I've seen wings totally crushed and ribs bowed severely. This can certainly be tamed using a non taughtening dope with plasticizer added for the final coats. Silk scarves can be used and I do have some left overs which some day I will utilize. For now though between the intensity to install it and the fact that it uses lots and lots of expensive dope, it becomes pointless to use it. Strength can be had using synthetics today which are far cheaper. Polyspan is not a replacement for silk.
If I was to compare apples to oranges, I would say the closest one would come to replacing silk with a synthetic material would be ripstop parachute material or Ceconite. Sig Kover-All is also a good choice but a bit difficult to stop from fraying. One major disadvantage to using synthetics is that they're incompatible using butyrate dope. Butyrate will shed off of synthetics and nitrate has a better bite into the synthetic fiber. Many don't like to switch from nitrate to butyrate. THey require different thinners (aside from Sig) and nitrate CAN NOT go over butyrate. They're incompatible but butyrate can go over nitrate. Nitrate dopes have been known to become problematic with pull back such as where a intersection takes place like a fillet. It needs to be lightly applied to prevent this.
All of the above however require dopes. Silk requires about twice as mush dope as conventional silkspan and you run the risk of stalactites forming on the inside of your wing due to the dope dripping through to the underside. As much as I'm a dope fan, the cost and availability is overwhelming. Sig dopes is currently over $30 a quart. Now that Sig seems to be slowly but surely phasing out of certain archaic aspects of the hobby, I suspect that the paint line will be going next and or the fuel line.  Dope thinner is getting harder to locate such as Dupont 3608 S which is a substitute for Sig and Brodak dope. One gallone of 3608 S was costing me approx $21 vs Sig which was $50 at our hobby shop discounted rate. The amount of thinner you use is amazing.  The United States has pushed the auto industry for years now to rid their shelves of high VOC paint products and while many think that model airplane dopes don't fit the bill here, it's the same manufacturers making the current supply of paints such as Dupont. While manufacturers like Certified and Randolph are currently making dopes for scale aircraft and restoration work, the idea is to remove paints that utilize the evaporation of solvents off of the shelves. I truly feel were at the end of the days of having dope available to us.  Wicks sells dope in larger quantities while the cost usually ends up to be a benefit the amount leftover is quite a bit.  
Colored tissue and dyed silks have no UV protection and will rapidly degenerate and fade. The model looks over the top beautiful at first but fading is taking place the moment the model is moved outdoors and there's no stopping it. I have colored tissues that have gone through what looks like a total transformation in color. Brodak uses UV blockers in their clear dope which helps, but it also makes the clear turn very yellow and sometimes tan in color. WHen it comes to coloring dopes, we ( Philly Fliers)  have gone to certain finishing shops that sell pigments for tinting colors and I will say they're not cheap. The best bet would be to find a friend in the auto body industry and bring some clear dope to him. Here's Mike's Mustang which is Sig Lite Coat from start to finish with auto tint
http://www.clstunt.com/htdocs/dc/dcboard.php?az=show_topic&forum=103&topic_id=310056&mesg_id=310056&listing_type=&page=304
Here's a new build which was brought out to the club Memorial day which is Joe Adamusko's Olympic. Take note of the Brodak's control line world magazine on the dash in the cockpit. Joe and Windy are by far the best finishers I ever seen. Brodak's Fly in is this week and I'm sure with Joe's plane and the Control Line World mag in there he will certainly max out on appearance judging. The planes featured on that issue of Control line World is Joe's Adamusko's Spitfires.
https://www.facebook.com/photo.php?fbid=669860476417423&set=pcb.669861033084034&type=1&theater
 Ken
Ken

Ken Cook

Top Poster





Posts

: 5256


Join date

: 2012-03-27


Location

: pennsylvania



Similar topics
---
Permissions in this forum:
You
cannot
reply to topics in this forum