Cox Engine of The Month
March-2018
dckrsn's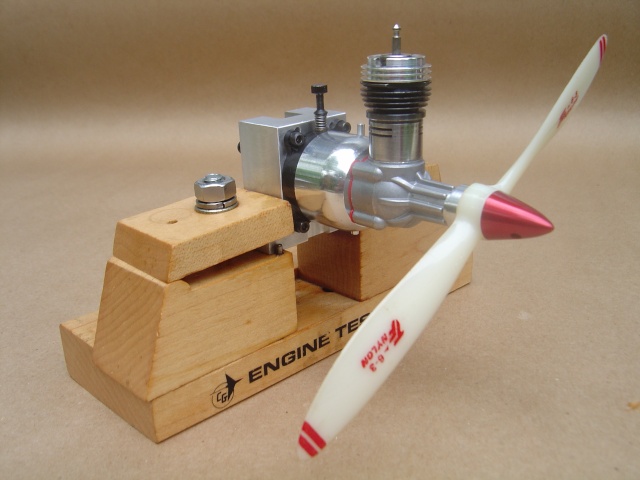 "Cast Case Diva" .049
---
PAST WINNERS

Is that plain bushing? I always thought the SS series was ball raced. After thinking about it one sec I answered my own question and looking at the nose was also a determining factor. The engine is a bushed engine as the SS BB was the ball bearing version. The real question I wanted to ask was is this is a ringed engine. Ken
Diamond Member





Posts

: 2922


Join date

: 2012-03-27


Location

: pennsylvania



It is not BB and not ringed. New and unused but not stored very well - hence the staining on the exhaust.

Toying with either this or the OS LA 40 for the Nobler.

I wanted to use a Fox 35 and keep the Nobler all USA but here was the response I got from Fox Mfg.

"In these tough economic times, Fox has had to retrench and focus our limited number of
employees on the outside jobs that provide a profit.

With the price of motors driven by the Chinese imports, Fox engine profitability is limited.
At this time we don't have the ability to dedicate staff to our Fox engine department.

When the economy improves and outside jobs increase, we'll be able to resume engine
production.

Thanks for your support.

Fox Mfg."
Diamond Member





Posts

: 2425


Join date

: 2011-11-16


Age

: 63


Location

: England



Ian, while I'm a die hard Foxaholic  I can say this with the most certainty. Your better off without the Fox .35 stunt in your Nobler. While that statement might get my head removed, I've seen some very competitive Nobler's using the Fox .35. This however takes a certain kind of builder to do so and I'm not one of them. It's also not getting done using box stock wood. The debate can certainly be debated. Some say a heavier Nobler flies better, that might be the case, just don't do it using a Fox .35 stunt. Just keep in mind that the Nobler was designed around having a 7 oz. engine in the nose. Many fly the Arf Nobler using LA .40 which is approx 2.5 oz's heavier. The key to success using the LA .40 is proper fuel. 50/50 blend of synthetic castor and a non restrictive muffler coupled with the correct venturi. Many suggest running the larger LA's using the smaller venturi .265" but the .272-.280 works far superior but uses more fuel ( 4.5-5 oz's depending on altitude)Stock mufflers will do nothing more than give you a headache. Too much heat is retained and power loss. The correct prop is another which for us is the APC 10.5 x 4.5. Thunder Tiger makes some great low pitch and well made props like the 11 x 4.5.  The perfect modern match to the Nobler would be the Brodak .40 (7 oz. just like a Fox .35). I'm actually surprised you don't own one of these. Not currently available and hasn't been for nearly 4 years it's a great running engine.I also doubt we will see these ever return again to the marketplace.  Originally designed to replace the OS MAX-S .35 (Same bolt pattern and nose length) . The Enya however from the versions I've seen my friend Dennis using which are typically the SS BB versions are incredibly powerful. I would venture that the Enya 30 SS would fly a Nobler with authority if the model was built with weight in mind. Ken
Diamond Member





Posts

: 2922


Join date

: 2012-03-27


Location

: pennsylvania





Similar topics
---
Permissions in this forum:
You
cannot
reply to topics in this forum