Cox Engine of The Month
April-2018
706jim's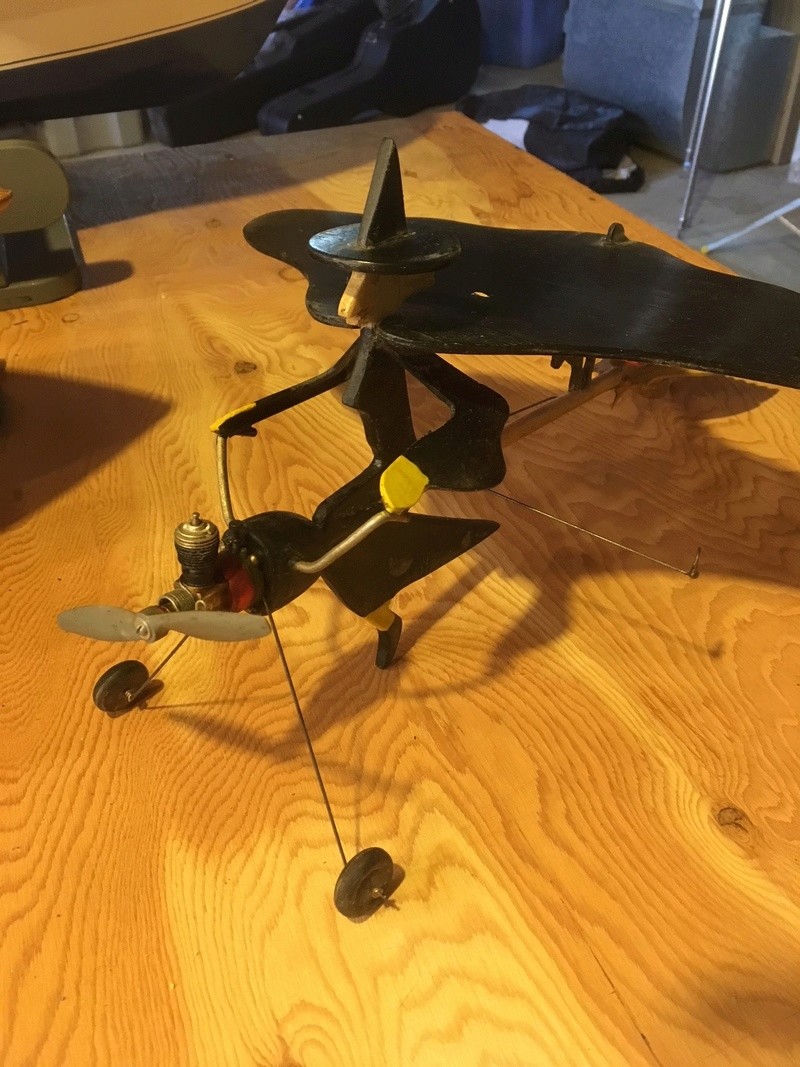 "Pee Wee powered witch"
---
PAST WINNERS

I just had to post this pic!!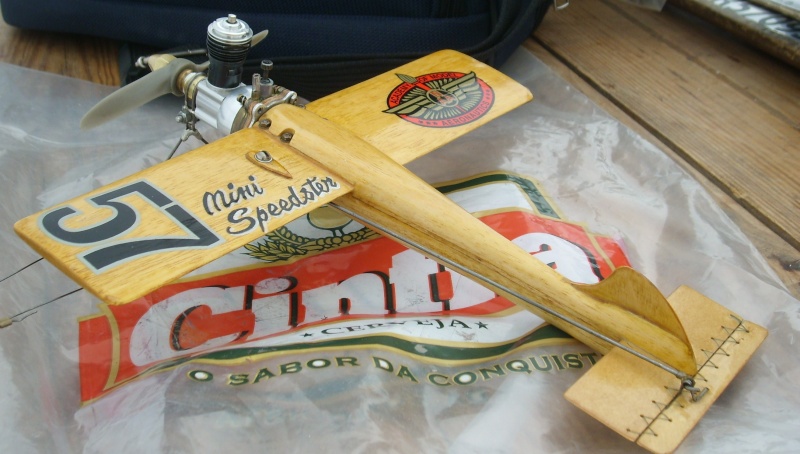 Check out the nice sewn hinges.. and the super-trick landing gear mount; just rearward of the prop drive-plate. I'll bet that this Babe gets close to 100 mph!!!!!
Top Poster





Posts

: 5858


Join date

: 2013-07-17


Age

: 58


Location

: N. Smithfield, Rhode Island



Yeah, that is pretty cool. I like the finish.
Moderator






Posts

: 9674


Join date

: 2011-10-24


Age

: 44


Location

: Tuttle, OK



Silver Member





Posts

: 84


Join date

: 2013-12-05



Yea that is cool , nice finish and sturdy construction (Nat on steroids )  

Top Poster





Posts

: 4698


Join date

: 2013-01-18


Age

: 60


Location

: julian



Hi guys,
That photo was taken by me at an event in Portugal!  The model belongs to Vintage speed flier Salvi Angeloni of Italy. Among other things Salvi has produced a nice text book on the history of SuperTigre Engines.
What you're looking at is a
British Vintage Class I
speed model called the "Mini-Speedster". It flies a bit over 80 mph on 35' X .008" lines. Fuel is unlimited.
Vintage speed rules mandate that the engine (up to .051) & design used must have been produced before 1956. The ONLY Cox engine produced that meets the criteria is the Cox Babe Bee .049.  Vintage rules allow interchangeable parts if they screw on & off. In this case only the rule makers have allowed the use of the Cox Black Widow engine as they found there was so little participation in the event as it stood. The arguably best engine to use ( in this Class) is the Holland Hornet .051...but they are rather rare & relatively very expensive. It did win last years British Nats though. A Vintage 100% score in Class I was 80 mph, but now has been bumped up to ~ 85mph.
The original Mini-speedster is a 9" wingspan, but Vintage rules allows for increasing the planform size up to 30%. We've found the larger 12" spam model flies no slower than the original & allows a Black Widow engine to balance easier. Oddly enough both seem to fly at pretty much the same speed...
Salvi & I placed 3rd & 4th at last years British Nats with Cox powered Mini-Speedsters. I used to have more (better) photos until the computer upgrade... 

( my Avatar photo was actually posed with Salvi who was cropped out)
p.s. One "oddball" characteristic of these tiny models is that on takeoff they must not have any up elevator input. Otherwise they will loop end over end. Even some down elevator initially on takeoff is quite desirable!
Last edited by Paulgibeault on Fri Jun 20, 2014 2:56 pm; edited 1 time in total (Reason for editing : extra info added)
Thank You for the history on that model Paul! Now I can document it for my files. I found the photo while conducting a random search of images on Google.. and it was "Love at First Sight"!

The 9" span version I would guess has about a 25 Sq. In. wing area vs. around 35 squares for the 12" span model? I am very interested in knowing more about the design of the landing-gear mount in that photo. It appears to be a strap/clamp that screws together around the nose of the crankcase.

I would love to have seen more photos of that model's details. It's a bummer that you lost files when you upgraded your computer. You've no doubt safe-guarded yourself against that for the future.. but what I try to do every month or so; is back-up certain folders to an external USB drive. I have two 320 GB and one 1000 GB drives for this. Currently; the CEF/modeling folder on my Desktop is at 1.64 GB... and I have close to 700 GB of MP3 files; including music that I have composed/recorded here at home. A 1000 GB drive currently costs less than $100.00 USD. A 320 GB drive is probably under $50. They can be set to automatically back-up the files on your hard-drive, so you don't have to do it manually.
Top Poster





Posts

: 5858


Join date

: 2013-07-17


Age

: 58


Location

: N. Smithfield, Rhode Island



Paul,
Thanks for the info!
A couple of questions:
You said fuel is unlimited, what's a typical blend for something like this? I tried having a batch of 50% nitro made for Reed speed competitors. The fuel maker said it would not work with castor because it won't blend with that high nitro content.

The models in the second photo have no landing gear. Hand launch or dolly?

Thank you,
Jim
Diamond Member





Posts

: 1936


Join date

: 2011-12-02


Age

: 50


Location

: Phoenix



Hi Jim,
Well I'm not sure what the others use, but my general "Speed & Racing" fuel for me is: drum roll....... 
65% Nitromethane
15% Propylene Oxide
15% Synthetic Oil (Klotz or K&B X2C)
5% Castor Oil (Klotz Benol or Sig Bakers AA)
YES indeed even the Klotz Oil company rep at the US Nationals told me that their "best" product Benol would not stay homogeneous in blends exceeding 40% nitro.
What he DIDN'T SAY, was that if Benol/castor was BLENDED with a synthetic, then all would mix well & stay in solution. The blend came from none other than the legendary speed flier Bill Wisniewski who came up with the 3 to 1 ratio.
Such a fuel DOES REQUIRE more head shims to run properly (usually 4-6). It also tends to burn out plugs fairly quickly & loosen the ball-socket joint after ~ 10 minutes of running... But if you really have the NEED FOR SPEED, it often gives + 1,000 RPM over standard fuel.
BTW, the (original) landing gear on the Mini-Speedster plan shows a gear that simply plugs into the bottom of the fuselage & is supposed to fall away after takeoff. On Salvi's model, he needs the landing gear plus extra nose weight just to balance the model. Mine are simply hand launched & belly landed. Kind of rough when flown over pavement, but when you only fly once a year... it's not so bad.
Cheers, Paul
p.s. Mother would never agree to using such chinanery in Cox fuels & it voids the warranty instantly....but it's Soooo much fun (for a little while). 
The fuel alone doesn't cause engine failure, it's the LACK OF MAINTENANCE, that's usually to blame.  Oh, & in wet weather, this blend is no good, because for some reason it quickly burns out the plug...!
p.p.s. I've tried & tried to add more photos, but can't for some reason. Time to get away from this infernal machine & do some real modeling I think!
Last edited by Paulgibeault on Sat Jun 21, 2014 11:54 am; edited 1 time in total (Reason for editing : more info added)
Beginner Poster





Posts

: 5


Join date

: 2016-06-03





Similar topics
---
Permissions in this forum:
You
cannot
reply to topics in this forum