Cox Engine of The Month
July-2017
Mark Boesen's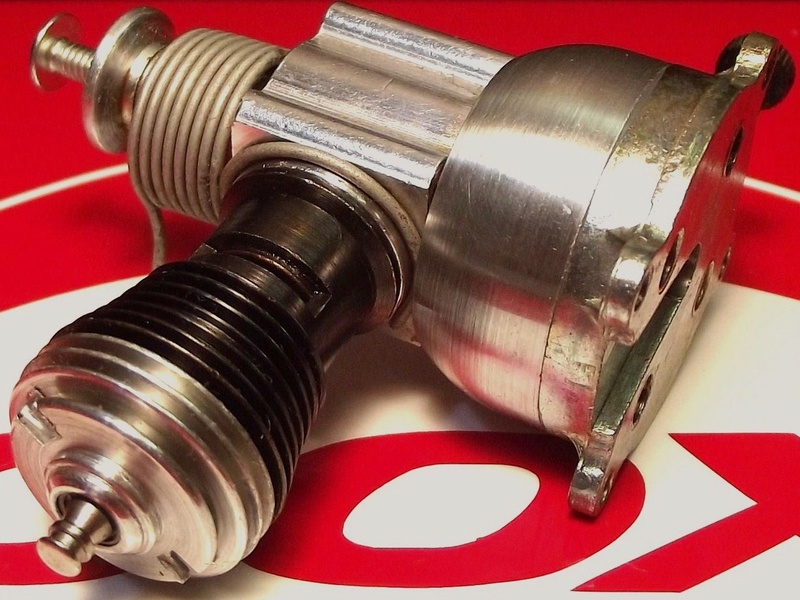 Nice original Babe Bee from a Super Cub 105, late fifties.
---
PAST WINNERS
I might have started 4 people on the CL journey this weekend (maybe even a couple more too). Talk about fun. My man-win trainer had HOURS of crash time on it, with probably over 100 restarts with few problems. (Go rubber ducky prop!). There was even some good quality beginner flying happening, running the baby stunt bee tank out!

I found there is a point where too much dirt is in the engine and flushing the back of the engine then pulling the needle and flushing through the threaded needle hole on a tanked bee revives the engine back to single flip starts. (2 3/4 turns out of Sig Champion 25%)

An unusually large percentage of starts are, of course, backwards. I suspect because for every forward run there is a flight attempt, but multiple reverse starts are stopped, skewing the count. The no-drag spring starter helps but is not perfect proof against reverse starting.

Now a little help: I had a reoccurring problem (besides dirt and grass clippings). The head would keep coming loose. There were a lot of starts between, but even tightening, bench, re-tighten while hot did not make the head stay on tight for the entire session (about 4 hours yesterday, and similar today) I had to re-tighten every hour or so.

I also had a problem that shut me down a little early today (we were going to run the last of the syringe through, so 3-5 more flights, then pack it up, not a big loss of time). The engine acted like no compression, no pop either. The head was loose and was tightened. Then the engine acted under-compressed compared to prior to this two day marathon run. (I don't remember if it is a newer piston cylinder set or not) I could not get a start. I could not get a pop. It was the same set of 3 D batteries that I ran last YEAR. Could day of hard flying and many restarts drain a few 'D' batteries?

Sadly I only got 3 flights in myself, although I truly enjoyed myself.

Phil
Excellent work Phil,

We need more of this happening all over the globe.

You will never stop the head from coming loose. That much heat cycling and vibration it's bound to happen. I experience that myself during a couple hours of flying time.

Hopefully all that dirt it ingested isn't the cause of the low compression. If the cylinder is no good it was worth it anyway!

I have some spare #2's if you need a replacement I'd be glad to help, free of course.

Ron
Moderator






Posts

: 9407


Join date

: 2011-10-24


Age

: 43


Location

: Tuttle, OK



I'll try the battery first. Took about 5 seconds to light a clean, dry glow head in the dim garage today.

Phil
I bet you already know, but the copper gaskets get compressed and hardened. New ones will stay tight longer. Even one of the two being new helps. You might be able to soften them by annealing with a soldering torch. I would say replace the batteries. A bright hot glow plug will light an under compressed engine where a dull glow acts dead. In the field with a weak battery, a drop of Ronsonol lighter fluid will kick it off, but have a fire extinguishing rag handy in case it lights the plane too. After all that dirt, it probably is leaking down pretty quick.
Rusty

_________________
Don't Panic!
...and never Ever think about how good you are at something...
while you're doing it!
My Hot Rock & Blues Playlist
Moderator




Posts

: 10297


Join date

: 2011-08-10


Age

: 61


Location

: South Carolina, USA



I finally got back to this. Fresh batteries! I pulled and flushed the needle, fueled, primed, and it almost started on the flip. Turns out I had the needle 1 turn too far in. It wouldn't restart on 1 flip right away, but it is acting like it used to now.

Phil
---
Permissions in this forum:
You
cannot
reply to topics in this forum