Cox Engine of The Month
March-2018
dckrsn's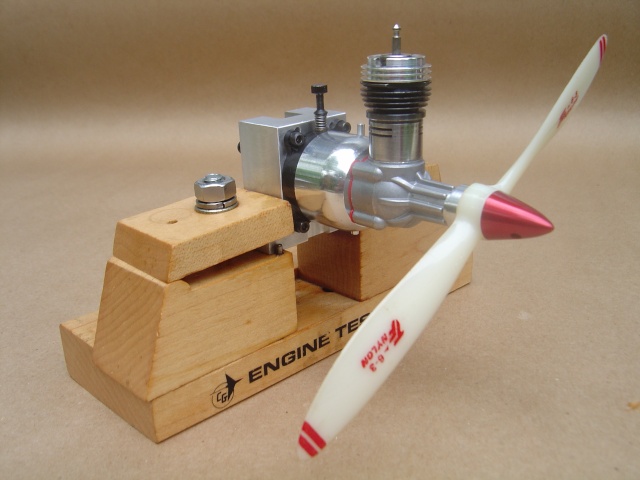 "Cast Case Diva" .049
---
PAST WINNERS

I have seen forum-ites mentioning that the Tower Hobbies Cox Fuel is, ironically, not good for Cox engines due to lower than necessary castor oil.
Is it straightforward to just add castor oil, like 3% by volume more?

I bought a used Tee Dee 049 except it turned out to be a medallion. Is it straightforward to just replace Delrin body with a Tee Dee version and add a Tee Dee needle valve/spray bar and aluminum throat? (sounds like as many $ as the engine cost me(!))

I was reviewing the Guillow's Bellanca Cruisemaster plans and they show the Cox engine glow head wired to the outside of the cowl that totally enclosing the engine. Anybody with 1st-hand experience about how to set that up so it is reliable?

Many thanks in advance,
Poughkeepsie Pete

Cox super fuel has 18% oil and of that 90% is synthetic and 10% is Castor. General rule of thumb for these engines is 20% oil with at least 50% being castor.

Pretty much if you add castor to bring it up to 50% you would end up with glue.

The crankshafts in the Medallion and TD are very different as well as the cylinder porting. So you can't just change out carb/venturi assemblies and expect TD performance from your Medallion.

Ron
Moderator






Posts

: 9643


Join date

: 2011-10-24


Age

: 44


Location

: Tuttle, OK



PeterJGregory wrote:I have seen forum-ites mentioning that the Tower Hobbies Cox Fuel is, ironically, not good for Cox engines due to lower than necessary castor oil.
Is it straightforward to just add castor oil, like 3% by volume more?

I bought a used Tee Dee 049 except it turned out to be a medallion. Is it straightforward to just replace Delrin body with a Tee Dee version and add a Tee Dee needle valve/spray bar and aluminum throat? (sounds like as many $ as the engine cost me(!))

I was  reviewing the Guillow's Bellanca Cruisemaster plans and they show the Cox engine glow head wired to the outside of the cowl that totally enclosing the engine. Anybody with 1st-hand experience about how to set that up so it is reliable?

Many thanks in advance,
Poughkeepsie Pete

Hi Peter, I would not recommend changing the medallion venturi body with a TeeDee venturi body, as I don't believe you would see any noticeable increase in power. I have replaced a TeeDee venturi body with a Medallion venturi body and obtained better fuel draw without a noticeable drop in power. Others on this forum have more experience, but I think all you would be doing by adding the TeeDee parts to the medallion is to have a hard to start medallion. Andy
Gold Member





Posts

: 287


Join date

: 2013-03-30



I agree with all of the replies so far. You might as well keep it as a Medallion, which is a fine engine and much less finicky about pulling fuel from a tank than a Tee Dee. Though it doesn't develop as much power, it's still stronger than a Bee, and a nice addition to any inventory of Cox engines.

As for your Guillows question, I can't offer any help. Maybe someone will notice it and answer. If not, start another thread about that specific question.
Welcome to CEF.
Rusty
Moderator




Posts

: 10493


Join date

: 2011-08-10


Age

: 61


Location

: South Carolina, USA



Remote ignitors are generally reliable. There are kits, or hack up a clip, or otherwise roll your own. As long as the connections are good it will work well. Insufficient cooling is a bigger concern. Heat can kill these little engines pretty quick.

Phil
Diamond Member





Posts

: 2941


Join date

: 2012-10-02


Location

: Ohio



Cribbs74 wrote:Cox super fuel has 18% oil and of that 90% is synthetic and 10% is Castor. General rule of thumb for these engines is 20% oil with at least 50% being castor.

Pretty much if you add castor to bring it up to 50% you would end up with glue.

The crankshafts in the Medallion and TD are very different as well as the cylinder porting. So you can't just change out carb/venturi assemblies and expect TD performance from your Medallion.

Ron
Thanks Ron on all your answers - Looks like I have to reorder another ~$50 gallon of fuel, this time the stuff from Sig.
Agreed, I will just fly the Medallion as a Medallion. I am not into collecting, I want to actually use engines.
Best - Peter
RknRusty wrote:I agree with all of the replies so far. You might as well keep it as a Medallion, which is a fine engine and much less finicky about pulling fuel from a tank than a Tee Dee. Though it doesn't develop as much power, it's still stronger than a Bee, and a nice addition to any inventory of Cox engines.

As for your Guillows question, I can't offer any help. Maybe someone will notice it and answer. If not, start another thread about that specific question.
Welcome to CEF.
Rusty
Thanks, Rusty - Peter
I am left scratching my head - what good is Cox fuel if not Cox engines? I feel pretty duped by Tower who I bought it from (4 quarts at nearly $50/ gallon, delivered).


---
Permissions in this forum:
You
cannot
reply to topics in this forum