Cox Engine of The Month
December-2018
Dave P.'s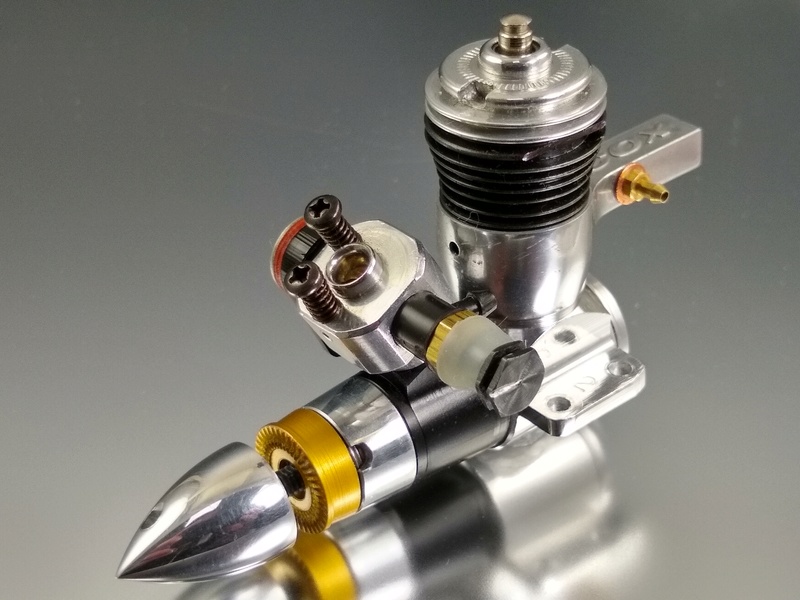 "RC Tee Dee 049"
---
PAST WINNERS
Page 3 of 3 •

1, 2, 3

For a bladder on those I'd use a 2mL. latex pipette bulb or doubled-up Red Cap.
Gold Member





Posts

: 153


Join date

: 2011-08-24


Age

: 79


Location

: Clovis, CA



Steve, I'd be interested on how you set up a red cap. I have some red caps and I while I do have a plastic fitting for the end, I know they're is a easier way to do this as the fitting I have is quite large. Thanks, Ken
Top Poster





Posts

: 3316


Join date

: 2012-03-27


Location

: pennsylvania



Gold Member





Posts

: 153


Join date

: 2011-08-24


Age

: 79


Location

: Clovis, CA



The old boy I got these from had several Fox 29x engines, Torpedo 29S, and a mix of 35s. He seemed really proud of the 29x, so I think he often used them. Not sure if that helps with the mounting issues, but maybe.
Gold Member





Posts

: 129


Join date

: 2013-03-12


Location

: Houston, Texas



getback wrote:John , That's just too funny / but sad ! / I think on PT-19 day someone should make a snach and grab pick up of a UPS sign , but would need to crash to make it right

..... Stevej that is one light fox 35 , if it would run strong//// the plane mount is 5/8 " and 1 9/16"   well just checked the fox is the same!!! looks like i'll be cleaning that puppy up

   Yea I Can get it fixed but I will have to remove all the covering on the out board side and repair were the lead outs are (John I don't have any transparent covering) if you can help I will pay you for it .... And as soon as you decide let me know about the S&H cost there is no reason for you to lose for trying to help another modeler. Eric

 
Maybe on PT-19 Day, rather than towing a banner, I'll rig up a harness and drag the carcass up. At least it would have one last flight.
Eric and Phil, I have a ton of the covering: the roll is probably 5-6" in diameter! I'll end my trip on Tuesday, so (fingers crossed) can get it out by the end of the week.
Gold Member





Posts

: 129


Join date

: 2013-03-12


Location

: Houston, Texas



So... I am now the proud owner of a red head 35 and a red head 29. They are near identical engines that the cases are way too big to fit the wing...

Now what?

Don't get me wrong, I have already learned a lot from this plane even without considering flying it. Control throws on most of my planes are a bit too muc apparently causing stalling in several senses of the word.

Phil
Diamond Member





Posts

: 2971


Join date

: 2012-10-02


Location

: Ohio



Phil,
Take a look at this website. Click on design, then measurements. You should see a list of common engine bolt patterns.
http://www.clacro.de
See if one of them matches what you have. Also if you have time post your measurements and I will look what I have in my stash.
As to control throws, always use the inner hole on the bellcrank no matter what. Use a long control horn and adjust from there. I find 20-25 degrees is all that is really needed.
Ron
Moderator






Posts

: 10079


Join date

: 2011-10-24


Age

: 44


Location

: Tuttle, OK



Why would you use UPS or FEDEX in preference to USPS?

Nearly everything I receive from the USA is done through USPS. Engines, engine parts, machine tools and balsa kits. It does take a while but most of that delay is after arrival in England and, if you follow tracking, it looks as if packages are delayed at various collection centres until enough packages make transit worthwhile.

Snail mail with USPS seems cheap but quick delivery, especially to the UK, is overly expensive.
Diamond Member





Posts

: 2425


Join date

: 2011-11-16


Age

: 64


Location

: England



Either drill new holes, hog out the beams, or make new beams. I've done that more times than I care to. Not my personal choice, but I've opened the holes a few thou if the hole spacing is that close. Many times, the beams are doweled to themselves . Cut new ones and a cheek cowl and your back in business. A Mccoy with the slotted elongated holes will fit a Fox bolt pattern, the beams themselves however need to have the width opened up for the large case. I use a pin vise to drill new holes on situations like this and then I open the holes with larger bits or a cordless drill. The problem becomes readily apparent when you can't get the chuck of the drill close enough to the rear hole so longer bits are in order. Ken
Top Poster





Posts

: 3316


Join date

: 2012-03-27


Location

: pennsylvania



Page 3 of 3 •

1, 2, 3


Similar topics
---
Permissions in this forum:
You
cannot
reply to topics in this forum