Cox Engine of The Month
April-2018
706jim's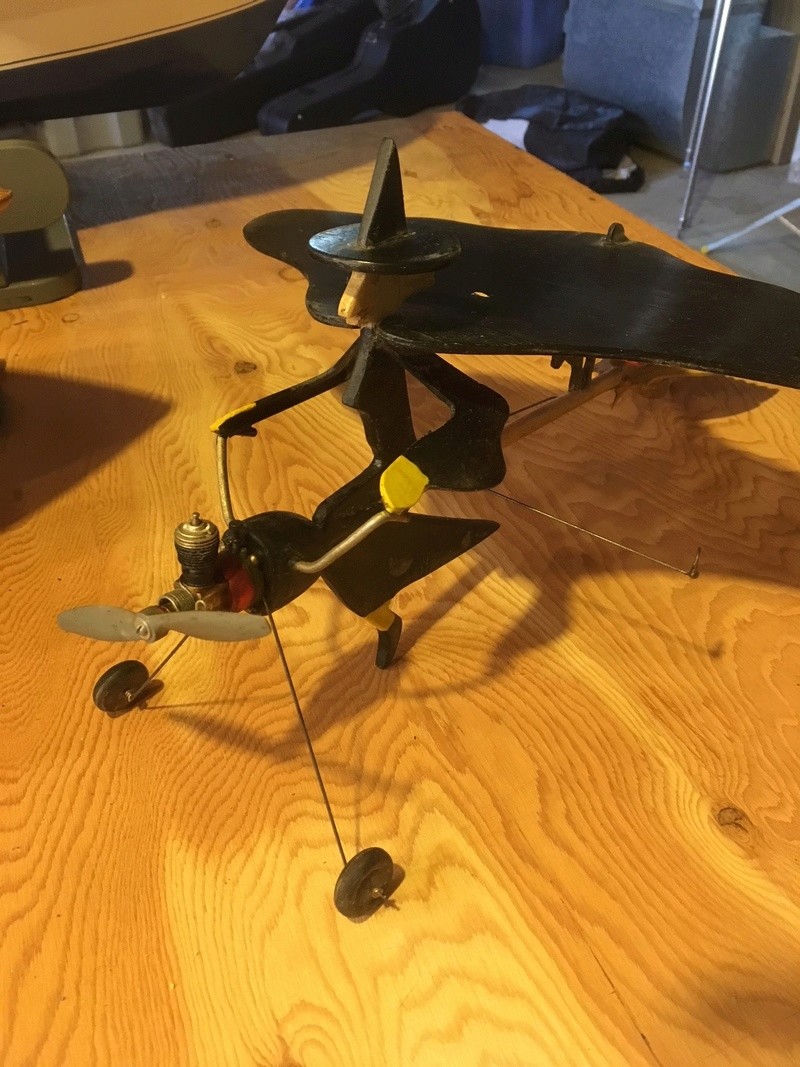 "Pee Wee powered witch"
---
PAST WINNERS

One of the first places in the magazine that I look at is the Focal Point- to see what is being built. Well-Behold! Jim's Cox Engine Forum Profile Scale Reed Speed entry is shown!
Hooray for Jim, The Cox Site, and Control Line, in general!
Congratulations! More building efforts need to be highlighted there: Control Line is Alive, Active and well!
Last edited by GUS THE I.A. on Mon Sep 22, 2014 3:10 am; edited 1 time in total
Gold Member





Posts

: 272


Join date

: 2012-08-15


Location

: Wichita, Kansas



No, I just opened it last night looking for Bob Hunt's continuing pattern flying tutorial. Looks like I gotta wait another month for the next installment. I'm glad you told us, I have a habit of blowing through MA once and chucking it into the doc's office donation pile. Thanks, Gus. And thanks Jim.
Maybe I'll send in my Osprey. Don't know if they'll spend any ink on a Monokote hack but it's worth a try.
Rusty
My son showed it to me, he noticed Jim's name and that it was on of his speed planes.
Diamond Member





Posts

: 1734


Join date

: 2012-11-05


Age

: 46


Location

: Rochester, Washington



I have not, I am away from home so I have not seen the mag next. Looking forward to it though.


Moderator






Posts

: 9680


Join date

: 2011-10-24


Age

: 44


Location

: Tuttle, OK



I'm looking in the October issue that just came. Is that the one?
Ah, there it is. October issue, page 79. Good going Jim. We all should do this. I think I'll send the Yak-9 and the Osprey and see if they feel moved to gimme some love.
Rusty
I just received the magazine today. I feel like a very minor celebrity.

My fiancé actually seemed pretty proud.
Rusty,
Definitely send the osprey and the yak, let 'em know the control liners are in the house.  There's a guy in there with what looks to be a bone stock quad copter that he bought. WTF?
Jim
Diamond Member





Posts

: 1937


Join date

: 2011-12-02


Age

: 50


Location

: Phoenix



"There's a guy in there with what looks to be a bone stock quad copter that he bought. WTF?"
EXACTLY!!!!

Look in the submission instructions page, in this case page 156, and notice that it is exceeding easy to submit in Focal Point. This is popular feature so it takes several months IF yours is published.

All of us Control Line folks need to send in frequently as even if not published, it lets MA editors know there is a LOT of C/L folks still out here building kits and scratch airplanes not just Buying a BnF or ARF

You should also e-mail the C/L line editor ( I think Rich Lopez) and inquire about lack of publication for many of the great control line contests that happen all around the country every year
Diamond Member







Posts

: 2358


Join date

: 2011-08-26


Age

: 62


Location

: Lampasas Texas





Similar topics
---
Permissions in this forum:
You
cannot
reply to topics in this forum