Cox Engine of The Month
September-2023
balogh's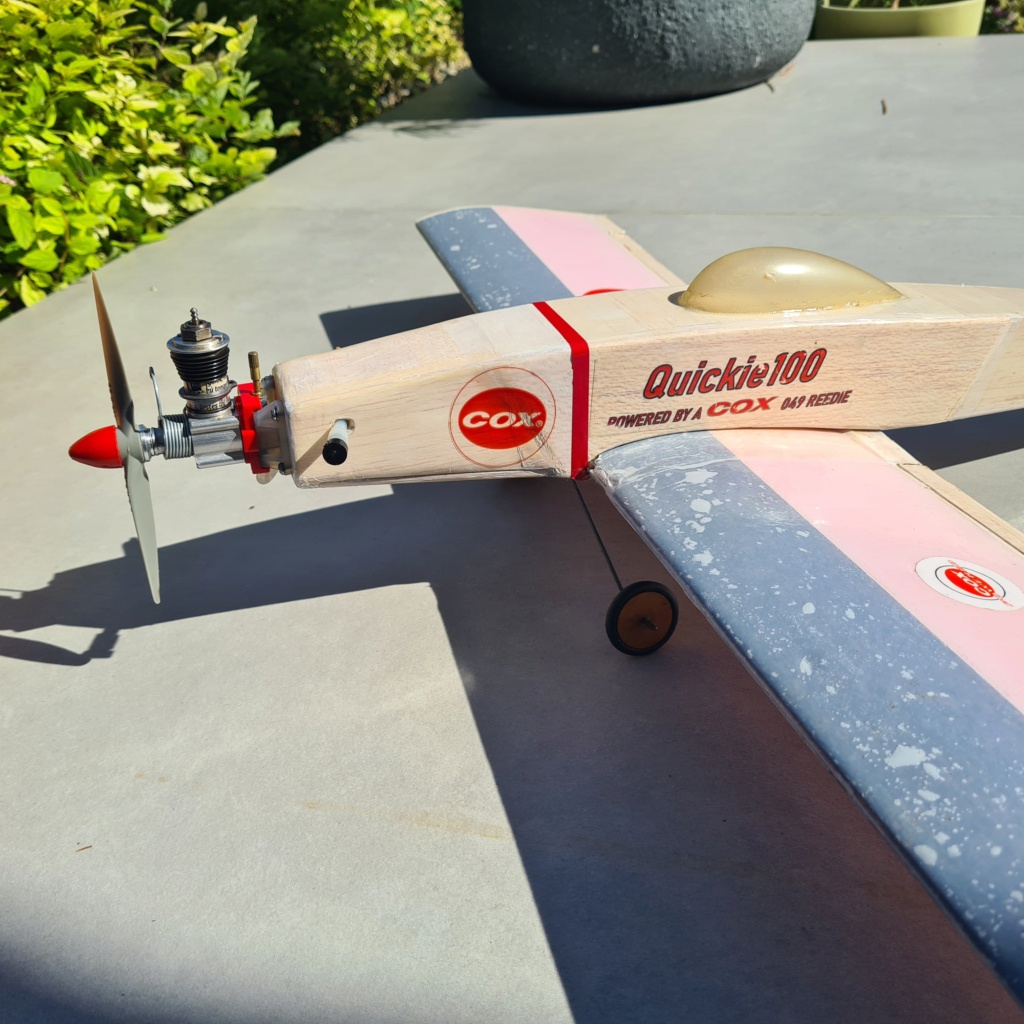 "Beefed up old stock 290 on my Quickie100 RC after plenty of airtime hours..."
---

---
PAST WINNERS
Page 2 of 2 •
1, 2
Awesome, Paul.
I remember the first time I saw one run, Booby Fogg set a 1/2A record in Speed and I thought it was an A Speed ship until Bob told me it was this new Shuriken. By the time I bought one, they were done making them and my check was returned in the mail!
My boy ran Tee Dees, CSs and AMEs until he quit, we could never get close to the Foggs.
I finally bought two Shurikens in the 2000s. Never have run one.
Chris...

stuntflyr

Gold Member





Posts

: 261


Join date

: 2012-01-18


Age

: 64


Location

: Tucson, Arizona



Thanks Chris,
The original Shuriken that I acquired from Bob Fogg was a fabulous speed engine, but a poor racing engine due to problems with re-starting. It left everyone in the dust in the air, but it was all lost on the long pit stops. Can you believe I beat it once in a mouse race with my reed valve, (due to a burned plug), even though it was passing me every 3-4 laps. The required Glo-Bee glowplug was also not reliable after the first run.  After having a custom tapered piston & cylinder built & coupled with a Novarossi plug head, the engine is now a dreamboat to start. Sadly, just as I got it perfected the AMA dropped the Mouse II event. ARG!!  
  Oh well, the "Killer Mouser" now collects dust & I took up 1/2A Proto instead. TeeDee, AME, Norvel, VA, & C.S. were never in the same league. (Why would they be at 1/4 or less the cost?)   Sadly, I think most Shurikens are now "collectables" & are not flown.
I once had the opportunity of running a ChucK Schuette tuned C.S. 049. It placed 3rd in Proto at the AMA Nats at ~105 MPH. With a tuned pipe, it was breath taking as a speed motor. (You haven't lived until you take off at 40,000 RPM!)
However, it was a very far cry from box stock. The required performance mods are something most people are not capable of doing unfortunately.
I think the closest engine performance wise (for racing) is the Russian Cyclon. Inasmuch as Profi now build a beautiful high revving engine, it hasn't yet shown promise in the 1/2A Proto event...
Cheers, Paul

Paulgibeault

Gold Member





Posts

: 259


Join date

: 2011-09-24


Location

: Leduc, Alberta Canada



Well Speed was always a machinists event, but as a child I loved all of the action with dollies flying and 150 entries flying 1/2A through D and Jet. I did 1/2A Speed, Proto and Proto Profile (it was a Jr only event, first year '68 there were 80 entries and the Navy was disappointed). I wanted to grow a little and fly B Proto, never did though. Of course that was in the 60's and tapered off to almost nothing by the time I was flying with my eldest kids in 1/2A and Mouse in the early 90's. 5 kids in each was a pretty good year, and Bobby had it sewed up with the Shuriken, the best we did was an 88 mph Proto Profile flight with a Tee Dee, mid eighties with everything else including the CS and VA (I called it an AME before). The CS in his Speed ship would really turn but he quit before it was ever flown and I never did fly it either. I had it in a wood pan and even so it turned over 30K with the mini pipe that was allowed then in Jr and about 65% nitro. George Brown helped me balance a single blader for that and it was pretty effective. Bob Fogg gave me the fuel because he always had a cooler of Propylene Oxide to add on site so I just went for it whenever he offered.
Anyway, I'm glad you're having fun at it still and are able to travel. I stick to Stunt and R/C Pattern and go to local contests in maybe three states which luckily are pretty active. I'm a box-stock guy or bolt-on guy with engines so those events are better for me. I loved watching the kids race with Mouse Is and Speed back when they were little, though. Maybe one day I'll have grandkids... Cyclon you say, huh?
Chris...

stuntflyr

Gold Member





Posts

: 261


Join date

: 2012-01-18


Age

: 64


Location

: Tucson, Arizona



Page 2 of 2 •
1, 2
---
Permissions in this forum:
You
cannot
reply to topics in this forum