Cox Engine of The Month
June-2019
robot797's
"cox 049 gasoline"
More info on this engine!
---
PAST WINNERS

HELLO I am setting up a 2 channel plane with a 4 channel radio should I use just the right stick for all my controls ? Or the throttle lever for up/down ? Thanks Eric
I wouldnt, it will breed bad habits should you go to flying a 3 or 4ch plane.
Diamond Member





Posts

: 2295


Join date

: 2013-10-20


Age

: 55


Location

: Brad in Texas



So you are saying keep it all on the right stick ? Thanks 1/2A Nut//// That's the way I have it now and feels right been a while . Eric
Last edited by getback on Sun Nov 02, 2014 1:24 pm; edited 1 time in total (Reason for editing : Add on)
If you are using rudder then left stick for rudder and right stick for elevator would be option B

Diamond Member





Posts

: 2295


Join date

: 2013-10-20


Age

: 55


Location

: Brad in Texas



When the plane has ailerons, I use Mode II exclusively. Left stick throttle and rudder, right stick elevator and aileron.

With "2 Ch" (actually 3 with throttle), I move the rudder to the right stick. It works well for me and the transition isn't confusing. It just seems a more natural control.

Everyone has their preferences. A lot of modellers in the UK insist on Mode I and constantly debate the choice.

Set up RC to suit your own flying. Changing Modes from I to II or vice versa is difficult but keepng throttle on left and with no ailerons, moving rudder to right stick make flying with rudder and elevator on same stick easier for me.


Diamond Member





Posts

: 2425


Join date

: 2011-11-16


Age

: 64


Location

: England



For 2 channel, rudder/elevator, I fly with both the rudder and elevator on the right stick. The plane in my avatar is flown like that.
Diamond Member





Posts

: 1235


Join date

: 2011-08-11


Age

: 71


Location

: Western Kentucky



Thanks Guys !!! I guess I could'nt remember where the aerloins were on the controller it has been along time since RC this should be Good I think the TD049 will carry it along even with the extra baggage ................. I will keep it as All Right stick, Simple Minded Me /// Could have just ck'ed the 4 channel I have set up but that would have been too easy. Anyway here is my setup so far everboby likes pictures........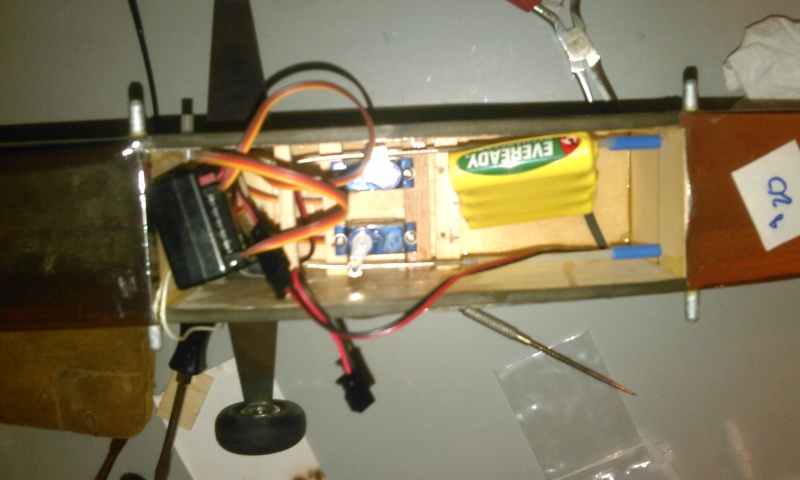 I cut the sc.s off at the tail had to add a brace for the micro servos cut the arms to fit //has allot of throw to the elv. and rudder . This old system has no intermediate mod. Thanks Eric
Got me anew head!!


Similar topics
---
Permissions in this forum:
You
cannot
reply to topics in this forum