Cox Engine of The Month
June-2018
Davenz13's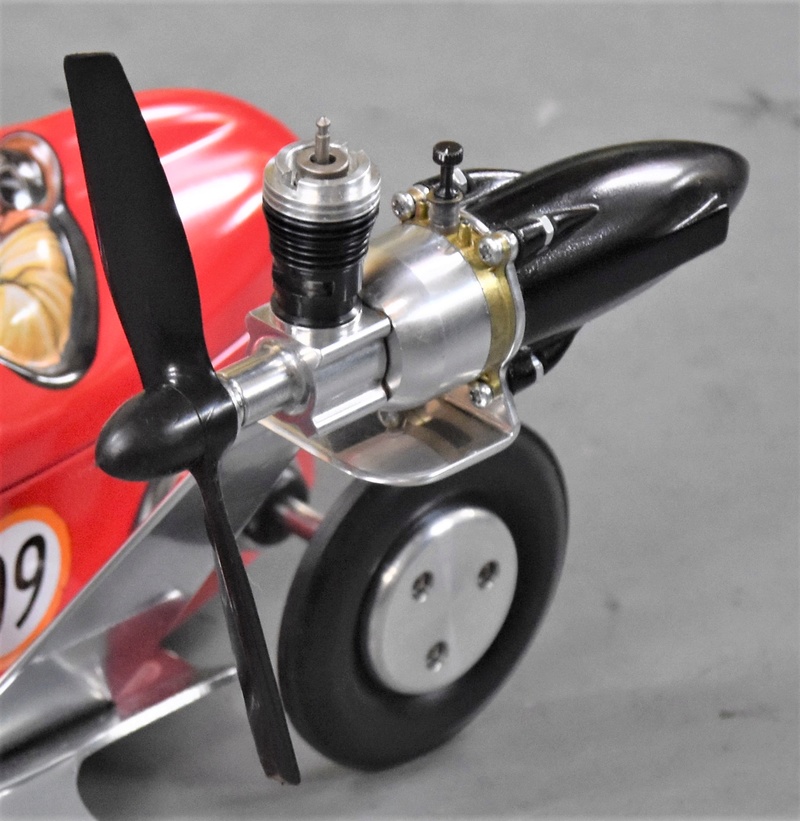 ".049 Bee"
---
PAST WINNERS

I am to the point where I have to make a decision about how to finish a couple of airplane builds. One is sheet balsa and silkspan, the other is all balsa. I have been looking at Brodaks site:
http://brodak.com/finishing-products/dope.html
and they have the colors that I need. But what kind of paint? It naturally has to be hot fuel proof and compatible with the aero gloss sanding sealer and clear that I have already applied. I just can't find aero gloss in colors any more.
Is there something else that is better? I have been reading referances to over the counter Walmart spray stuff like Krylon etc. but that doesn't seem practical.
Diamond Member





Posts

: 2928


Join date

: 2014-08-18


Location

: West Virginia



You could have a real problem currently. Aero Gloss is no more. It really is a very problematic paint and has been since the 1980's. At this stage experimenting is your best option. Using one brand of finish all the way to the end is the recommended procedure. I do mix and match certain butyrate products but you need to know which ones you can do that with. Aero Gloss shares no thinners between Sig, Brodak, Certified, Randolph, etc.

What I will say though is that I know many that have applied Brodak Clear over Aero Gloss colors. I feel that you may need to do a test on some scrap. Aero Gloss has changed it's formula many times through the years and it really depends on what you have. That being said, I wouldn't try it on the plane but on scrap. Harry Higley made a compatibility chart some time ago to show the reactions between certain brand paints. Ken
Top Poster





Posts

: 3032


Join date

: 2012-03-27


Location

: pennsylvania



Midwest makes Aero Gloss now.
http://midwestproducts.com/collections/paint
however nobody seems to carry other than clear. I have never tried ordering direct.
The thinner issue is a real problem. I recently used a blend of xylene and MEK with mixed results. One plane has coating failure, (peeling cracking, the works), the other is OK. The plane that seems OK was a blend while the failure was xylene only. There were more variables too as some of the dope was pactra aero gloss, and some on the OK plane was mixed with midwest clear.
The xylene had irregular blushing, while the xylene and MEK came out glossy and even.
So...use the right thinners if possible.
Phil
Diamond Member





Posts

: 2955


Join date

: 2012-10-02


Location

: Ohio



SIG still comes in many colors and works great. I get the 1/2gal clear and 8oz in color. They also sell thinner in 1/2gal sizes. I got my local hobby shop to start carrying it and now they are building balsa.
Bronze Member





Posts

: 58


Join date

: 2014-10-06


Age

: 47



http://midwestproducts.com/collections/paint
 Phil they show green , blue ,white and yellow . All I have used is the old stock aero gloss and it may not look the best but I've yet to have it come off . Never used brodak colors so I don't know what I am missing I guess, although they do have a lot of pretty colors . Eric
Top Poster





Posts

: 4799


Join date

: 2013-01-18


Age

: 60


Location

: julian



It is my OPINION that most compatibility problems among different brands of Butyrate dope is caused by the speed of the thinner. If you paint a faster drying brand over a slower one, the upper paint dries while the lower one is still gassing off. The gas is trapped and can cause separation between layers.

I don't remember having problems painting over thoroughly dried Butyrate of another brand.

Brodak dope is made by Randolph's I believe. Randolph used to mix it for Brodak but I think Brodak is mixing it in-house these days. I use Brodak dope and have had good luck with it. It is noted for lots of pigment.

SIG dope is excellent also. It is available in lots of colors. I don't know who makes SIG's dope.

If I remember correctly, Brodak's dries faster. As mentioned earlier, if you stay with one brand from first coat to last, some of the compatibility problems are eliminated. Which brand you use may be determined by the color choices.

I haven't used Aero Gloss recently so I can't comment on it.

George
Platinum Member





Posts

: 908


Join date

: 2011-08-11


Location

: Port Ewen, NY





Similar topics
---
Permissions in this forum:
You
cannot
reply to topics in this forum