Cox Engine of The Month
May-2018
Kim's
"War Dog hauls the 2M B.O.T. out of Uncle Wayne's backyard"
---
PAST WINNERS

This topic is really part of my P51D build topic but does merit a topic of its very own. The posting below alerted me to anilene dyes and without further a do, I was ordering it to give it a whirl!
statorvane wrote:

Ian1954 wrote: wrote:After seeing this, I wish that coloured dope was still available in the UK or I new how to pigment it myself.

Have you ever heard of aniline dyes? I have been using them for some time to shade/tone clear lacquer sprayed onto guitars. I am betting these will work fine with dope. They are extremely concentrated. I add the dye to lacquer thinner to make a concentrated mix, then dilute with thinner for spraying on the guitar. This gets covered later with multiple clear coats of lacquer. I am thinking you could do the same with dope, except add more dope into the concentrated mixture.

Here's a shot where you can see the shade build into almost an opaque color:

This is Cordovan Purple dye over flame maple. The body is ash. I later applied the toner to the ash - virtually obscuring the grain, etc.

They dyes come in liquid and powered pigments. I have had better luck with the powerded variety, but they are getting scarce.

Just a thought. Here is a link to information I originally used:

Aniline Dyes

Hope it helps.

Oh, and by the way that P-51 is coming along great. very nice effort.
Naturally, I chose red but before I continue - here is my warning -
DO NOT DO AS I DO (DID!), DO AS I SAY!!!!!
Now before I embark upon the tale, here is the reason why
I was caught "red handed" and not in the most obvious of circumstances!
I was careful when using the powder and mixing (no, I didn't wear gloves) and got splashes of dope on my hands but that came off easily and lulled me into a false sense of security.
Where I was caught out was towards the end of my experimentation and it took me a while to realise what was happening.
After my "coloured" dope had dried in my "opaque" phase, I sanded the finishes smooth. It made a lot of dust which I kept hoovering up. The first clue (which I ignored) was after washing my hands) to clean off the dust - my hands were a very slightly red tinge but I just assumed that I should have used soap.
After further coats, I began wet sanding and thought it normal that the water (I was using quite a large bowl for dipping the paper) was taking on a distinctly red hue.
When I went to wash my hands , they were bright red. Anilene powder held in suspension in dope does not lose its effectiveness do dye!
Any dust on the floor, skin, clothes ........ when water is applied turns what was sanding dust into a very efficient dye!
Anyway, I digress but here is how I started.
The tin of anilene powder - not cheap!
Assemble the required chemicals (by the kitchen sink!)
Add two teaspoons of powder to half a jar of thinner. (Why two teaspoons? Why not?)
Shake well and stir (repeat until you get bored).
Leave over night and
A very sludgy mix. Here is where I wondered whether any of the powder had dissolved and so I filtered it.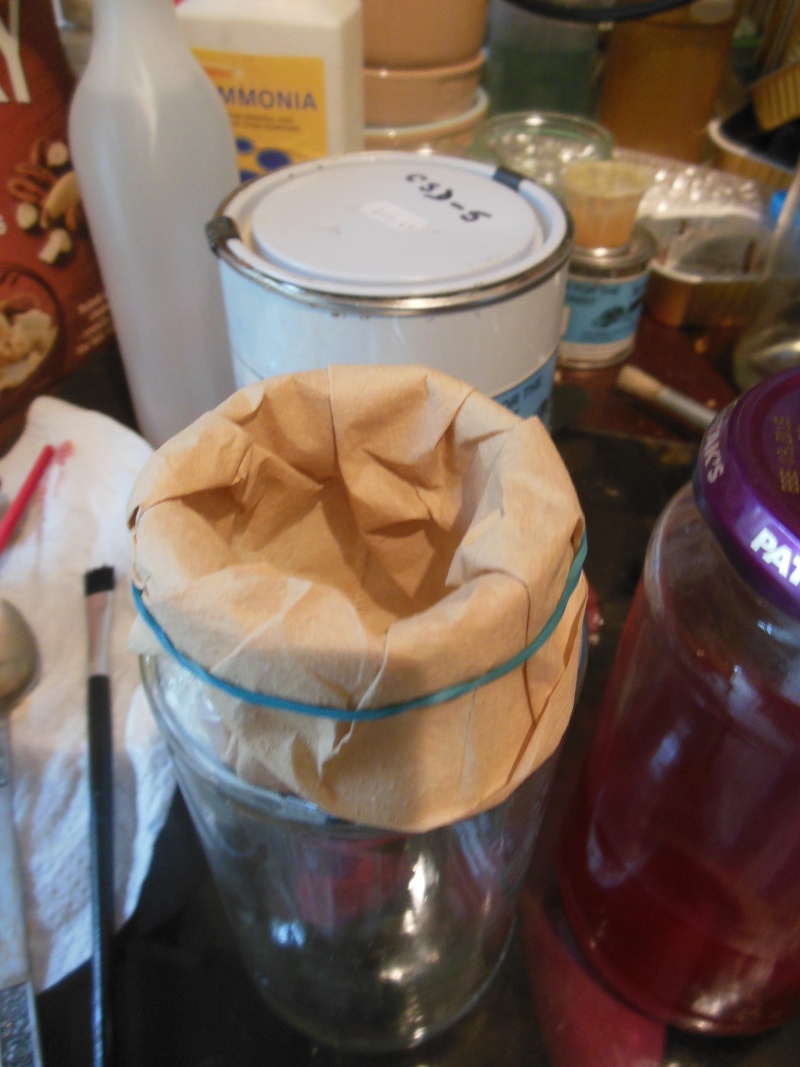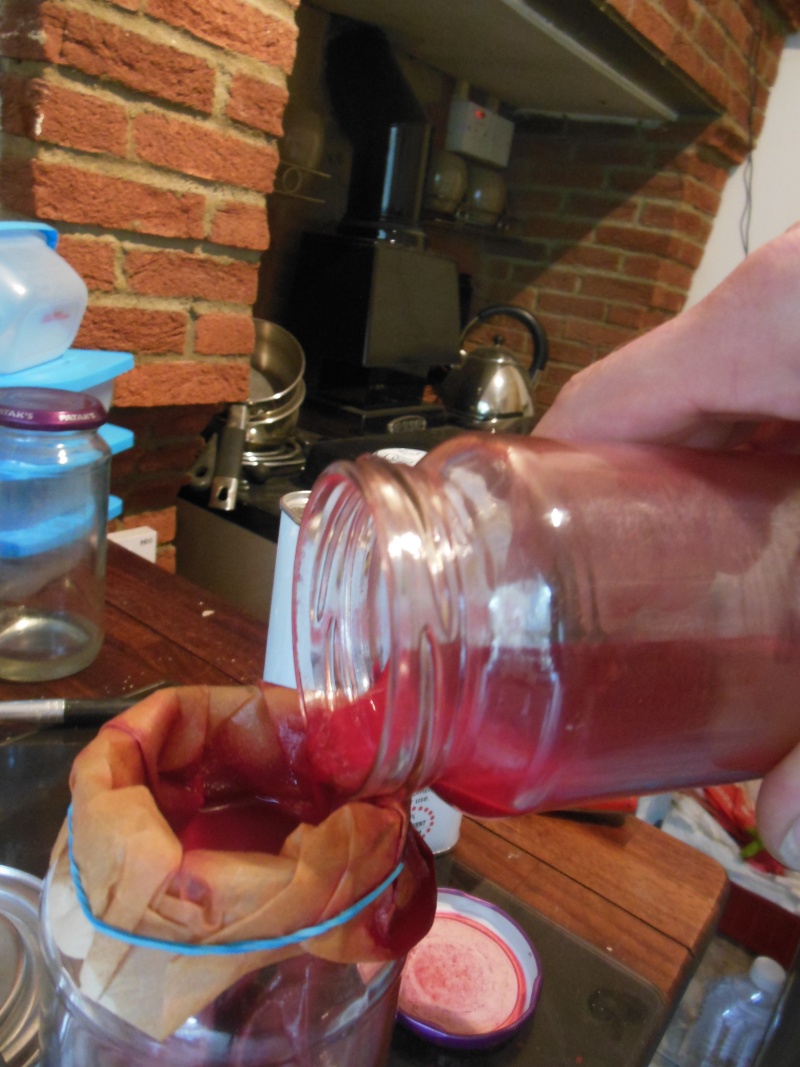 After filtering, I would estimate that one teaspoon of the powder had dissolved in the thinners.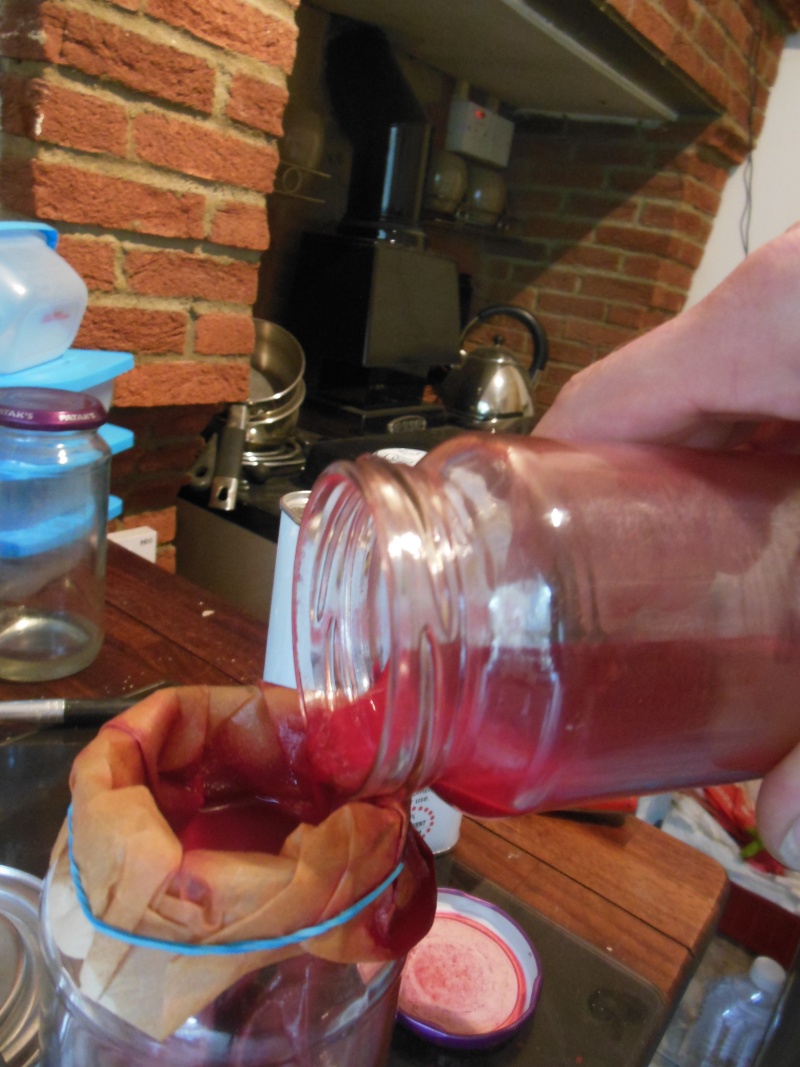 Add dope
shake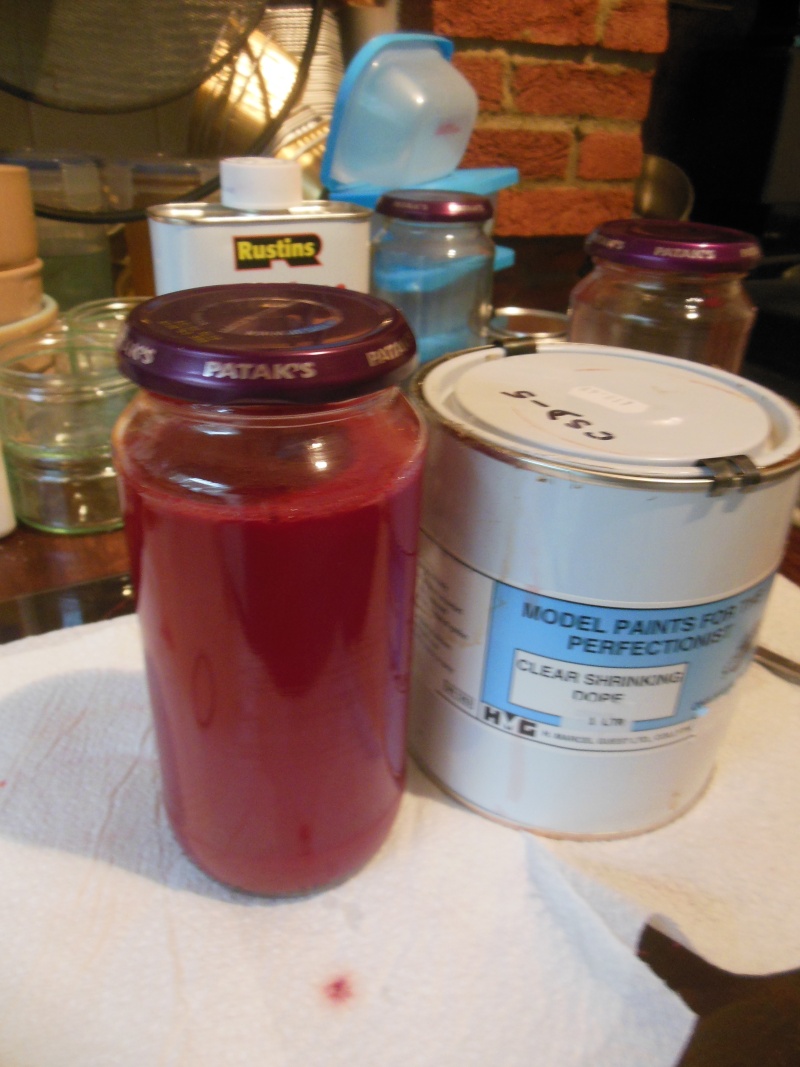 The mix is then ready!
I applied several coats to the tail plane but not to the elevator. The elevator is covered with the previously "dylon" dyed tissue which was far too pale and see through for my liking. The tail plane had three coats of this "filtered" mix but was still "see through"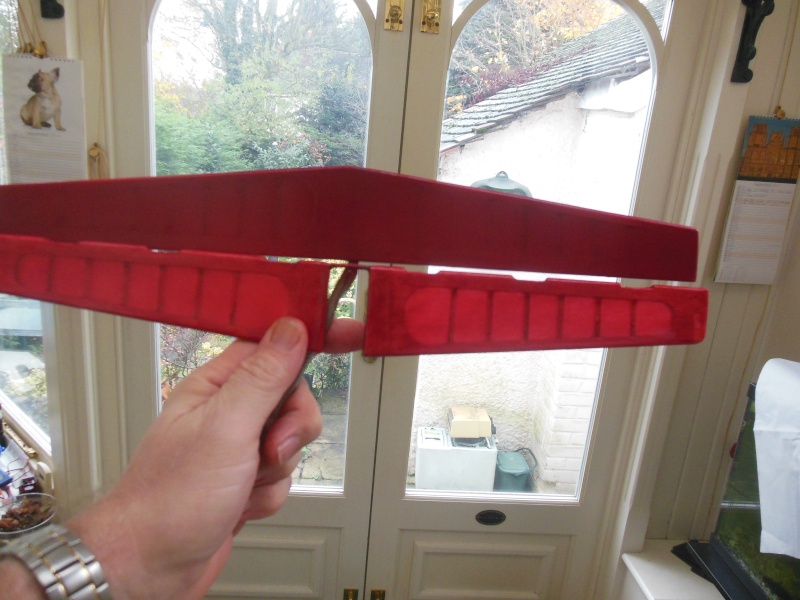 So then I whacked another teaspoon of powder into the mix, shook well and sprayed over.
This time, here is a snap of the fuselage. On the left, three coats of the original mix on the right a quick over spray of the new mix.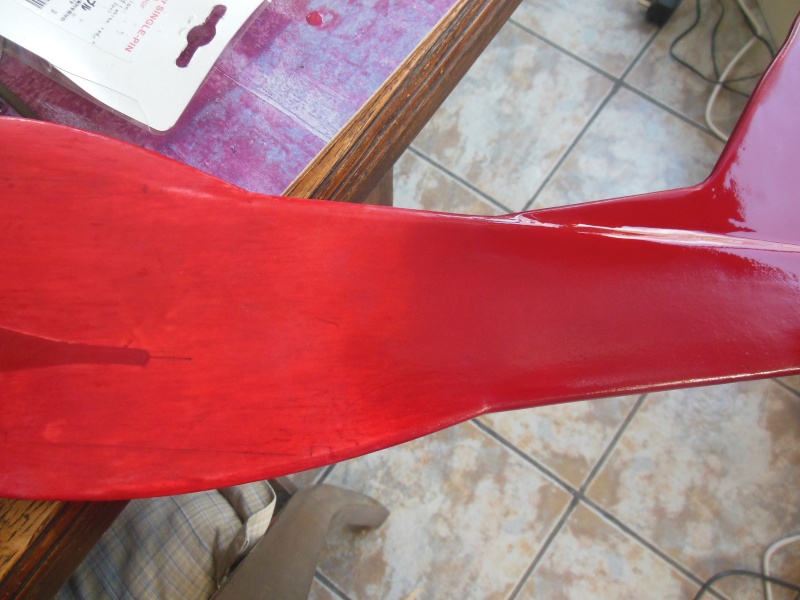 The tail plane and elevator (topped with a clear coat - dope only)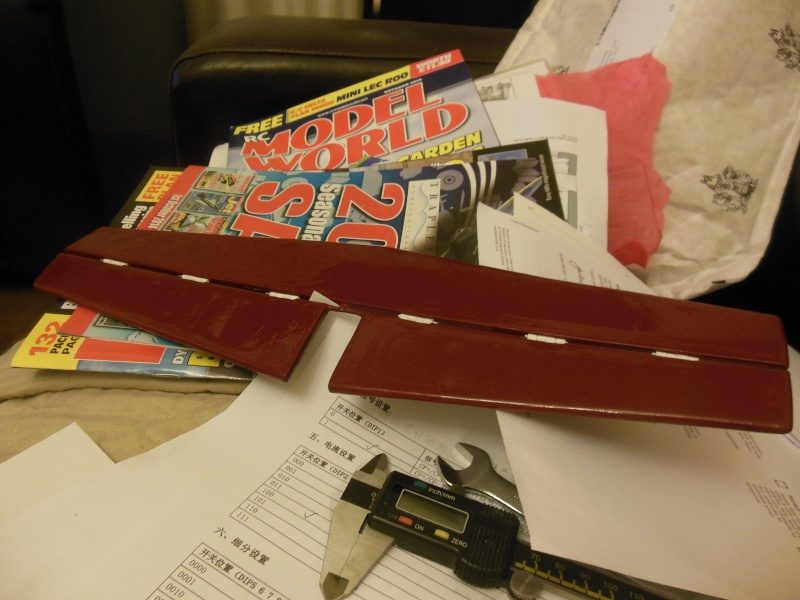 Work still in progress - but I will eventually complete the P51D - just thought I would illuminate you with my experiences.
I was "dy(e)ing" to tell you!
Diamond Member





Posts

: 2425


Join date

: 2011-11-16


Age

: 63


Location

: England



I forgot to mention - a very dilute ammonia solution will remove the "red handed" look and undye staining. Take care though, I am rather blasé with chemicals and skin. I also touch things to see if they are hot!
Diamond Member





Posts

: 2425


Join date

: 2011-11-16


Age

: 63


Location

: England



I had good results using Rit dye for cloth.  I dissolved the powdered dye in thinner, drained off the thinner leaving the residue behind, and added the thinner to clear Nitrate.  I sprayed a number of coats of this mixture onto silk and then sprayed a final coat of Sig beutriate for fuel proofing. It comes out rather nicely and the thinner dye mix also seems to plasticize the dope.
Moderate Poster





Posts

: 25


Join date

: 2014-09-08


Location

: texas



I've read that others have also had good success with RIT dyes.

I've been doing some research on dyeing silk.  With the less expensive Habotai silks, covering with silk is again cost effective.  However, to keep from painting the entire plane, dyeing before covering would give a good base color and only trim coats would be required.  Years back, I used a lot of colored silk (commercial from SIG) and only trimmed out the plane.  Colored silk with clear dope is ultra light and less troublesome to paint.

The point is that there are a number of cellulose dyes available from fabric suppliers and the color choice is substantial.  I just wonder if these powdered dyes could be used to tint nitrate or butyrate dope.  Anyone have experience with these products??

andrew

BTW, thank you Ian for sharing your experience with adding color.  I have also considered the aniline dyes, but the color choices seem to be a little limited with these.
Diamond Member





Posts

: 1226


Join date

: 2011-08-11


Age

: 70


Location

: Western Kentucky





Similar topics
---
Permissions in this forum:
You
cannot
reply to topics in this forum