Cox Engine of The Month
May-2019
Tee Bee's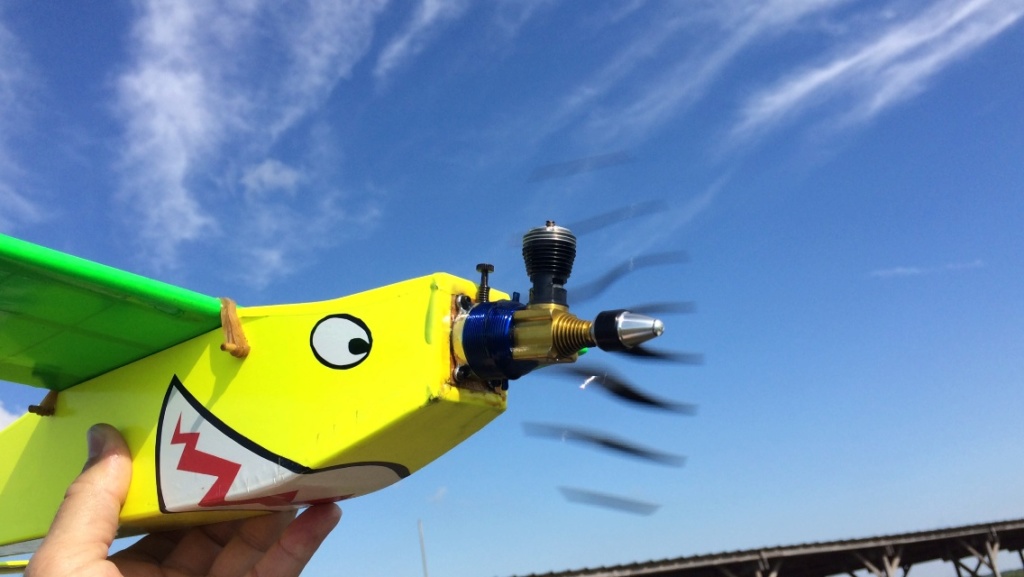 "This RR1 was restored for all the right reasons"
---
PAST WINNERS

I saw one on E Bay for $25 & I am wondering if they were used for RC & if that would have been a good buy.

Thanks RK Flyer
Gold Member





Posts

: 270


Join date

: 2013-07-16


Location

: Somerset, Kentucky



Hi Richard,
Yes, they can be used for RC. they have a throttled exhaust
Unless you were looking at this one below. It has another cylinder fitted and hasn't got a throttle ring.
http://www.ebay.com/itm/COX-049-MODEL-AIRPLANE-ENGINE-DRAGONFLY/371185209891?_trksid=p2047675.c100011.m1850&_trkparms=aid%3D222007%26algo%3DSIC.MBE%26ao%3D1%26asc%3D27538%26meid%3D294d518c049b4d3699bb7c3861aea475%26pid%3D100011%26prg%3D11353%26rk%3D1%26rkt%3D10%26sd%3D141499762806
Lieven
Diamond Member





Posts

: 1305


Join date

: 2013-03-19


Age

: 52


Location

: Normandy, France



As Lieven stated, yes they can be used for RC and are in fact designed for it. Not only did they come stock with an exhaust throttle/muffler but they had a flexible weighted "clunked" fuel line in the tank that allowed for extended inverted flight. While not the most powerful Reedy I used to have one of these engines on a sig hummer and it was a fun little bird wish I still had it. (Bandit)
Thanks for the fast reply! The engine I saw had what I thought was just a muffler, so would one of these be a good way to get into RC kits?

RK Flyer
Gold Member





Posts

: 270


Join date

: 2013-07-16


Location

: Somerset, Kentucky



RK Flyer wrote:Thanks for the fast reply! The engine I saw had what I thought was just a muffler, so would one of these be a good way to get into RC kits?

RK Flyer
I enjoyed mine so I would say yes just keep in mind to build the model light it's not the most powerful maybe a little better than a Babe Bee. One thing, If you decide to get this engine, this engine has a clunked tank so I would advise that after getting the engine and any hard landing that results in a sudden hard stop, give the model/engine a slight shake and listen for a clunking rattle inside the engines tank. If you hear the rattle it is OK if you don't hear the rattle, that means the weight "clunk" on the end of the fuel tubing inside the tank has been forced up towards the front of the tank and has likely pinched the fuel line. If it has, you will have to disassemble the tank to fix it if you have to do this make sure that when you reassemble the tank that you have a little clearance between the clunk and the back of the tank. If the clunk touches the back of the tank it will most likely starve the engine of fuel. (Bandit)
If you are at the field, and the "clunk" was forced to the front by a bad landing (yea, I'll be nice and say landing.  A landing requires no repairs).  Try "bouncing" the plane tail down.  No, don't drop it or do anything that will break it, but move it quickly tail first, then jerk it by the propeller and landing gear.  Stand up on something and let gravity assist you too.  Frequently this will be enough to reset the clunk to where it belongs.  

No I have never done this to a dragonfly.  Yes, I have done this to larger clunk tanks. Removing the wing must be done if possible.

Phil
Diamond Member





Posts

: 2982


Join date

: 2012-10-02


Location

: Ohio



pkrankow wrote:If you are at the field, and the "clunk" was forced to the front by a bad landing (yea, I'll be nice and say landing.  A landing requires no repairs).  Try "bouncing" the plane tail down.  No, don't drop it or do anything that will break it, but move it quickly tail first, then jerk it by the propeller and landing gear.  Stand up on something and let gravity assist you too.  Frequently this will be enough to reset the clunk to where it belongs.  

No I have never done this to a dragonfly.  Yes, I have done this to larger clunk tanks.  Removing the wing must be done if possible.

Phil
Great point! As far as the dragonfly is concerned, I've tried the jerk trick with my dragonfly back when I had one on my Hummer and while it can be done it just didn't work well. (clunk too light in a small tank) It takes a good hit for it to happen so it's usually a good idea to take the engine off anyway to inspect or repair the model (Bandit)


Similar topics
---
Permissions in this forum:
You
cannot
reply to topics in this forum