Cox Engine of The Month
April-2018
706jim's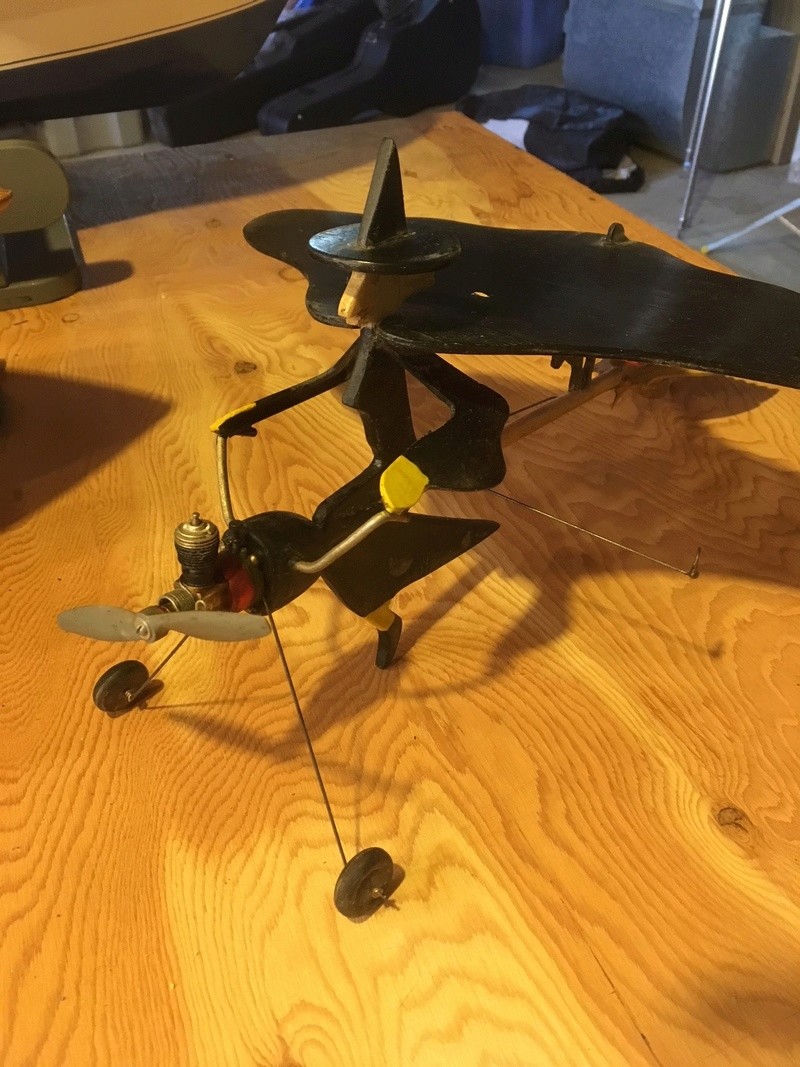 "Pee Wee powered witch"
---
PAST WINNERS

While looking over ebay for P-38's last week I came across this plastic already built 1/12th scale example and was surprised to see that it had virtually the same paint scheme that I used on my C/L model built some forty years ago.
I'm not into non flying plastic models.   I don't like gluing all of those little parts together, but as some little Chinese guy or gal had already done that for me, I bought it.  
Makes mine look kind of plain.  Guess I will have to find some blue paint and touch it up a bit.

Yesterday, myself and about 6 other club members endured the wind and cold. The wind was howling a steady 15-20 mph. I got the old Sterling P-38 airworthy and redrilled for some OS MAX-S .10's. The inboard engine is still not broken in and was giving me a bit of a hard time. I took the tanks apart  New Year's eve and cleaned them and re plumbed the pickups to the bottom. I pretty much despise the pickups out the front of the tank as it always ends up into the back of your cylinder head. The Sterling has a very short nose with little room for tanks. Once I got a fairly close needle on each, it was out to the handle. The plane takes off faster than I thought. I got in a few loops and 1 wingover. It was really cold at this point and I had enough. It was pretty cool and it certainly was a big attention getter. Ken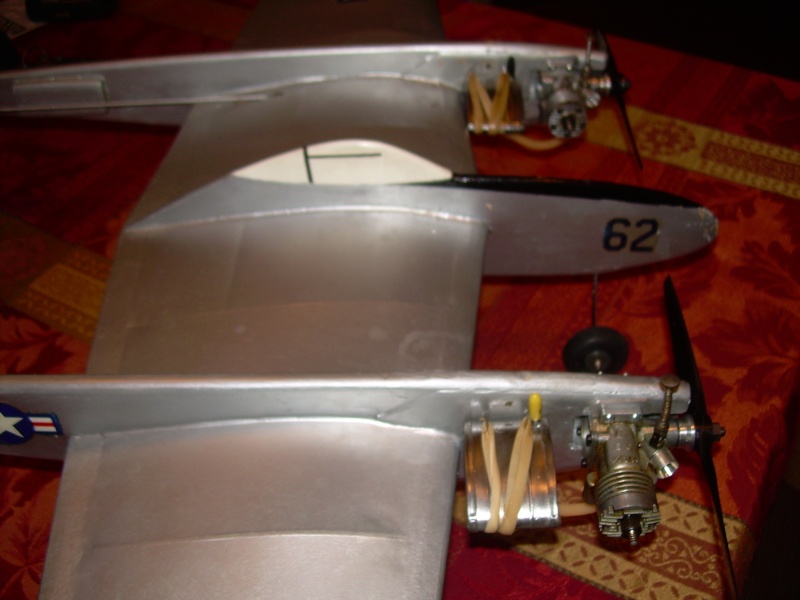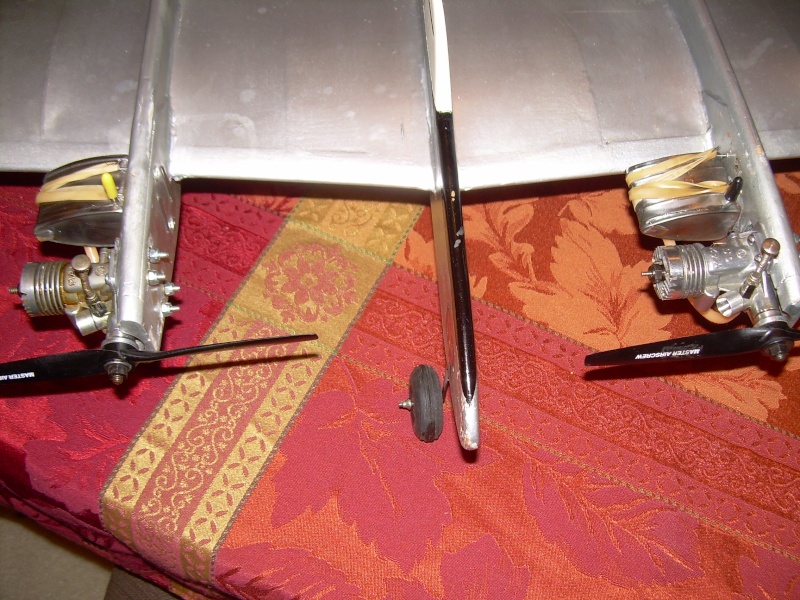 Diamond Member





Posts

: 2958


Join date

: 2012-03-27


Location

: pennsylvania



Pennsylvania, yes, I can believe that it was cold and windy up there as it was here in WV a bit south of you.
I love the P-38's in all forms. What did you finish your's in? Looks like it was sprayed on.
Am I the only one that builds gas tanks into these profile models? It doesn't compromise the structural rigidity and has never caused a fuel feed problem in the models that I have done. Makes a nice clean installation without the need for additional restraints.
Your method of tank installation is one I've done a few times. The problem is getting the tank shimmed side to side correctly. In other words you have to launch leaner due to centrifugal force causing the setting to go rich. The further outboard the tank is moved essentially the leaner the engine runs. The more the tank is fixed inboard, the richer the engine runs. Ideally, the perfect placement is when the fuel pickup is set out off of the doubler the same distance as your centerline of venturi. It can also make shimming the tank vertically a bit problematic if you don't have enough room. Nonetheless, it works well but I will say, it does sacrifice some strength for those that still offer the plane a ground pounding. Your cutting through both doublers therefore the stress riser is created just behind the tank. For me, that's a non issue as I'm beyond the ground pounding stage.

        My plane is done in silver dope. A horrible job at that. It was done years ago and it was sprayed. Silver doesn't like to be brushed, it looks terrible when brushed. This dope is coming off in several areas due to fuel migration into it. It really needed several top coats of clear.
Diamond Member





Posts

: 2958


Join date

: 2012-03-27


Location

: pennsylvania



I sprayed my P-38 silver too Ken, but I have forgotten what with.  It might have been thinned dope airbrushed on but I'm not sure.  It could have been Krylon, but it's mostly fuel proof and I don't think dept store sprays are?
I always cut my profile gas tanks to fit, align, then jam epoxy in the cracks and fillet the corners.  I'm pretty sure that I used two part epoxy red on the red airplane.  The wing was made out of a tail section of a crashed R/C (me) something or other.
I'm looking for some 1 1/2" blue spinners for that P-38..  These might work on those GB's. Wish I could find some three bladed jobs. I know they are out there as I had them on it once.
http://www.ebay.com/itm/38mm-1-5-inch-Plastic-Spinners-Blue-/130810155032?pt=Radio_Control_Parts_Accessories&hash=item1e74e49018


Similar topics
---
Permissions in this forum:
You
cannot
reply to topics in this forum