Cox Engine of The Month
December-2018
Dave P.'s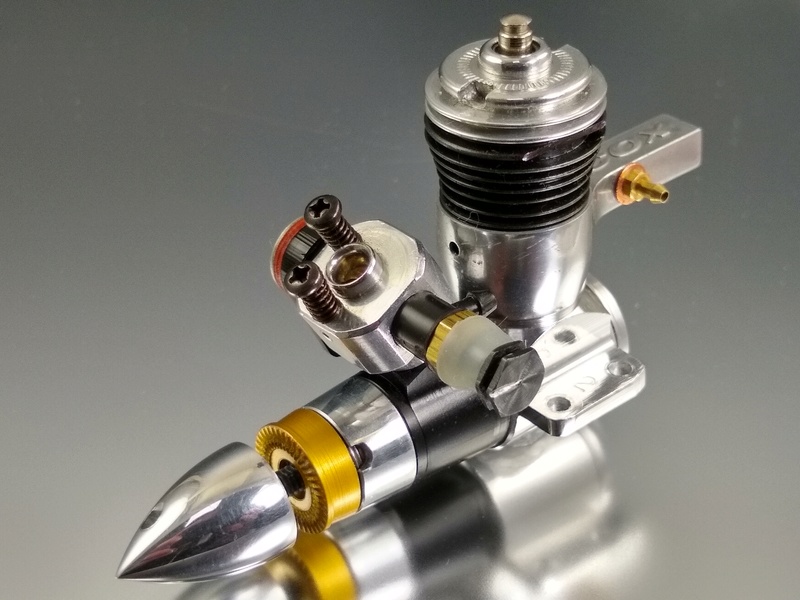 "RC Tee Dee 049"
---
PAST WINNERS

I've decided the best place for this discussion is in a new thread.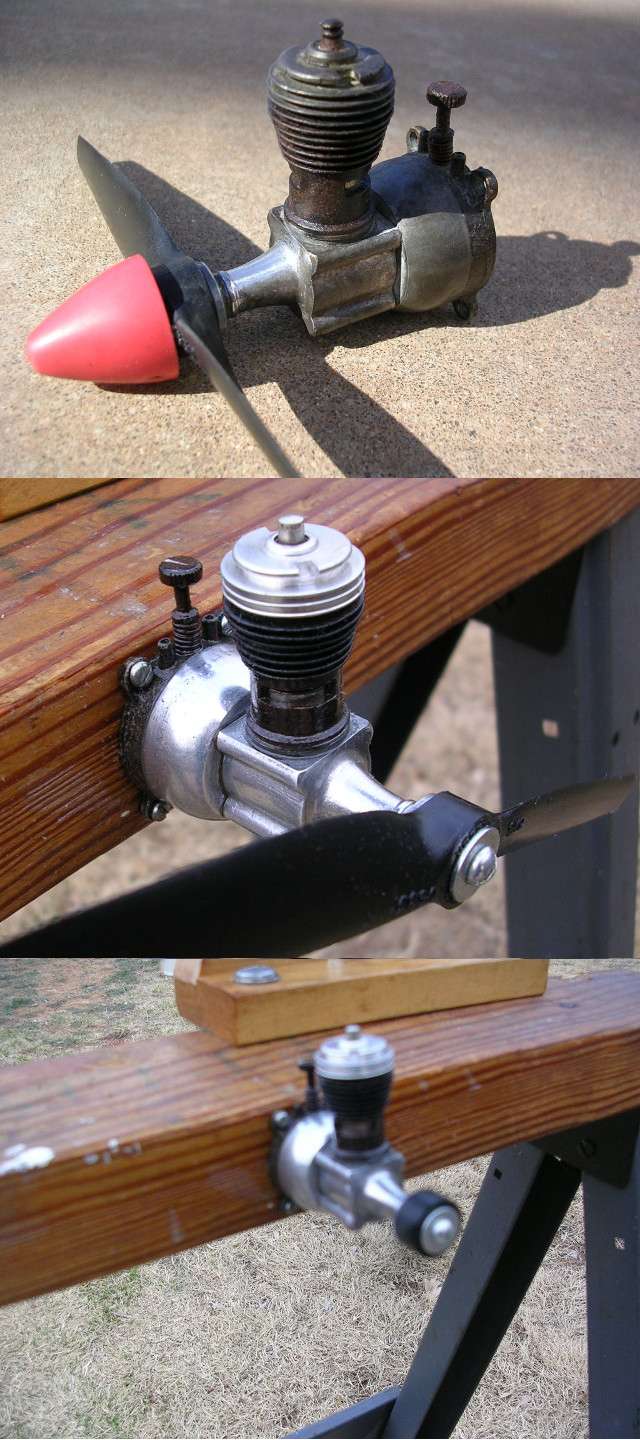 This engine was a field find in the mid 1990's. My son Joseph, then a pre-teen was with his friend Brandon. We lived on a climbing ridge with a sloping open field in front of our house, and with smaller open land behind our house. Brandon was our next door neighbor and same age as Joseph.
After querrying on the Yahoo Groups 049 Collectors, I received a probable assessment that the engine could be anywhere from about 1958 to about 1967 or thereabouts, most likely the latter based on the earlier tapered shaft crankcase and stamped
Thimble Drome
lettering on the tank. My guess would be the mid 1960's.
Engine appeared to have some run time on it, more than a new hardly run engine. 100 year rain history, Gallup averages 9.5 inches (0.24 meters) precipitation annually. The drier weather helped to preserve it.
I cleaned it up by disassembling and soaking in solvent, scrubbing the cylinder which helped to remove the excess rust, reassembling with new gaskets. Rust is still present on cylinder and needle, needle spring, but a light coat of oil helps to hide it.
Engine immediately fired up after I opened needle to 4 turns, which is unusual. I'm used to anywhere from 1-1/2 to 2-1/2 turns. Balogh brought up an interesting point of corrosion causing the needle to require greater opening.
Having received cathodic protection training as a part of my continuing education training during my former working life, not that I know everything, but the following might be plausible explanation.
The steel piston in the steel liner would have less galvanic corrosion action, as these are similar metals, slightly softer piston to liner. Castor oil varnish will also aid to preserve the piston to cylinder fit.
On the other hand, the steel needle set in brass insert force fit in the zinc back is a different story. There, no varnish action exists as there is no heat. Brass and steel are high on the galvanic series, so there wouldn't be as much interaction with them. There might be some sacrificing of the brass to protect the steel. However, the brass to zinc would have a more profound effect. My guess is that just as Balogh suspects, corrosion has occurred between the brass insert and the zinc back, zinc sacrificing itself to protect the brass liner and steel needle. There's corroded crud in the passageways, requiring greater needle opening.
Removing this corrosion may be harder, as the fuel metering passages are very small. To remedy most likely would require replacing the zinc backplate with another, say the currently available plastic one with new needle. However I was able to get it to run without fuss except for the greater turns required for needle opening.
Anyway, I was glad to be able to see a piece of history come alive again.
Diamond Member





Posts

: 1839


Join date

: 2013-07-13


Age

: 64


Location

: Clovis, New Mexico



I can't add anything to that, but it's a pretty good looking engine even in the first picture.
Rusty
Moderator




Posts

: 10639


Join date

: 2011-08-10


Age

: 62


Location

: South Carolina, USA



Bread tie wire or similar works well. I've even used the super tiny bits that come in a pin vise with success.

Failing that I can send you a backplate, They made a billion of the things and can be found quite easily.

Ron
Moderator






Posts

: 9955


Join date

: 2011-10-24


Age

: 44


Location

: Tuttle, OK



Nice restoration on a sweet looking old Bee. +
Also enjoyed the commentary.
Some of that corrosion may come loose in
the future, but nothing a wire or pin drill
won't take care of,as Ron suggested.
Solvent and compressed air help a lot
too(you knew that).
Bob
Diamond Member





Posts

: 1891


Join date

: 2010-10-21


Age

: 65


Location

: Long Island, New York



I have used air to clean out some of the brass back plates. I ATTACHED a small peace of regular fuel tubing to back plate then attached it to my air nozzel seem to work for me. even throw the back plate back in solvent then blow out again.I have even done the above blowing threw a peice of tubing using the good old Lungs because everyone doesnt own a air compresser.seemed to work for me Ive made some engine run that I thought would never run again!
Gold Member





Posts

: 155


Join date

: 2013-11-09


Age

: 57


Location

: penetanguishene,ontario canada



Looks real good George ; I have been restoring a lot of engines lately ( a lot of Babe bee ) I got a lot the other week that was manly parts of engines and very nasty! I had cleaned a few in denatured alcohol , but was taking a long time and expensive to keep replacing the dirty stuff , yesterday I put about two handfuls of tanks/backplates /ect. in a pot with 1 To 3 simple green and water brought it to a boil for about 2 mins. ( if you leave them too long the zinc will blacken , strained them and took to the shop and blew out everthing , done a really good job

even the plastic came out nice and clean . I put these engine together and is all I can do to not run them . Eric

Top Poster





Posts

: 5156


Join date

: 2013-01-18


Age

: 61


Location

: julian



Thanks, all. Yes, no doubt I could do a little chasing of the orifices with a small wire or drill bit. I was just glad that after clearing it up, it fired right up. I love the smell and Castor and methanol in the morning, it is the smell of victory!
After further checking, next will be completing the Sterling Beginner's P-47 Thunderbolt, finished by air brush and dope. That will be glorious and apt finish.
Diamond Member





Posts

: 1839


Join date

: 2013-07-13


Age

: 64


Location

: Clovis, New Mexico



GallopingGhostler wrote:After further checking, next will be completing the Sterling Beginner's P-47 Thunderbolt, finished by air brush and dope. That will be glorious and apt finish.
Hmmm...  Any place I could see the plans for the Beginner's P-47?  Sounds like it might be fun.
The Curious
Geor
 Mark
Diamond Member





Posts

: 1601


Join date

: 2013-05-22


Age

: 55


Location

: Portland, OR, USA



Unfortunately Mark, the instruction sheet to it was lost years ago. Plus, it doesn't have plan or reduced 3 view. Both Outerzone and Hip Pocket Aeronautics have Walt Musciano's 17 inch span P-47 hollow log. If they don't have patterns, one can scale up the reduced plan view. I'd think though with the smaller wingspan may be better suited for power less than the Babe Bee (i.e., Pee Wee or OK Cub).
Outerzone has the Sterling rubber powered Kit A-4 22 inch span P-47. One could use the outlines for patterns and make a reasonable profile facsimile:
http://www.outerzone.co.uk/plan_details.asp?ID=3447
or the 19 inch span rubber powered P-47 from Aeromodeller, if the earlier turtle deck version is desired:
http://www.outerzone.co.uk/plan_details.asp?ID=4155
Good luck, George
Diamond Member





Posts

: 1839


Join date

: 2013-07-13


Age

: 64


Location

: Clovis, New Mexico





Similar topics
---
Permissions in this forum:
You
cannot
reply to topics in this forum