Cox Engine of The Month
December-2018
Dave P.'s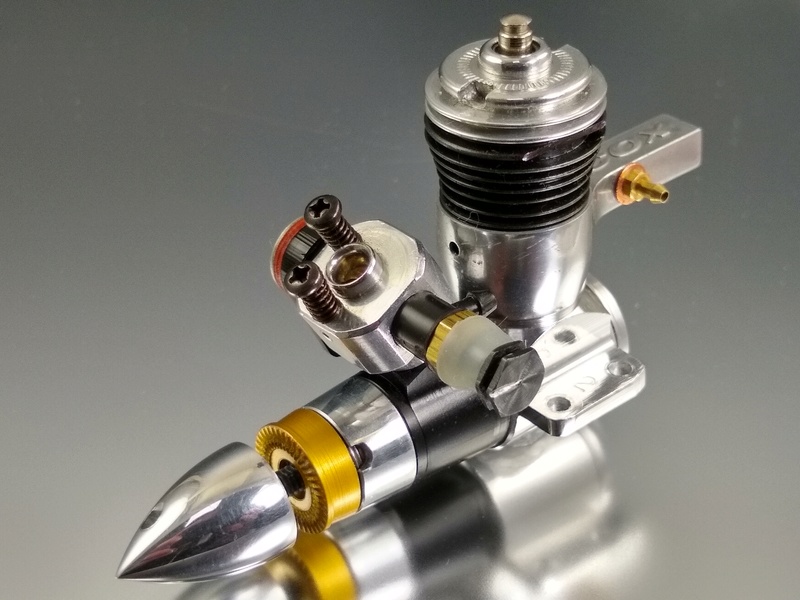 "RC Tee Dee 049"
---
PAST WINNERS

To my delight I clicked on the link to the Cox collectors engines site and found:
https://sites.google.com/site/coxenginecollection/2000-black-widow-estes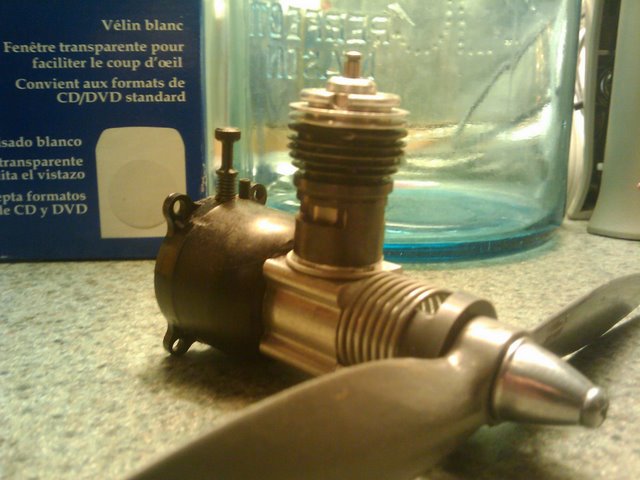 (Google doesn't allow one to reference and display their photos, so I downloaded it.)
I enjoyed reading the commentary. I was unfamiliar with Estes as the only engines I purchased from them were the $7 Sure Starts, prior to them getting out of the engine business. This was an example of an engine that should have been instead labeled as say a Golden Bee, that it only had the power of a Babe Bee.
Diamond Member





Posts

: 1830


Join date

: 2013-07-13


Age

: 64


Location

: Clovis, New Mexico



Ahh the ol "Wannabe Black Widow" I have one and when I got it new, it was accualy slightly under the Babe Bee in power out of box. This was partly due to excessive slop in the Ball/Socket along with a steel reed which had burrs on it's edges causing it not to seat properly and flashing in the venturi. I reset the ball/socket, cleaned up the venturi and installed a Mylar reed along with a TD head and it helped the power a bit. While it runs well, it's still not quite on par with the original BW. Anyway heres a pic of mine. (Bandit)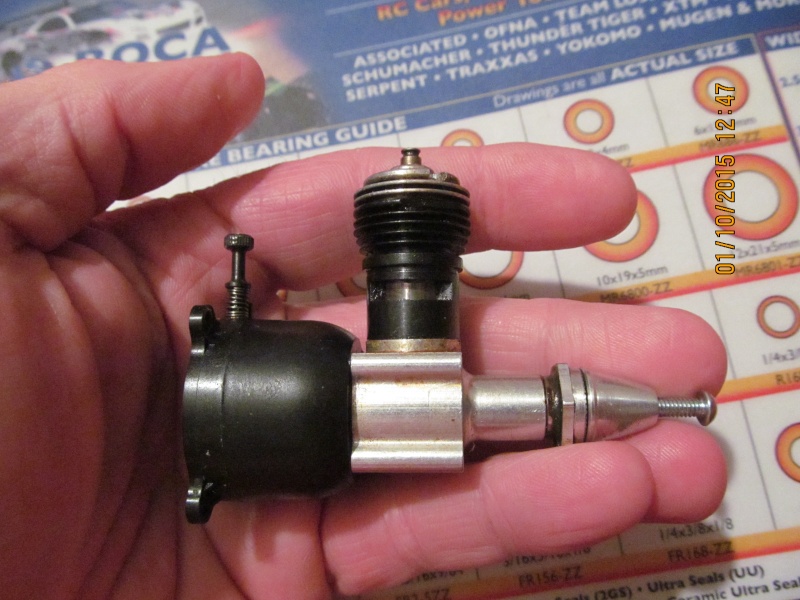 Platinum Member





Posts

: 868


Join date

: 2014-12-01


Age

: 47


Location

: Fort Valley Georgia



Is it my poor eyesight, or the angle of the picture? It looks like there is only one vent/fill tube nipple on the back plate?  On the 1975 BW there are no vents on backplate, only on the tank.  Thanks,  one eye Marley

Last edited by Marleysky on Sat Jan 10, 2015 1:17 pm; edited 1 time in total (Reason for editing : Correct year to 75)
Diamond Member








Posts

: 1928


Join date

: 2014-09-28


Age

: 66


Location

: Grand Rapids, MI



Your eyesight is still good. The plastic backplate on these used a single nipple filler with a pin hole vent hole directly next to it. I recall these in use when I purchased Cox Babe Bee engines in and around 1987-88. I would purchase them and sometimes receive a metal backplate and sometimes a plastic version. I'm quite surprised that this didn't cause a lawsuit. You would fill through the nipple and the fuel would come out of the pinhole with enough force to squirt as much as high as 3' which usually ended up directly into your eyes if you didn't know any better. The non vented tank crippled the performance of the Estes so called Black Widow. It suffered inverted and as mentioned, the power didn't match it's earlier variants. The fact that you could no longer fly inverted renders the engine useless in my opinion. I would drill the tank and install my own tubes into it. While I've found the plastic backplates to work well, I wasn't a fan of the plastic tanks due to having them develop air leaks between the tank and backplate. Ken
Top Poster





Posts

: 3291


Join date

: 2012-03-27


Location

: pennsylvania




---
Permissions in this forum:
You
cannot
reply to topics in this forum