Cox Engine of The Month
June-2018
Davenz13's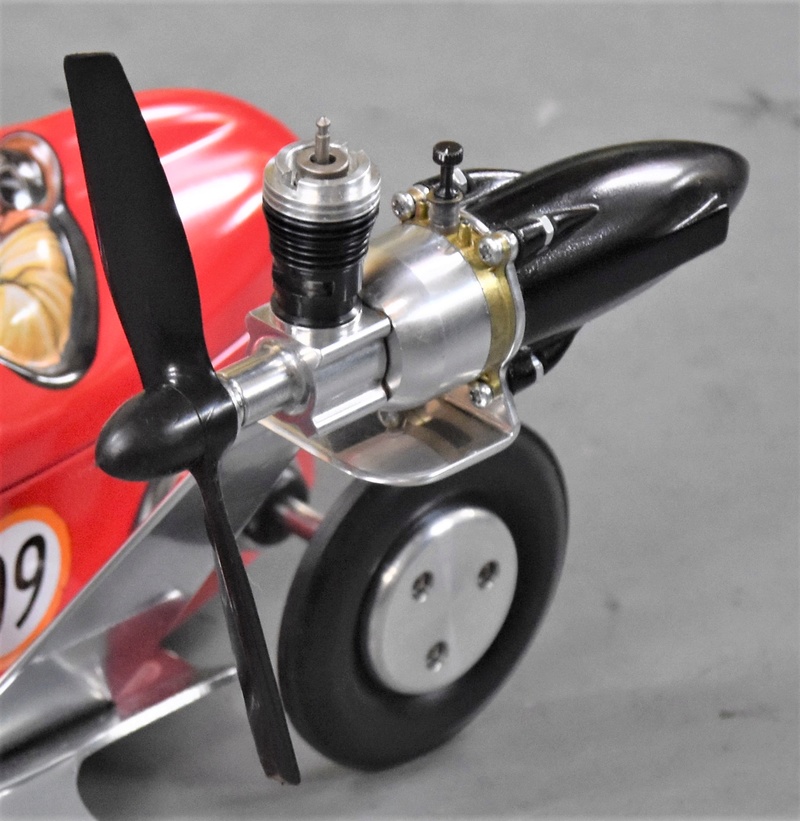 ".049 Bee"
---
PAST WINNERS

One not to bad, the other it's ugly sister. One cared for the other used as intended, flown often, probably crashed a few times.
Problems besides the obvious missing tail section and tail wheel are an engine with a curious spring starter that works cycling the engine through a full cycle only to bind when being spun in flight mode. Something is not releasing properly. Also it suffers from EDD (Extreme Dihedral Disease).
But, I bought it for it's canopy which is in pretty good condition. I have hopes for it though. I found among my spares an engine with the correct yellow spinner as on the original only it's a Testors. Seems like a lot of these interchanged.
They have a nice robust bell crank, but curious, only one lead-out relief on the wing tip.
I'm going to build a duplicate tail section out of balsa, clean the whole thing up and spray paint it yellow peril yellow and black out the glare section in front of the pilot. If have the urge I will make a mold using the good canopy and cast a new one, or I just may take the easy way out and carve one out of balsa.
Typically Testors only used one leadout guide for both lines. Nice find.
Diamond Member





Posts

: 2134


Join date

: 2012-06-15


Age

: 55


Location

: Victoria, Australia



Oldenginerod wrote:Typically Testors only used one leadout guide for both lines.  Nice find.
Yes, I have a Testors P-40 with a single lead out relief in the wing tip but it's very small more of a "whip".  The SNJ is a Wen Mac model and quite large as these go but the designers must know what they are doing.  Both Wen Macs and Testors engines as you know drop right in. Flying one like that will be a first for me.
Thanks - Bob
Great thread Bob!

The SNJ, has a soft spot for me as it was my very first gas powered airplane. I was going into 5th grade and got one that summer for B-day present and remember tinkering around with it, practice starting it, etc., before i even got a chance to fly it.

When i finally got'er down to the school yard with my older brother to help, i fired it up, set the needle to scream, signaled to let'r go...and proceeded to take off, climb up and over, a perfect figure "9"! Many years later I got a SNJ to add to my collection and noticed a lead weight in the nose...the same weight i probably took out some thirty years prior! (I know I've told this story before and if you've read it before, sorry.)

I'm not sure if yours had a lead chunk that fits behind engine or not, as they're the older version with the rubber tires?

To remove the chrome, you might try sticking it in a small garbage bag, dump some brake fluid in, push out as much air as possible and seal it up and slosh around the brake fluid, let'r set overnight, it should just wash off with warm water. Another thing is Dawn pot/pan cleaner in a spray bottle. I used that last night to take off a old decal on the Starfighter, night and day better then Windex or soap and water.

With Wen-Mac engines you can always tell the appx. age of plane by engine, as they changes about every year or two. Can you post a close up engine case? I would be interesting to ID the SNJ with the "football" antenna and rubber tires w/ landing gear.

I don't remember seeing those in black plastic, most chrome ones (later versions) are yellow?

It's likely the spring is broke, I've got springs. lmk.
I really like this color scheme Mark, a little more difficult to do but maybe worth the effort.
Best photos I could do in morning light. Looks like standard Wen Mac AMF logo to me but the MARK X .049 is interesting.
Yes, both have the large rubber tires and are the same except for the bell crank mounting colors. I don't know if both had the blue colored canopys though.
Thanks for the brake fluid idea. I know I have clean bleed jar synthetic and probably some of the old school stuff too. I was wondering how I was going to remove that chrome finish, or what's left of it. If I couldn't I was just going to use plain old Krylon yellow, something I have plenty of, but if I can get it off I will opt for the plastic stuff.
I struggled to post that.  Cold temps and high winds are playing havoc this morning with internet speeds out here in the sticks of West Virginia.  
Getting a chance to read the details on your reply I see where they all came with the blue tint canopys.  I do have at least one other case, and maybe more up in the loft that is marked MARK XIII.
It looks like that "New Hot Shot" engine has a slightly taller intake than the MARK X on mine.
This is from the 1963 catalog:
BTW - How does that spring starter unit come off? Seems like a small gear puller would be best. I don't want to damage it further.
Thanks Mark, I printed those pages out.

According to the ad above they at least had the tinted canopy in 1963. I have had limited success prying that front half off. Maybe small inclined planes 180 out will work. I can't get the back off either, some unscrew quite easy, others like this one are boogers. More heat needed.

Bob


Similar topics
---
Permissions in this forum:
You
cannot
reply to topics in this forum