Cox Engine of The Month
June-2018
Davenz13's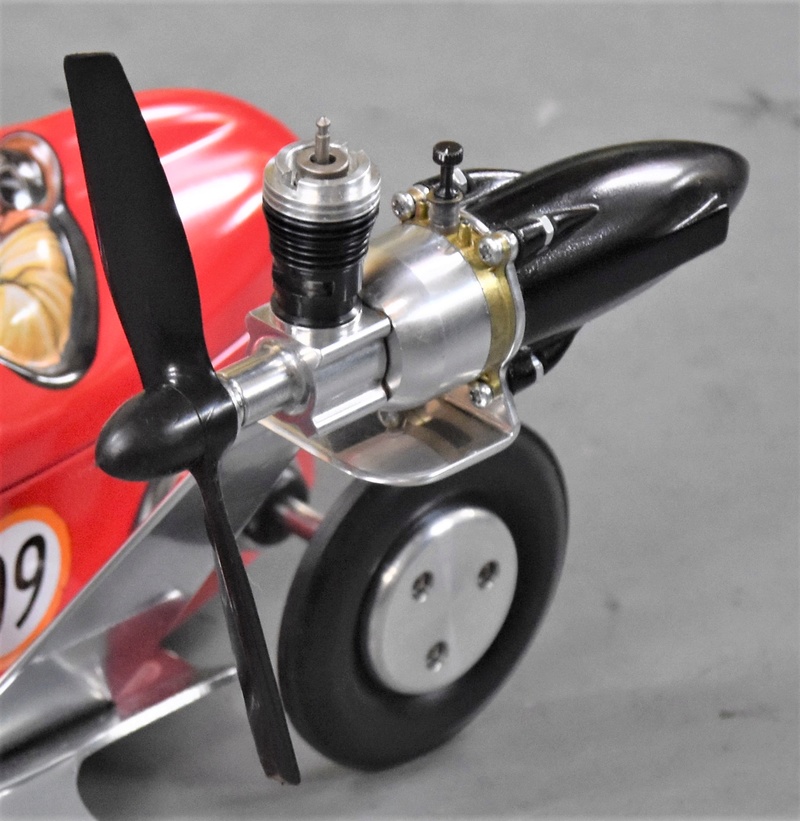 ".049 Bee"
---
PAST WINNERS

A few months ago, I found a .pdf of an old Aero Modeller drawing for a Control Line Speed Calculator rotary slide rule.   I'm not sure, but I
think
that I found it in the Control Line Plans thread over on RCG.  It looked cool, so I saved a copy.  For some reason, I decided a couple of days ago that I wanted to make one up for myself.   So, I printed the page at a size I liked and cut the two wheel sections out.   On break at work today, I laminated the wheels with the heaviest laminating plastic we have.  Then I cut the wheels out and pushed a pin through the center to make my new Speed Calculator.
I know there are programs for your computer or your smart phone to do this, but I'm old school.  Gimme a stopwatch and a slide rule and I'm happy as a clam.  Kinda like having an E6B for control line planes.  
But, how accurate is it?  I compared the times/speeds from the 2014 Reed Speed Results thread to the speeds I got on this beauty.  I rounded the times to the ½ second, and then looked up the results.   All speeds were within a half mile per hour of the computer calculated times.  More than accurate enough for field tuning.  Gotta love the old school….
6th Place:  Computer – 45.19MPH, Calculator – 44.75MPH
5th Place:  Computer – 53.69MPH, Calculator – 54.0MPH
4th Place:  Computer – 54.58MPH, Calculator – 54.0MPH
3rd Place:  Computer – 55.29MPH, Calculator – 55.0MPH
2nd Place:  Computer – 60.78MPH, Calculator – 60.5MPH
1st Place:  Computer – 68.22MPH, Calculator – 68.0MPH
Yep, I LIKE it!
The Whiz Kid Mark
Diamond Member





Posts

: 1551


Join date

: 2013-05-22


Age

: 55


Location

: Portland, OR, USA



Looks like you've got a keeper there! Pocket sized, doesn't require batteries and it'll fit behind my pocket protector.
Diamond Member








Posts

: 1726


Join date

: 2014-09-28


Age

: 65


Location

: Grand Rapids, MI





Similar topics
---
Permissions in this forum:
You
cannot
reply to topics in this forum