Cox Engine of The Month
November-2017
MauricioB's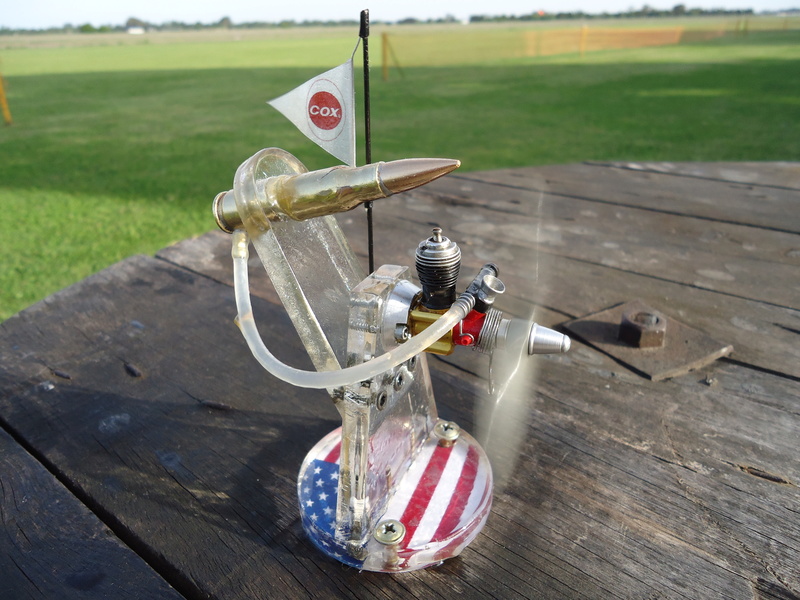 "Cox Tee Dee .010"
---
PAST WINNERS
When replacing the old brass reeds with the new type, what kind should I buy? I noticed there are several kinds, chrystal, mylar, etc.
Phil
Gold Member





Posts

: 177


Join date

: 2015-01-28


Age

: 59


Location

: Barney Georgia



The Mylar reeds will do fine just make sure that they will rotate when the reed retainer (G-clip) is installed if not, you may have to lightly sand the clip till it moves freely. BTW you probably already know this but i'll say it anyway; when you install the clip, make sure the tang points outward not to the inside or it will arrest the reeds movement and the engine will not run. (Bandit)
Platinum Member





Posts

: 862


Join date

: 2014-12-01


Age

: 46


Location

: Fort Valley Georgia



The Mylar are more functional (work better ) I have noticed the clips some new are not offset at the tang sooo I have bent them out alittle that has helped me I still like the copper star shape ones and use them when I can find good ones /
Eric
Top Poster





Posts

: 4272


Join date

: 2013-01-18


Age

: 60


Location

: julian, n.c.



When you use mylar reeds do the suck/blow test and flip them over and compare. Sometimes they work better one way than the other. I guess it's because they are stamped out of multiple sheets and the edges have some leftover material rolled over that prevents it from seating flush against the face of the venturi. It can be cleaned up with a sharp exacto blade. I prefer the plastic retainers over the circlips any day.
Rusty
Moderator




Posts

: 10437


Join date

: 2011-08-10


Age

: 61


Location

: South Carolina, USA



I don't care for the plastic retainers and have noticed there are diff sizes of them?? I got 20 or so mylar reeds from COX INTERNATIONAL and they are stamped out of a strip, one good thing is there is enough material there you can cut several extras from the leftovers . I took a dragonfly apart and seen for the first time a star shape mylar reed I wonder why they don't make them in that shape ?? Seems you would get more mist spray form the star than an oval with 2 large openings ? Eric
Top Poster





Posts

: 4272


Join date

: 2013-01-18


Age

: 60


Location

: julian, n.c.



---
Permissions in this forum:
You
cannot
reply to topics in this forum