Cox Engine of The Month
April-2018
706jim's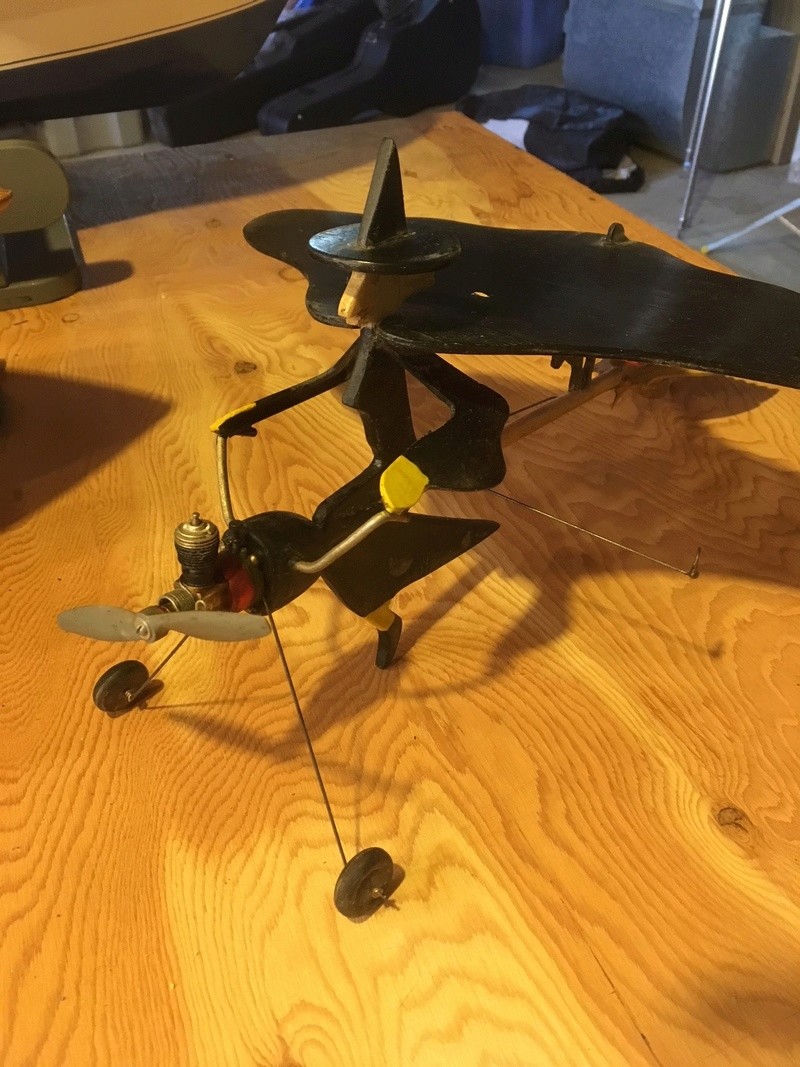 "Pee Wee powered witch"
---
PAST WINNERS
Page 2 of 2 •

1, 2

The safe way to go is clear tape. A leak proof on off switch and a external charge port for your RX batteries will keep you from having to open up the hull after a days run providing no water is seeping in. At high speeds even a small little pin hole will have compressed water jetting inside the tub. Boats always need extra coats of clear to insure no chance of a pin hole. If the boat should flip tape will save the day with the least risk. You have an air boat engine and fuel are up top. Only thing bellow deck is a rudder / throttle servo, rx and batts. The CG should be 3/4th forward of the rear transom. Taking it further your rudder and the CG work together and pivot the boat under the hull you may need some grip in the turns a rear kick back skeg will help tracking in the turns but part of air boating is the loose sliding around fun so its done on a need be only status. Outrigger hydro's with there wide stance allow top speeds in the turns and on the straights. Small turn fins on both sponsons or a center skeg behind a few inches behind the CG at the center line of the tub will allow flat turns with less chance of high speed flipping. This water craft if all things are kept light could go reasonably fast with a TD. .049

Day of testing go to the side of the pond where the wind first hits the bank and flows over the body of water that area of shore line will have the least rough water. I use a fishing pole and rubber sinker to cast over a dead boat and reel it back in without the need of a retrieval boat. It is the minimum you need to save your boat otherwise you are at the mercy of the wind to blow the boat back to the shore line. Small pond is perfect for IC air boats. You could have a small electric motor and 3in prop to power on if the engine dies out on the water to putt putt into the shore line a simple on/off servo driven switch. With a good running IC throttled engine and a large fuel tank (2oz) you should always have plenty of run time and can throttle back to dock the boat safely.


I see your going with twin engines - a .09 would simplify - In order to get the CG correct you may need to have all the RC gear up front.
Last edited by 1/2A Nut on Wed Jul 08, 2015 9:15 pm; edited 1 time in total
That's interesting and i don't even do boat sleds YET !!

Eric
Top Poster





Posts

: 4706


Join date

: 2013-01-18


Age

: 60


Location

: julian



Thanks, so tape would be the best solution to close the hatches. I reread Dinsdale's posts and I decided to mount a .15 engine. Because of the weight high up, turns will better be made with reduced throttle and keep full power for going straight.
Platinum Member





Posts

: 1197


Join date

: 2013-03-19


Age

: 51


Location

: Normandy, France



Note the design maybe best suited for the engine to be up front to use the stance of the sponsons to support the weight of the engine and in the turns. A typical swamp style air boat has a wide transom to support its power source this one does not.

What .15 engine are you thinking a Medallion or TD would be light enough with a exhaust throttle. This is a .10 size boat at best.
To be sure you can waterproof the tub and sponsons and float test with the engine placed around on the tub to see where and if it will not be over burdened by the weight. Decide on the prop size and set it up to be able to rotate just clearing the deck by 10-15mm
Page 2 of 2 •

1, 2


Similar topics
---
Permissions in this forum:
You
cannot
reply to topics in this forum