Cox Engine of The Month
May-2019
Tee Bee's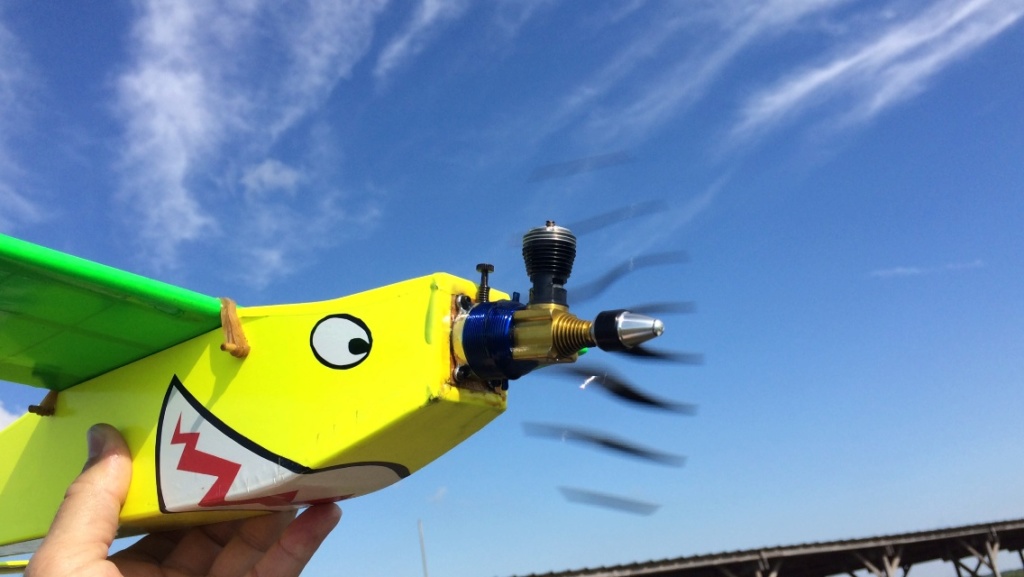 "This RR1 was restored for all the right reasons"
---
PAST WINNERS

Stupid way to title a thread, but here it is:
Nice but dirty box, mirrors the nasty model inside: But for $37.00 I'm not complaining.
Seller sprinkled some foam cushions around that did absolutely no good.
Kind of nasty looking thing, took it out in the garage and washed it down with Simple Green and water, blew it out with compressed air and sprayed the engine down with RemOil and blew it out again.
Any idea as to what this is? Came in the box:
I'm not sure what they used for fuel or an after run cleaner, but it sure took off the finish:
Looks like it took a hard landing on the front gear, I will have to bend it back in shape:
Disassemble next to see just what I have.
Top Poster





Posts

: 4033


Join date

: 2014-08-18


Location

: West Virginia



You've a Wen Mac King Cobra addiction!
Chris...
In some ways I love the natural coating failure. It is like exhaust and oil on a plane that has not been washed...just the wrong color.

Phil
Diamond Member





Posts

: 2982


Join date

: 2012-10-02


Location

: Ohio



stuntflyr wrote:You've a Wen Mac King Cobra addiction!
Chris...
Actually I associate the Airacobra projects as more of a painful experience than a pleasant one as while I was rebuilding both I was suffering with the flu. The green color of the airplanes reflected my skin tone.

I replaced the missing blade on the King Cobra's prop with one from a 3 bladed Cox propeller. Works out fine for display only.
It still needs a little touching up before it's good to go.
The full scale King Cobra P-63 is larger than the P-39 Airacobra with a 38' wing spread vs. the 34' of the P-39. However the Wen Mac models are exactly the same except for paint and the four blade propeller of the P-63, but the P-63 may have also come with a standard two blade prop as with Kim's model. Also the W/M P-63 came with exterior wing fuel tanks, while the P-39 came with rockets both mounted on the same pylon.
It's interesting to note that the ailerons on both are functional in that they are fixed in a position that keeps the outboard wing down when flying C/L. As pictured.
Top Poster





Posts

: 4033


Join date

: 2014-08-18


Location

: West Virginia



Looking good, that blade looks great.
Nice job on the prop, another way is to use (2) two-blade props, notch hubs like Lincoln logs, if you got a spinner and can't see notch it looks perfect!
Top Poster





Posts

: 3724


Join date

: 2011-09-01


Age

: 60


Location

: Rockford, Il



I took the aileron deflection out on my clipped wing racer! I should really finish that thing.
Chris...


Similar topics
---
Permissions in this forum:
You
cannot
reply to topics in this forum