Cox Engine of The Month
April-2018
706jim's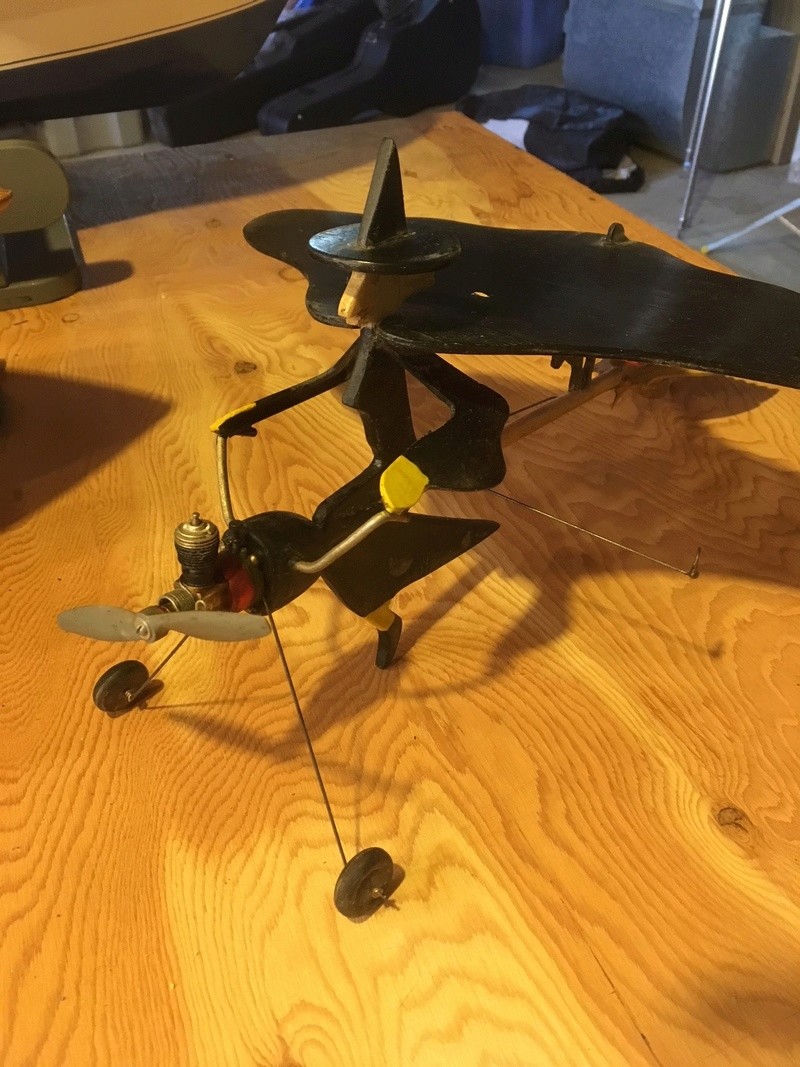 "Pee Wee powered witch"
---
PAST WINNERS

Well, the first time I saw the 1959 Duplex Delta design, I thought, "Meh."  But, for some reason, last week I looked at it again and thought, "Hmmmm".  I have all this coroplast, and was thinking that it might make a evening's quick build, with a couple of modifications.  It'll be a little heavier, as it's made out of coroplast instead of balsa, but the coroplast is free.  The plans are here:  
http://www.outerzone.co.uk/plan_details.asp?ID=3399
Changes from the plans:
1) The plans call for a .75cc to 1.5cc diesel engine.  I don't have any diesels, so a Cox it is.  But, an .09 seems awfully big for a little plane with a total area of 100 sq.in. to it.  So it'll be a tanked Bee, then.  
2) The plans call for a 1/8 firewall, but I have some 3/32 scrap, so that gets used.
3) The plan has both 1/16" balsa fuselage sides full length out to the fin, but that'd be too heavy and thick back there.  So, the right side fuse stops before the elevator, and the left side fuselage goes all the way back.  This eliminates some weight, builds in right rudder, and still comes out to a 1/8" fin.
4) The plans have the bellcrank on the bottom, with no landing gear.  So I put the bellcrank on top of the lower wing.
With the initial thoughts out of the way, I cut some coroplast and ply to make my
Plastex Delta
kit.  As you can see, there's really not much to it.
The first decision was how to glue the firewall to the plane.  Many ways popped up.  But what is the minimalist way of doing it?  After a few minutes of thinking, I figured the best way would be to slit the coroplast flutes to recess the firewall into the coroplast sheet.
Test fitting showed it all looked good.
Some people say that CA isn't good for these coroplast planes, but using thick slow setting CA to bond roughed up surfaces has worked for me so far.  So, I went ahead and glued everything together.  
A little blue electrical tape to close up the exposed flutes and provide some trim, and it's done.
I still don't like the leadout guide, but we'll see how it goes.  Now that it's all done, I can see the desirability of a .09 engine.  Not that it needs the power.  Like I said, it's only 100 sq.in. total area.  But, it's terribly tail heavy.  An .09 would help with that, even if it is overkill.  If I ever did another one of these, I'd move the engine about ¾" forward.  It wouldn't look as good, but it would balance better.  I used a weighted spinner to help offset the tail-heavy condition.  I'll have to live with the weight penalty.  I suppose 6.3 ounces isn't that bad.  We'll see.
The Retro Mark
Diamond Member





Posts

: 1530


Join date

: 2013-05-22


Age

: 55


Location

: Portland, OR, USA



That looks great. I had downloaded that plan many years ago and had always wanted to build it, just that I was always worried at how it will turn out, as well as the finishing would be a p.i.t.a. But you now showed how easy to make it and look good indeed, without the worry of refinishing it.
Diamond Member





Posts

: 1386


Join date

: 2011-08-13


Age

: 39


Location

: oakbank, mb



Very nice Mark. Is that 1/8 Coroplast you use? it's good to see that these older models live on built with today materials!
Platinum Member





Posts

: 1197


Join date

: 2013-03-19


Age

: 51


Location

: Normandy, France



Great Job Mark , but is'nt tail heavy a recipe for desaistor ? were the heck did my spell ck. goo // I love watching your builds , Thanks , Eric
Top Poster





Posts

: 4706


Join date

: 2013-01-18


Age

: 60


Location

: julian



http://outerzone.co.uk/download_this_plan.asp?ID=3399
I don't see where it says 1.5cc, I read .75cc to 1cc, which is .061
Fluted plastic typically weighs more than balsa.  This may account for your tail heavy results.  
It is nice looking. I would put a spacer in behind the engine, 1/4 inch might be enough to make it balance.
Phil
Diamond Member





Posts

: 2946


Join date

: 2012-10-02


Location

: Ohio



Leiven, yes it's 1/8" coroplast.  Sometimes I can get used boxes from work made from 2mm coroplast, but now that our company bonuses are tied to recycling goals, it's rare to get trash boxes anymore.


Eric, that's why I have that ugly spinner on the nose.  It brings the c.g. forward to a decent position.


Phil, if you look at the upper right of the plans, it says .75cc to 1.5cc engines.  I don't know why the body of the article says .75 to 1.0.  After test flying, if I don't like it, I'll move the firewall forward by making a recess in the lower wing where I want the new firewall, and then cut a slot in the upper wing and drop a new firewall down.  Honestly, with the plane being all wing area, I don't think 1/8" is that critical.

The Blasé Mark
Diamond Member





Posts

: 1530


Join date

: 2013-05-22


Age

: 55


Location

: Portland, OR, USA



Very creative use of alternative construction materials, batjac. In the 1950's, engines with .049-like power were the McCoy .099 "9" or Fox .09 Rocket and etc.
Diamond Member





Posts

: 1212


Join date

: 2013-07-13


Age

: 64


Location

: Clovis, New Mexico



I see now.

I await your test flight to decide if I am going to build one for myself.

Phil
Diamond Member





Posts

: 2946


Join date

: 2012-10-02


Location

: Ohio




---
Permissions in this forum:
You
cannot
reply to topics in this forum