Cox Engine of The Month
April-2018
706jim's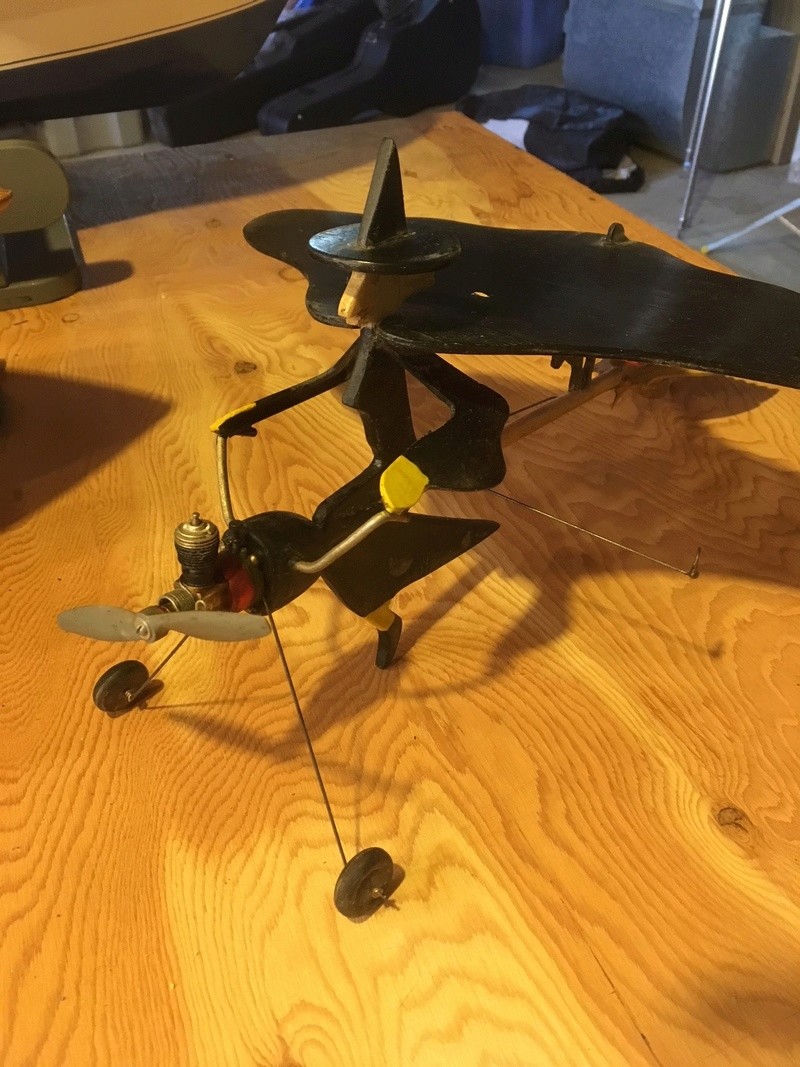 "Pee Wee powered witch"
---
PAST WINNERS

Hi there again. Just looking for some advice on 'What would you do?' in this situation. I am just about finished my Baby Ringmaster with built up wing. Covered the bare balsa bones with doculam. This was my first venture in trying the stuff. In my opinion, it turned out excellent, even the wingtips. I was very happy and impressed. So fast forward to last night while admiring it. I looked and realized I totally forgot to put 2 pennies on the outboard wingtip! So, I was just looking for the consensus of having to cut a nice covering job to install these, or just epoxy them to the outside of the covering at the outer edge? I will try to get a picture shortly. Thanks.
Diamond Member





Posts

: 1386


Join date

: 2011-08-13


Age

: 39


Location

: oakbank, mb



Welcome to the club...

I am not sure how thick the tips are that you used, but it is possible to flatten a piece of lead, cut a slit in the tip and slide the weight in.

The other option is to cut the covering off the tip on the bottom of the wing, just the tip, leaving the rest of the covering intact. Glue in the weight and just redo the tip. Depending on your covering skills it's transparent if done well.

You don't want them outside the covering as it won't adhere well and will become missiles if they seperate in flight.
Moderator






Posts

: 9680


Join date

: 2011-10-24


Age

: 44


Location

: Tuttle, OK



Great, thanks for the tip. No pun intended. I was afraid of that as well though, that was what I was originally thinking of doing as it would also look best that way. Attached are a couple of pictures of it as it is. I was originally going to get colored dope, or spray can paint the fuselage and tail surfaces, but since it will be attached to me via. lines, I am actually thinking of just doping the bare wood and leaving it au natural.
" />
" />
" />
Diamond Member





Posts

: 1386


Join date

: 2011-08-13


Age

: 39


Location

: oakbank, mb



Hey New, man that looks great. It looks like a Pat King baby ring with the thicker air foil.
Phil
Gold Member





Posts

: 183


Join date

: 2015-01-28


Age

: 60


Location

: Barney Georgia



Use a screw or nail into the wingtip.  Pilot hole, drop of glue, put it in.  Use more than one if you need.

Repairs on frosted clear tend to show.

Phil
Diamond Member





Posts

: 2946


Join date

: 2012-10-02


Location

: Ohio



Looking good nice cover job too / I would glue my 2 cents together and slit the cover as to not break the seal at the rib and insert with epoxy to hold weight on . you may want to redo the whole underside wing tip form the rib out depending on how hard the cover is to get off or just patch the slit ? Most time the cover will curl if you don't come from the rib out
Top Poster





Posts

: 4706


Join date

: 2013-01-18


Age

: 60


Location

: julian





Similar topics
---
Permissions in this forum:
You
cannot
reply to topics in this forum