Cox Engine of The Month
December-2018
Dave P.'s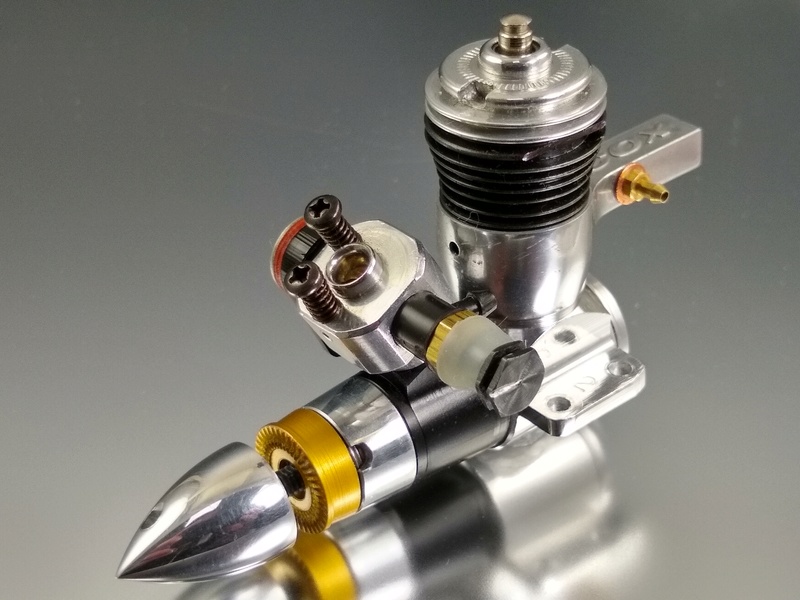 "RC Tee Dee 049"
---
PAST WINNERS

Hi CEF engine brothers/doctors,
Pictured above are 2 of my TeeDeeReedies. On the left is a stock I took out from a Super Sport Trainer in the mid 1970-s. Strangely enough the stock COX plane came with a TD051 cylinder on the product engine body. (We all know COX had a habit of often combining various engine parts in their stock products just to puzzle the COX historians like my humble self.)
On the right is one I built from components bought from Bernie and ebay - all in new when bought.
Here is the thing:
while the stock TeeDeeReedy on the left turns a 5x4 prop of Bernie up close to 19k, the one I built will not run more than 17k (numbers only remembered, maybe I will tach again), and the latter always overheats no matter how many shims I place under the high compression head. The twin brother of this blacky (I actually built 2) already retired because I was simply  unable to make it work the way we expect an engine of similar attributes to work. Its cylinder/piston combo went on a TD body and serves my Skorch R/C bird well in the original engine layout for a TD cylinder.
I am not sure what else I should do with the blacky (I know your answer: post it to your address  

) on the right for it to live up to its fame, neither do I understand why the stock on the left - my 2nd COX after a red-plate product engine out of a Stuka in 1974 as my first - still works like a beast of burden.. ("my back is broad, but it is a hurtin...")
I went into every corner of the blackies to check if the reed valve, crankshaft fit, cylinder/piston fit etc. are OK but was unable to diagnose the trouble.
I gather many of you have managed much better than I with such combos as TD plus reedy stuff. Any advice you can offer will be hiiiiiiiiiiiiiiighly appreciated.
The COXimalist Balogh
First off, I would swap the back plate assemblies between the two and see what difference it might make. The engine on the left may have a larger venturi and the one on the right (Blackie) looks like it has a standard SureStart back.

Rod.
Diamond Member





Posts

: 2274


Join date

: 2012-06-15


Age

: 56


Location

: Victoria, Australia



Are the new cylinders genuine tapered Tee Dees or reproductions?
You could try the new engine with the backplate of the old one... I dont't know if the surestart backplate flows as good as the old horseshoe.
EDIT: Rod, great minds often think alike, even if located to opposite hemispheres

Diamond Member





Posts

: 1361


Join date

: 2014-10-10


Age

: 47


Location

: Finland



Rod, Kari,

thanks for the tips. I disassembled both and here are the results:

1. Blacky: tapered bore cylinder, Killer bee crank, mylar reed, 4,5mm venturi diameter

2. Oldie: tapered bore (I did not remove the cylinder this time as it does not have the top fin milled and did not want to scar the exhaust port with the wrench though I remember I felt it tapered when disassembled some time ago), star beryllium reed, 4,3mm venturi diameter (smaller than above) stock product engine crank

So Blacky has all it needs to overperform Oldie but still fails. Empirical method comes next (replace backplates and tach them)

So "Oldie but goodie..."

Thx anyway.
"Theoretically" a longer intake is better for laminar flow, but the sharp bend on the surestart one bothers me a little. It can't be good for airflow, especially as the bend is just before the spraybar.
I have been toying with the idea of taking a horseshoe backplate and installing a TeeDee venturi and needle valve assy on it. Sort of a poor boy's Space Hopper

Diamond Member





Posts

: 1361


Join date

: 2014-10-10


Age

: 47


Location

: Finland



Kari,

a laminar flow may serve the lower pressure drop i.e. more airflow through the venturi, but the turbulant flow in contrast helps pre-mix the air-fuel mixture and may add to combustion efficiency.

On top, both are SPI engines securing complementary airflow into the crank, which, with some NV setting more open, will prevent the engine to starve.

I suspect the lower output of the black one may have something to do with it becoming overheated - a result of either lean mixture and/or too few shims under the head. Tried to eliminate both, with no results whatsoever.
Remove the choke tube, check deck height and shim up the cylinder if required( if you have a shim kit)

Sounds to me like the crank is a little too tight. Also, a KB crank while stronger is also heavier than a stock Bee crank. It will rob some power. When I was competing in the Tach race I only used Bee cranks as I achieved better results with them.

As Rod suggested swap parts until you see an increase. Keep in mind it may be a combination of parts.
Last edited by Cribbs74 on Sat May 09, 2015 9:28 am; edited 1 time in total
Moderator






Posts

: 9946


Join date

: 2011-10-24


Age

: 44


Location

: Tuttle, OK



Assuming each is run with same tank height, fuel, and prop I would expect the .051 to out preform the .049 ( if I read your description of each engine history correctly)

Key here is all the semi controllable variables.... Head, Venturi size, needle taper, back plate fit, reed, reed fit/seal, crank to case fit, piston fit at TDC, top of rod ball joint fit-----

I think a big clue is the overheating, generally from crank to case fit, piston fit, or even too tight a ball joint- not all that sure if the number of head shims impacts the over heating that much

When I was building and testing the TeeDees with the so called performance crankshaft I noted that two of the four engines ran better on 25% nitro vs the 35% stuff ( I assume a variable of venturi size and compression) I tend to use Galbreath heads with Nelson plugs and I simply may have inadvertently used hot plugs in one or more and medium plugs in the others

If it were me I would get a few red backplates from Bernie and trash can the grey sure start ones. I too think the choke tube is probably good for reliable starting of a neophyte but hurts overall performance

I say this because I noted engines tested on the blue test stand turned higher RPM than when they were mounted to a plywood fire wall with the intake air having to squeeze up the channel .... I started drilling a hole behind the area where the venturi opened so air could flow in better and then "on the airplane" the engine turned the same RPM as on the test stand

Following Paul Gibeault and Rusty advice ala mouse race engine prep, I always face off the back of the crank case to remove the raised burrs on the four holes, bottom tapped the screw holes, and used ken Cook's advice of a little cotton thread packing around the screws
Diamond Member







Posts

: 2549


Join date

: 2011-08-26


Age

: 63


Location

: Lampasas Texas





Similar topics
---
Permissions in this forum:
You
cannot
reply to topics in this forum