Cox Engine of The Month
December-2018
Dave P.'s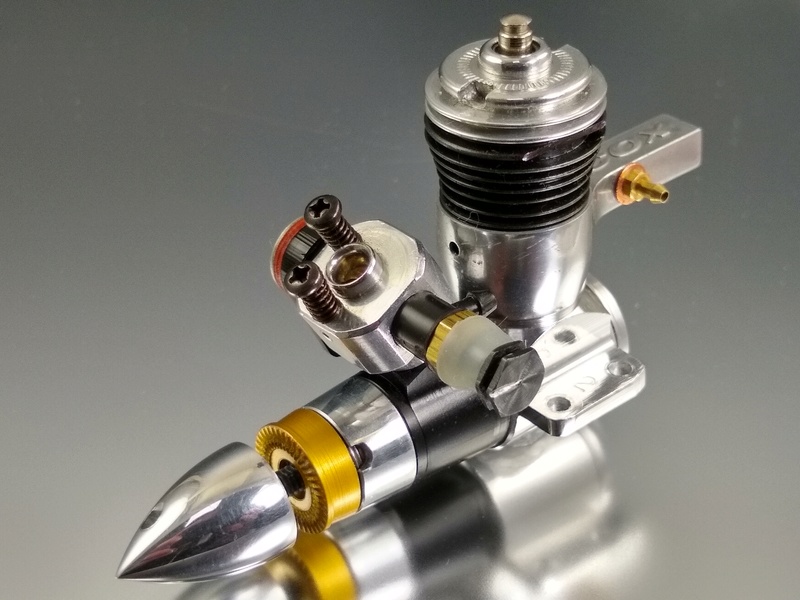 "RC Tee Dee 049"
---
PAST WINNERS

Has anyone successfully mated a 5cc babe bee integrated tank with a circlip reed retainer to a die cast block? I'm leaking nitro profusely with 2 gaskets.

OR, an 8cc tank with a flanged reed retainer?

Thanks. I picked up 3 new sure starts with die cast on ebay cheap. The picture showed extruded then Dan in California sent me die cast. I complained a bit but kept them for the price. They turn some really good RPM's.

Greg
Gold Member





Posts

: 222


Join date

: 2015-04-02


Age

: 57


Location

: Lake Mary, FL



There was one cast case engine model with an integral tank, namely the R/C Bee:
http://coxengines.ca/cox-.049-rc-bee-engine-2.html
Maybe you could source a used tank or a complete worn out engine cheap somewhere?
I have no idea how these tanks perform compared to sure start backplate. I have one complete (I think) tank but no cast crankcases. I compared the reed retainer area of the RC Bee tank and a regular one, the difference in the diameter of the two is about 1.5 mm, and the round part has two flats, presumably to make room for the piston to reach BDC.
Maybe, just maybe, you could make your circlip version of the bee tank fit by getting one of these kits:
http://coxengines.ca/cox-.049-engine-tune-up-kit-die-cast.html
The idea is that you would take the red part and use it as a spacer between the bee tank and the cast crankcase, and in this kit you will get the correct cast case gasket too. Just use the original circlip to hold the reed valve. Please note that this is just speculation, I do not know if it would work.
I'll see how much the shipping would bee for the RC Bee tank if you are interested.
Diamond Member





Posts

: 1361


Join date

: 2014-10-10


Age

: 47


Location

: Finland



Diamond Member





Posts

: 2969


Join date

: 2012-10-02


Location

: Ohio



Thank you guys. Those are some good suggestions. I'll experiment.

Greg
Gold Member





Posts

: 222


Join date

: 2015-04-02


Age

: 57


Location

: Lake Mary, FL





Similar topics
---
Permissions in this forum:
You
cannot
reply to topics in this forum