Cox Engine of The Month
December-2018
Dave P.'s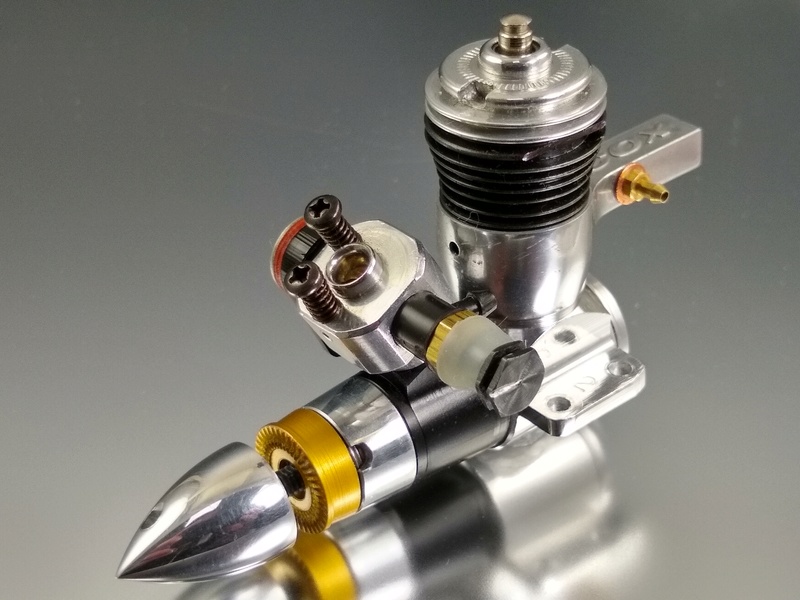 "RC Tee Dee 049"
---
PAST WINNERS

Well,I have to ask this question because curiosity has gotten the best of me.Forgive me if this has been mentioned somewhere on this forum,but for the life of me I have not run across anything.
Could I safely mix a pint of 15% and a pint of 35% new Fitzfuel to get a percentage of nitro somewhere in the middle?I would like to be able to play around with the percentage a bit if it is safe to do it this way.Rusty had mentioned it to Eric in another thread but nothing more was mentioned about it.
I did come across some information on the web about doing this.Got some saying it was ok to do so as long it is of the same brand of fuel and some saying that it was not a good idea because it would throw the formula way out of whack.
Please let me know if this topic has been covered in CEF somewhere.
The curious Steve
Moderate Poster





Posts

: 19


Join date

: 2015-03-12


Location

: Oregon



You can mix two fuels to get the blend that you want without problem.  What you do need to know is the percent of nitro, the percent of oil and what the ratio of synthetic to castor is for the oil component.  I've done this for years.
The calculations to compute the final blend are not complicated, but they are tedious, especially if you want to look at several fuel combinations.  I've written an Excel routine that is specifically set up to allow mixing two fuels to get the desired final percentages.  This routine is not set up as a calculator, but rather in a whatif format.  I'll be glad to send it to you if you like.  You will need a version of Office on your computer to run the Excel program.
I can't attach it to a personal message, but will need your email address -- I can attach it to that. Here is a screen shot of what it looks like.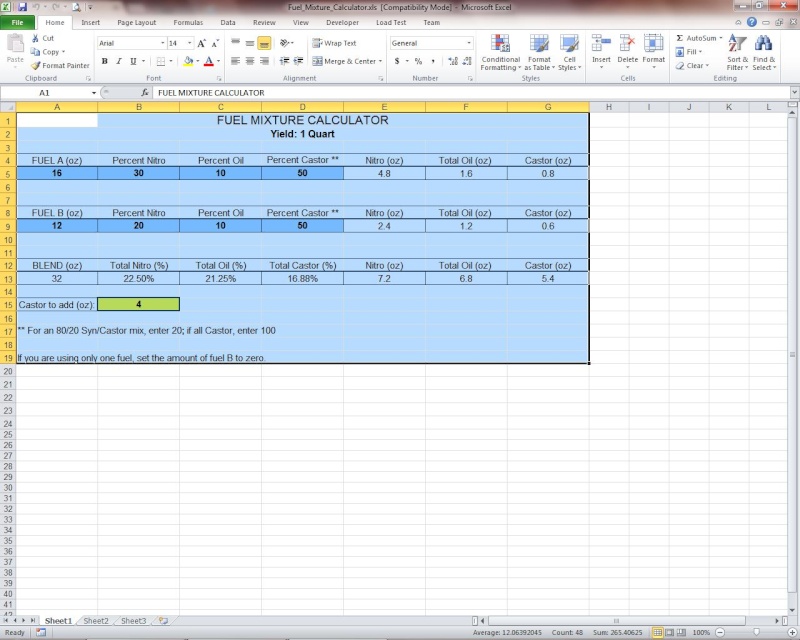 andrew
Diamond Member





Posts

: 1232


Join date

: 2011-08-11


Age

: 71


Location

: Western Kentucky



Thank you for the reply,Andrew.
That is what I was looking for......hands-on experience!
PM sent
Moderate Poster





Posts

: 19


Join date

: 2015-03-12


Location

: Oregon





Similar topics
---
Permissions in this forum:
You
cannot
reply to topics in this forum