Cox Engine of The Month
June-2018
Davenz13's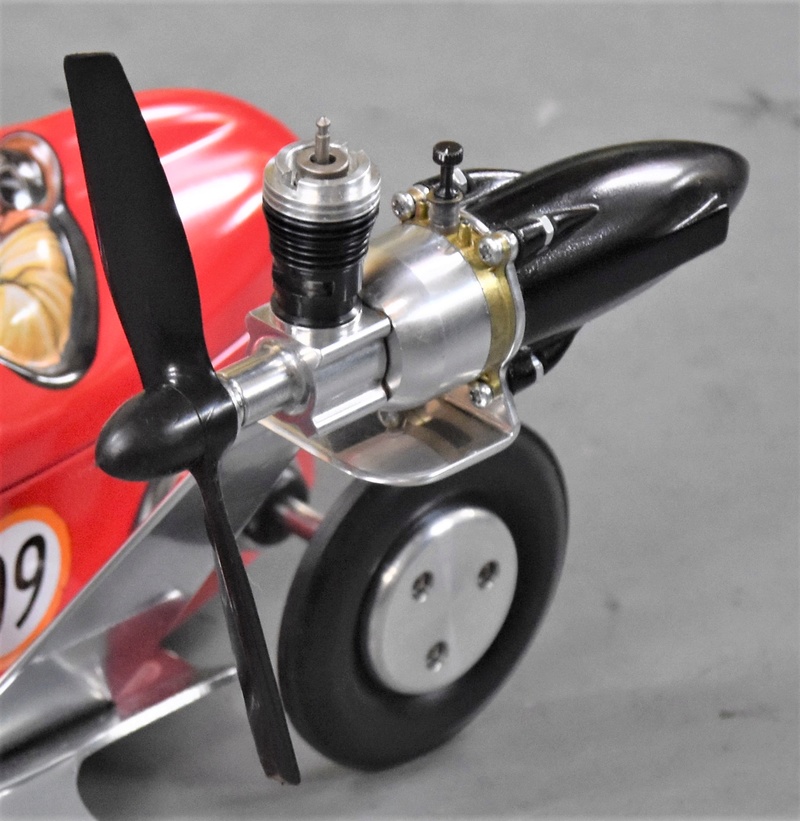 ".049 Bee"
---
PAST WINNERS

I have dealt with many styles of planes and I have explored a lot of options in control line. One problem I was always faced with was getting my TD to run a clean run from start to finish on my speed planes. I tried different planes, different engines, pressure backplates, etc. While I can accurately use a TD on pressure, this doesn't work well if your goal is to not exceed a certain amount of laps. Seeing that speed is based on a timed amount of laps, the only successful runs I would achieve on bladder would have me spinning for minutes. When a bladder isn't filled up fully, the pressure is less changing the mixture of the run. My results came to an end a few years back as I just couldn't quite figure out why this was so problematic. One of our senior speed flyers recently helped me out seeing I had his full attention. Basically I concluded that tank shape was a major factor into fuel delivery. Another thing that surprised me was how well a square tank feeds for speed. Too many attempts I made using commercially made tanks only to have me banging my head against the wall.
Bob Wilke a speed flyer on the east coast gave me a handful of tanks to play with. He basically gave them to me to disect and use as patterns. This particular one got my attention and I was able to rework it a bit. My initial thoughts were that the tank was too large. My thoughts were spot on. I shortened the tank and refolded the corners in and resoldered. Not pretty but effective. I didn't touch the piping. My son flew it last week and it was spectacular. This tank fed SPOT on from start to a very clean finish.
I had growing concerns due to the wing keeping the tank at a slightly lower elevation of centerline of engine. I just launched rich and crept up on the needle until I got the desired run. This took about 3 attempts. I never had such a beautiful run from a TD. This plane was scooting out . Unfortunately, the tank is still too large and I need to come up with a dimension to shrink it up.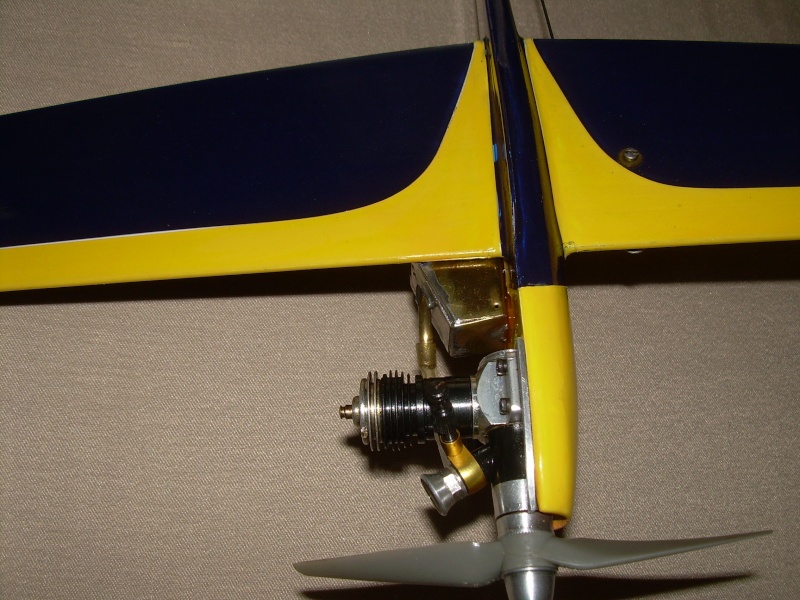 Tank is filled through the pickup tube and overflow is the pin hole in the corner next to the fuselage (topside). I've been experimenting with some hopper style tanks I designed from grafting other tanks together which has been proving very successful equally. Ken
Top Poster





Posts

: 3032


Join date

: 2012-03-27


Location

: pennsylvania



That tank does look rather large. It would probably cover a few miles LOL!
I'm curious as to the location of the fuel pickup. I would think the best spot would bee where the tank comes to a point in the center rather than toward the back corner. Cool looking plane
Platinum Member





Posts

: 503


Join date

: 2015-03-17


Age

: 55


Location

: Long Branch, New Jersey



I am glad your getting it figured out to were people that don't do the bladder can use a TD // Speed plane I presume .
Top Poster





Posts

: 4799


Join date

: 2013-01-18


Age

: 60


Location

: julian



Nice!! Very nice!!

Jim
Gold Member





Posts

: 100


Join date

: 2013-09-12


Age

: 69


Location

: Titusville Florida



While the tank is larger than it needs to be, it isn't overly large. The TD consumes fuel pretty fast especially when your tipping the nitro. I didn't measure the amount, I could shrink the back of this tank approx 1/4" and it should be good. The pickup is about 1/8" past the high point of the tank. It doesn't go to the rear like a stunt tank. While this uses a tank and it does it flawlessly, tanks can be problematic. Eventually they fail and leak not to mention the other issues I've had in terms of running away from the fuel and just feed issues. Combine that with vibrations and your in for a world of frustration. Bladders take all that out of the equation. There's nothing difficult to running bladders other than some simple procedures. Ken
Top Poster





Posts

: 3032


Join date

: 2012-03-27


Location

: pennsylvania





Similar topics
---
Permissions in this forum:
You
cannot
reply to topics in this forum