Cox Engine of The Month
November-2017
MauricioB's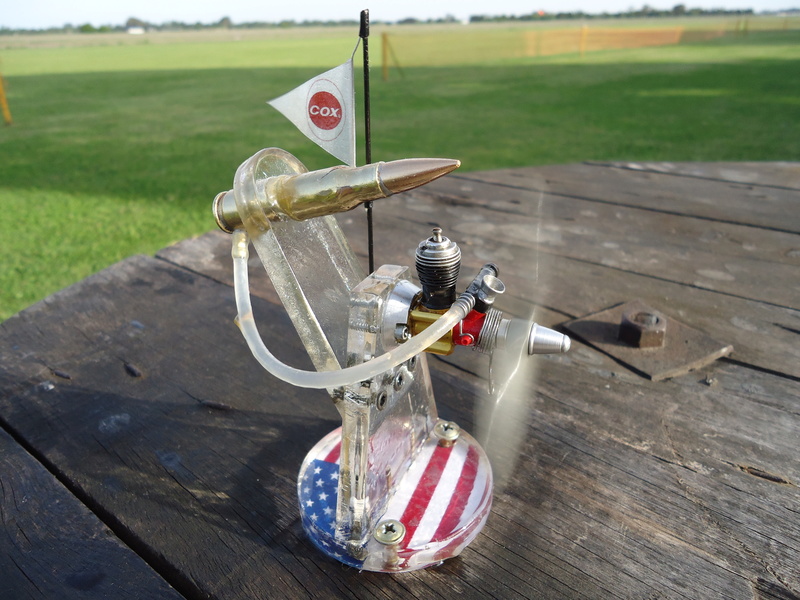 "Cox Tee Dee .010"
---
PAST WINNERS
Well it was Sunday the 5th, but still in the holiday Spirit. I wore my Philly Fliers hat with an American Flag pinned on the front. It's now a dual hobby hat. It caught sharks, Blues and a lone Whiting at the beach last month. It sank in the ocean twice and got blood on it... the fish's and mine Lol, and scorched in the Carolina sun. Sounds like a flying day except for the sharks and ocean

A month, not as long as Cribbs' layoff, but enough to make me rusty.
In our last episode, way back on June 9th, we had the Jason_WI-OS.25 on my Ukie shutting off in the OH8s or thereabouts. I found cracks in my silicon lines and replaced them. Once the overflow, just a 5/8" deadhead. And then the pressure line at the tank end. They cracked at the edges of the copper tube from the wedge tank. They weren't burred, and I made sure when re-tubing.

I sent a shopping list to Brodak with Wayne that included 8' of their reddish pink fuel line. Man if you ever want line that grips like no other, and is tough as nails, try this stuff. I don't have long term experience, but so far it's tops on my list. It'll even stay tight on misty wet days when others keep popping off of engine nipples. I'll get that stock# for you. And check if they have it for 1/2A. So I pressure tested the tank, no bubbles. Replumbed it in red and Bob's yer Uncle. I flew a few patterns with it and it's back in tune. It was pretty breezy, 12mph from the wrong direction with gusts. And when we first started, the sun was blasting right in the middle of the top maneuvers, so my warmup flights weren't anything pretty, but I got my flying legs back. Wayne was flight trimming his IDS, Intermediate Death Star. Unfortunately it didn't quite make Brodak though.

After lunch the sun was behind us, so the Oriental got to play. If you recall, when the engine is tuned like I like it she's short on gas. In the Huntersville incident she was running out of gas in the vertical 8, launching at 10.8k. But that was just a touch rich of a superb engine run, and I decided that was the range I want to start using. The next week at the fort, I'm finally figuring out that for a light breeze, launch at 10.8-11k. And for this day's 12mph wind with gusts, 11.3k and it plows through like nothing is touching it. Horsepower. I wish I knew the history of this ABN 40fp. I got it from Ray Copeland in 2013, and I think he got it from Watt Moore. Earlier, I had made it through two contests running so lean one of the judges made a joke about hardly having time to write in the scores. But if it runs out of gas while perfectly on song, I need more gas. Duh. The peanut gallery up in H'ville was suggesting venturi changes and all sorts of things. That's why a 5oz. tank was also on the Brodak shopping list. I popped it in and replumbed it all with red Brodak line. I flew a nice pattern in really rough air today. This combination is the first plane that ever made me feel like I'm really its Boss. It flies with authority. had stays really tight on the lines everywhere.

I came home from the field happy and with no repairs, finally. I'd been finding and fixing a couple of things lingering from the outta-gas crash on the Tarmac in May. And now I have time to tinker and do what I want. Like  fix up the Lil Bats and cut some wood for my Stuntman23s. I like this flying without breaking thing. It's been rare lately. I never stop busting them up. And that damn Wayne, I have never seen him crash a plane. Just wait till we go to combat. I'm gonna put his ass in the dirt!
Rusty
Moderator




Posts

: 10444


Join date

: 2011-08-10


Age

: 61


Location

: South Carolina, USA



Sounds good. My coroplast wing did fly, and got a whole day of flying on the 5th in, but I only had one partial tank through it at the controls. Nephews had a ball. Uncle plowed it into the dirt all the way over through a wing over and collapsed the motor mount into the plastic.

I am kinda irked, the glue on the baby bee stunt tank peeled out, I haven't tested to see of it is still tight around the fill tubes. The back plate wouldn't seal up. Swapped engines to an ugly Golden Bee, which proved the best answer, but the fill tube came out of that tank in one of the many crashes! Poor engine was fed a steady diet of dirt.

My Brother in law took the golden bee and a "kit" to make a man-win coroplast wing, with most of what he needs to get it built. Should be fun for them. (the plan was to give the kit to him last Christmas)

Phil
Diamond Member





Posts

: 2915


Join date

: 2012-10-02


Location

: Ohio



Great Rusty, glad you got the fuel situation straightened out with out taking too much advice

cant wait to see you and Wayne go at it >> I see repairs in the future , seen the planes they look good , Eric
Top Poster





Posts

: 4311


Join date

: 2013-01-18


Age

: 60


Location

: julian, n.c.




Similar topics
---
Permissions in this forum:
You
cannot
reply to topics in this forum