Cox Engine of The Month
September-2023
balogh's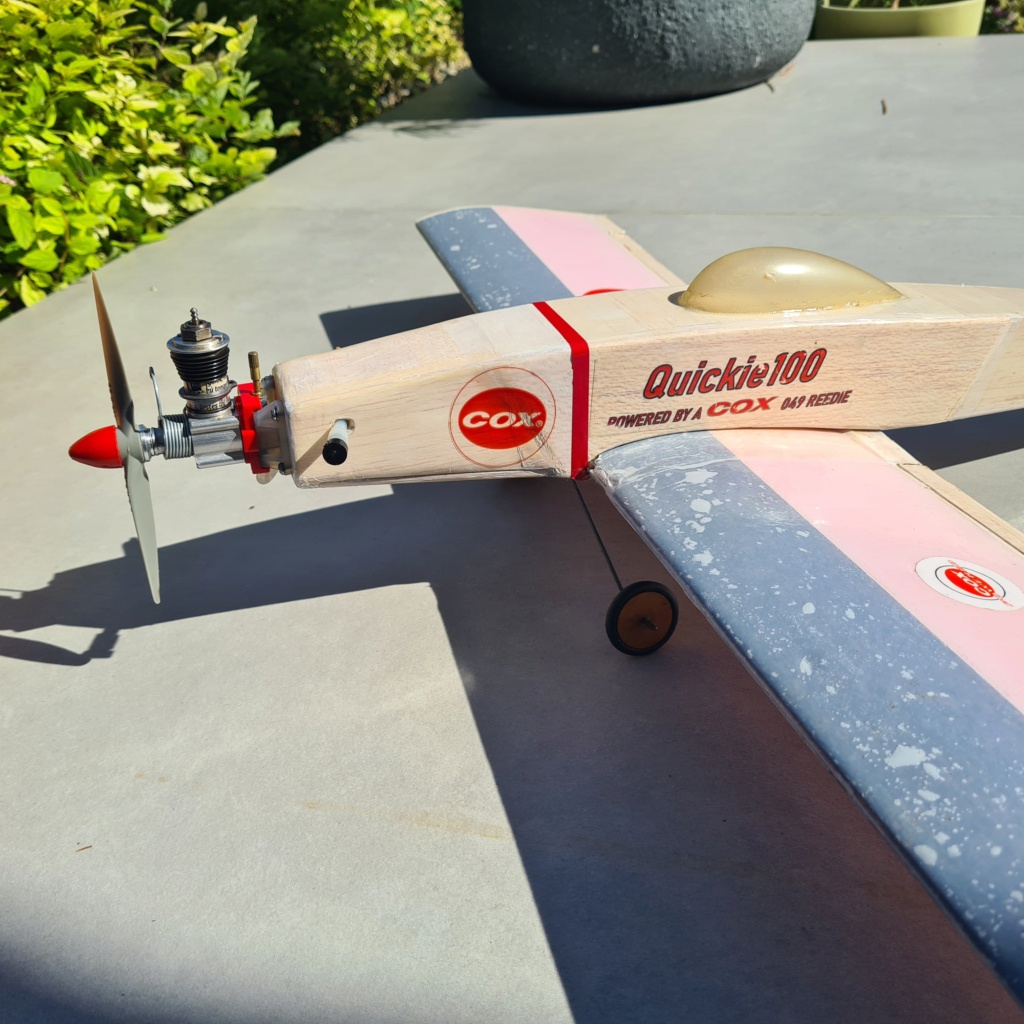 "Beefed up old stock 290 on my Quickie100 RC after plenty of airtime hours..."
---

---
PAST WINNERS
This has been on the shelf with some of my hanger queens as long as I can remember. I used to bring it out at Christmas time for my kids to play with. Even though slot cars were not popular any longer in the South West, at least not in San Diego, California.
   I was really into slot cars in Japan during !967 - 1969 and not so much in Thailand in 1969 - 1970. In Thailand it was very, very hot and humid. I worked and lived near the flight line where the aircraft took off and landed all day and all night. It was so hot during the day I decided to try lapidary or the cutting and polishing of gemstones. Thailand is famous for their black star sapphires and I learned how to cut, shape and polish the black star sapphire as well as opals from Australia. The temperature in the slot car room wasn't air conditioned and the lapidary room was nice and cool, so duh. I switched to something cool. I eventually had several stones mounted in Gold settings and sold them to fellow G.I's and saved a couple for friends back home.
   I get distracted easily. When I got back home in 1970 and found out my parents had thrown away all my Cox toys I was crazy, missing my Cox toys, for a few years. After I got married I sort of settled down, and with 2 incomes I could spend a little now and then on ME. It was hard back then in 1972 before I got married making $2.50 per hour trying to rent a house/apartment/room near the ocean. I had started surfing in 1970, actually body surfing in 1950, and it helped me to stay in shape and to calm down after a frantic day at work. I worked on Government projects and couldn't talk to anyone about anything related to the project or work, so surfing/swimming really helped. After we had our first child I wanted to start a tradition like I had when I was little with Lionel trains at Christmas time. Well Lionel trains were a little out of reach for me at that time, but the set shown here wasn't.
  Ta da.  I present the Cox 1/32 scale Laguna Seca Road Race set.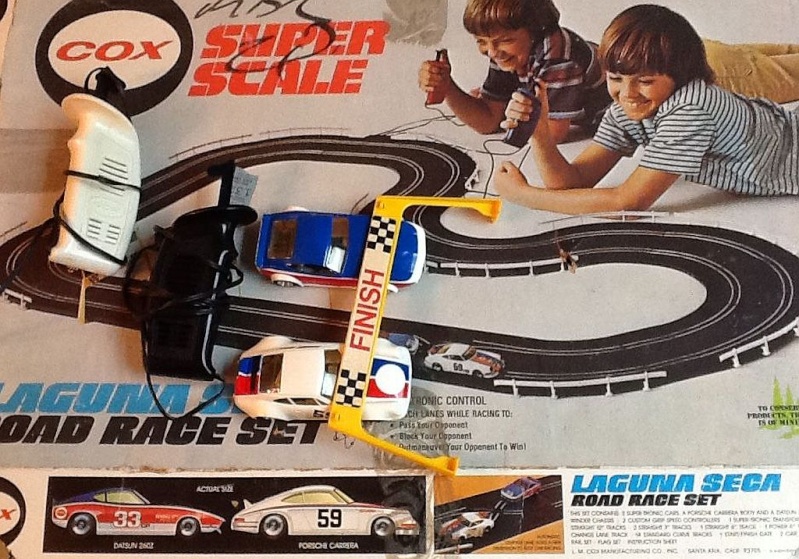 Eat your hearts out. I tried to sell for $39.00 in 2005 with no takers, now I will not part with it.
P.S. Does anyone know when this came out? I have looked some, but all I see are gas powered planes and cars, and 1 or 2 boats.
happydad  

happydad

Rest In Peace





Posts

: 1592


Join date

: 2012-05-28


Age

: 78


Location

: Escondido, CA



Hi happydad
It's in the 1974 Cox catalog advertised as "New for 1974"
There were six cars
Chevelle
Matador
Porsche Carrera
Datsun 240Z
McLaren
Indy Eagle

and four track sets
Daytona 500
Pocono 500
Laguna Seca
Ontario 8

I bet you're glad you didn't sell yours.
Cheers
Dave

Davenz13

Platinum Member





Posts

: 590


Join date

: 2013-11-28


Age

: 67


Location

: Palmerston North, New Zealand



COOL set happy !! I have some HO sets upstairs and yea Christmas is a good time to get out those baby's and watch them ZOOOM around the track , as a kid I got a set one year that took my dad most of the day to setup ,m an it was great had mountains and loops cross overs round and round . I wore it out finally had to put it in the basement , too damp after a while and fixing it a lot well all I have now is some of thoses cars . Talking about making a boys eyes light up. Good Fun !! Eric / getback

getback

Top Poster










Posts

: 9734


Join date

: 2013-01-18


Age

: 66


Location

: julian , NC



Similar topics
---
Permissions in this forum:
You
cannot
reply to topics in this forum