Cox Engine of The Month
April-2018
706jim's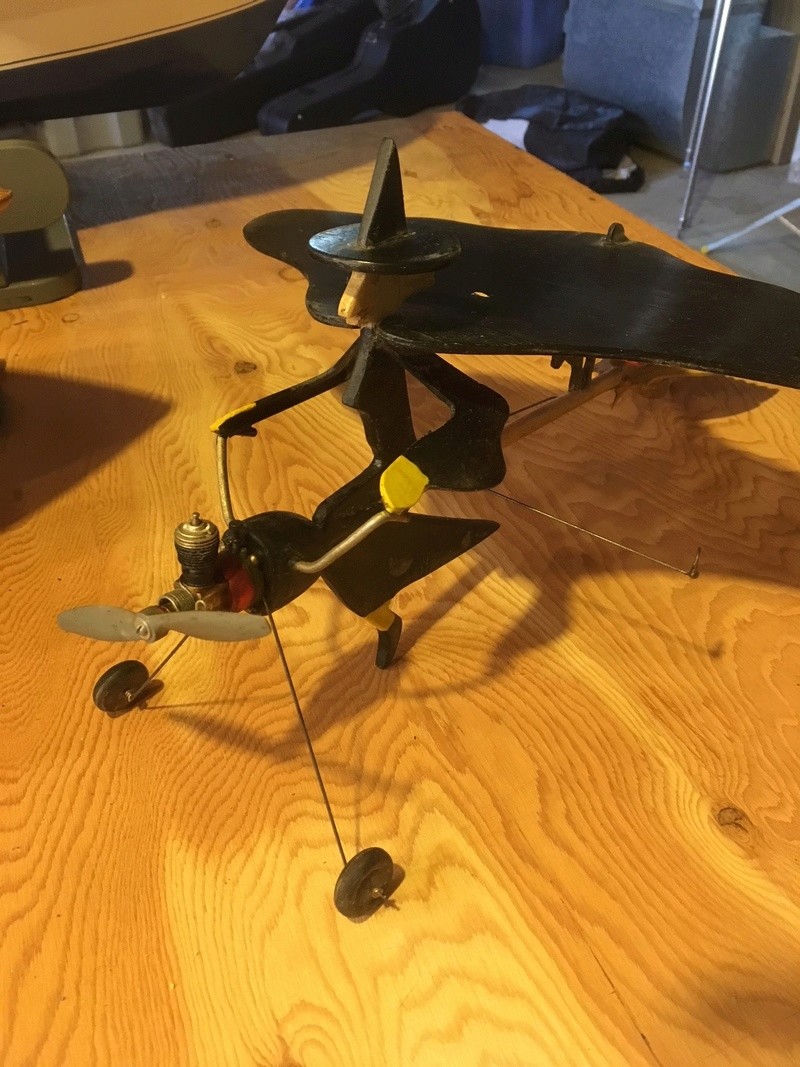 "Pee Wee powered witch"
---
PAST WINNERS

Well, I built a C/L plane for
The World's Smallest Travelling Engine
, but I decided to build an R/C plane for it as well, as I couldn't be sure of having a buddy to hand launch for me when I get the little sucker.  I looked at all the designs that came up on Outerzone for .010 R/C, and thought I'd build a
Schoolboy
by Ken Willard, but making it two channel.  After printing out and taping together the plans, it just seemed too big for a TD 010.  Maybe I'd use a TD .020, but I don't want to try the .010 on that big 36" wing.  So, I decided on a Willard
Pageboy
.  But, the 11.5 inch wingspan seems too small, and the article and YouTube videos show it to fly pretty fast.  I figured I'd stretch the wingspan to 13 inches and add an inch to the fuselage.  I've never tried one of those wings with solid balsa top sheeting and no bottom sheeting, and I'm kinda excited by the thought of trying a new wing method.
So, as I was re-drawing the wing and fuse for the extra length, I started looking at the rudder and stab.  I figured I'd make a couple of tweaks to bring it into the next century.  I drew out a couple of different tail group shapes, and haven't decided exactly what I want.   Then I started thinking about other plane designs that I like, which brought me to a new thought….
RCModeller magazine had their own RCM Trainer designs.  There were five of them in fact.   They ranged from .049 to .60 size.  All basically with the shape.  I know Model Airplane News had a couple of magazine trainers, and I'm sure other magazines had their own trainer designs as well.
But what about us?  Shouldn't we have a CEF Trainer?  People always ask, "What's a good trainer airplane for R/C or C/L?"  And there are always a bunch of different suggestions for Man-Wins or Stunmans 23s, or Skyrays, or Q-Tees.  Why don't we have our own designs?  Something that can be recommended as THE trainer for the CEF?  Or rather, a CEF C/L Trainer series and a CEF R/C Trainer series?   Simple designs for .049s that can be scaled down to a TD .010, or scaled up to a Medallion or TD .15?  It wouldn't have to be anything radical or innovative, just a plane with tried and true parameters that's quick and easy to build.  We'd just have to agree on a basic layout of the nose, wingtips, and tail surfaces, so they all more-or-less look alike as they are scaled up or down.  For R/C, a basic high wing design with slab sides and sheet surfaces with a simple built up wing.  For C/L a simple profile that could be built up with a sheet wing or a built up wing, so long as they both have the same wing plan and area.  Obviously the C/L plane and the R/C plane fuselage side views wouldn't look alike, as they have different aerodynamic requirements, but the C/L planes would share the same wingtip and tail surface shapes with the R/C planes, marking them as "CEF Trainers".
We could submit our ideas for "practical" nose, wingtip, and control surface shapes in this thread, and after a bunch of shapes have been submitted, we could have a poll on how we want them to look.  I'll volunteer to draw up some initial working plans and put them on the forum for everyone to approve.  Then I'll build it to test fly.  If it works, we'd have to find someone who can draw good to translate the working drawings to official plans, as I'm a lousy illustrator.
For the basic R/C fuselage planform, what came to me was something similar to the
RCM 1/2A Basic Trainer
.  Simple and elegant, and could be tweaked for our style preferences.  For the C/L, I'm all over the map, so the more suggestions we got from people who are better C/L pilots than me, the better.
What do Y'all think?
The Instigator Mark
Diamond Member





Posts

: 1528


Join date

: 2013-05-22


Age

: 55


Location

: Portland, OR, USA



One consideration for an 0.010 powered anything is to have minimal frontal area due to the tiny 3" prop that has to be used. I built a Guillows Thomas Morris Scout many years ago and even with a 5-3 prop, the little Pee Wee 0.020 didn't have a ghost of a chance of flying it due to most of the prop blast hitting the firewall.
The Schoolboy had (to me anyway) a funny looking "pointy" nose due to the need to minimize the frontal area.
So, when the smallest "series" plane is designed, it might have to look somewhat different from the larger versions.
Gold Member





Posts

: 204


Join date

: 2013-11-29



This one will get about 42mph with a modified 3in cox prop, note the minimal frontal area, custom made throttle sleeve 3ch Lil Speedy TD .010
Link to build design thread:
http://www.rcuniverse.com/forum/1-2-1-8-airplanes-70/11597545-cox-td-010-ply-rolled-fuselage-3ch-speeder.html
Last edited by 1/2A Nut on Thu Oct 15, 2015 8:35 am; edited 1 time in total
Diamond Member





Posts

: 1658


Join date

: 2013-10-20


Age

: 54


Location

: Texas



What sort of "idle rpm" do you get with the throttle sleeve? I know it wouldn't have to be too low for a landing with that tiny prop.

Cute plane BTW!

What do you use for R/C gear
Gold Member





Posts

: 204


Join date

: 2013-11-29



Greetings,
I would submit that I had great luck with the Buttercup, teaching a neighbor to fly CL hand launching in a cow field back in 1991.  I'm in Texas, after all.
Buttercup was given to me as an RC bare airframe for a TD 020 sometime around 1991 and it had dihedral.  I converted it to CL with a bellcrank at the CG and a plywood line guide coming down from the flat-bottom wing.  It flew great even with the dihedral on a Golden Bee type 049 engine with a 6-4 prop.
On his second CL solo flight my neighbor Rob slipped in the cow field face down!  The Buttercup did a loop as he picked himself up with one hand!  Rob then finished the flight!    

Anyway, it is a cute little thing, that flies RC on two channels with an 020 and I've already told you about the CL.  Oh yeah, the wing is on top.  As far as an 010, maybe if you built it light?
If I ever build one strictly for CL I would include no dihedral.  
Model Aviation June 1985 has an article. I have files on my computer but it is open source on the web, where I got them.  PM me if you wish, batjac.
batjac, this is my submission,
The submitting Forgetful, or something like that, I guess
Bronze Member





Posts

: 47


Join date

: 2015-03-03


Age

: 63


Location

: Sparkling Houston, TX



Hey Mark, I like the idea. I have the RCM anthology series books, which have a wealth of info. for the modeler. They're all based on tried and true methods of construction. As far as RC is concerned.. with modern gear; it's hard to build a model overweight nowadays. I posted examples of RCM wing and fuselage jigs that I built from plans from the book. I'm not familiar with the RCM .049 trainers though.. and would be interested in knowing more.
I scaled-down the RCM fuse-jig for building sub-1/2A models.
I enjoyed building this small fixture.. because I had already built the full size one.
These designs came from the RCM Anthology Series "Flight Training Course" copyright 1972 by Don Dewey. The wing-jig plan is also in the book. The wing-jig is based on rods that support the wing-ribs with holes drilled to accept them. The holes are first drilled through a rib-stack and pinned together.. using dowels or some other means. Double-stick tape could work.. as long as the ribs can be disassembled without damage. Slots are cut for the spar(s) and facing-off for the l/e and t/e stock before dismantling the stack(s). Ribs slip-onto the rods and align with the stations on your plan. If your rods are straight.. your wing should be straight. A constant-chord wing is very easy to build using this method of construction. You could use 1/8" (3mm) music-wire for the rods.. and make some nice little wings.
This one uses 1/4" aluminum rods. You could go bigger with alloy tubing if you wanted.. or smaller. The idea is to have the ribs line-up nice and straight from the start.
Top Poster





Posts

: 5858


Join date

: 2013-07-17


Age

: 58


Location

: N. Smithfield, Rhode Island




---
Permissions in this forum:
You
cannot
reply to topics in this forum