Cox Engine of The Month
June-2019
robot797's
"cox 049 gasoline"
More info on this engine!
---
PAST WINNERS

I just bought a Mc Coy 049 with a tank (Cheap) on E bay now I hope someone here can tell a little about them!
Anyway it looks clean & I will add it to my collection of 049's.
RK Flyer
Photo? There were different models and variants.
Diamond Member





Posts

: 2119


Join date

: 2013-07-13


Age

: 65


Location

: Clovis, New Mexico



Pictures will have to wait a few days its in the mail!

Its a beam mount & the black plastic tank looks similar to the ones for Tee Dee's, but the engine is mounted on arms from the tank. It has a type of snap starter.
That sounds like a Testors McCoy, usually sold as a "Red Head" .049 when combined with the tank.  Does it look like this?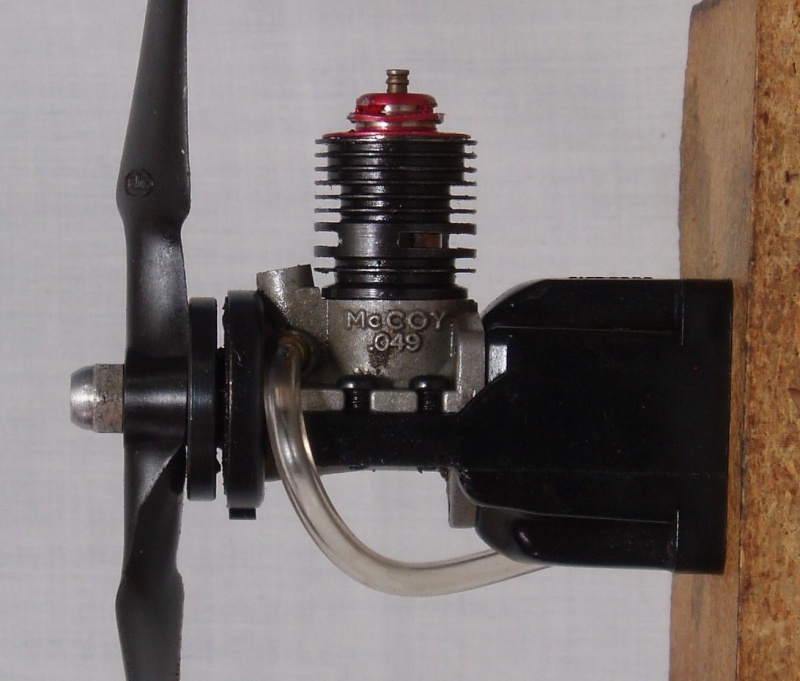 Not a bad engine.  The starter springs are fragile and you wouldn't want to try to modify it to increase the RPM too much as they can break the rod or crank pin, but they are generally pretty reliable when treated kindly.  The glow head is not commonly available (it doesn't have to be the red version) but can be found fairly frequently N.O.S. on ebay or elsewhere. Any head from the first Wen Mac to use a glow head through to the last of the "Pipe Bomb" Testors engines will work on this engine.  There was some variants.  Some used a thin copper gasket, some a thick alloy and some no gasket at all, but with the correct gasket they will all work.
By the way, if this isn't the type of engine, completely ignore all I just said and I'll crawl back under my rock.

Rod.
Diamond Member





Posts

: 2526


Join date

: 2012-06-15


Age

: 56


Location

: Victoria, Australia



Rod..... You got it! Thanks for the fast info!! More later..........

RK Flyer
Diamond Member





Posts

: 2119


Join date

: 2013-07-13


Age

: 65


Location

: Clovis, New Mexico



That is a nice looking Toot . I like the yellow and red colors and the smooth rounded corners . One of my favorites and very nicely done .

Mike1484
Gold Member





Posts

: 119


Join date

: 2011-10-28


Location

: Northern Ohio



WoW! What a combo!! I really like the TooT and with the ole Mc Coy up front it's really got the look!
What type of paint did you use on the plane? It's great!!
RK Flyer
Thanks, RK Flyer and Mike1484. Finished in traditional butyrate dope.
Diamond Member





Posts

: 2119


Join date

: 2013-07-13


Age

: 65


Location

: Clovis, New Mexico




---
Permissions in this forum:
You
cannot
reply to topics in this forum