Cox Engine of The Month
June-2020
Kim's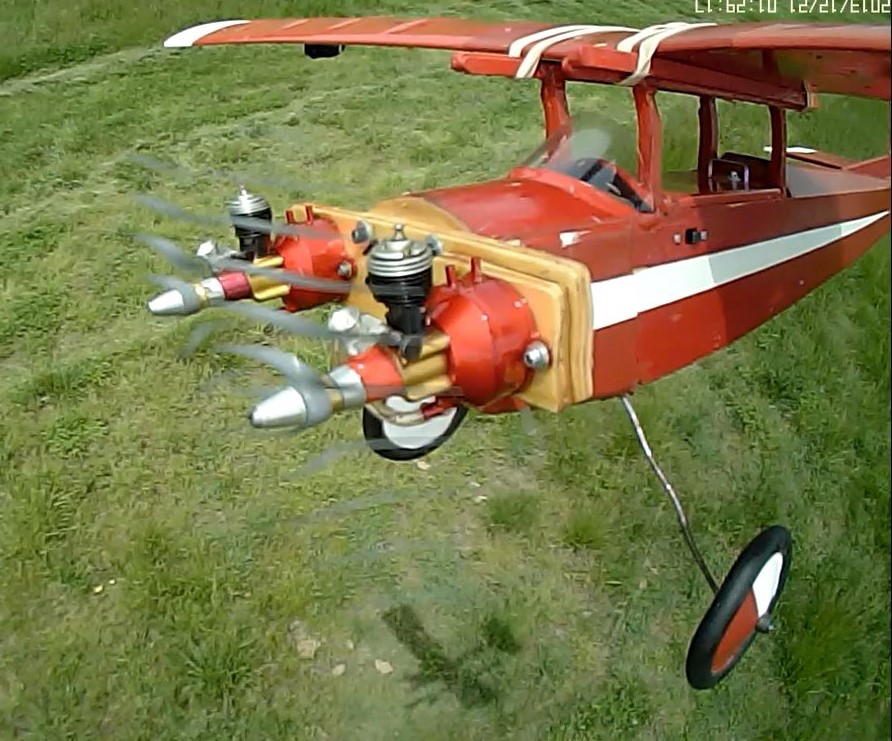 "Double Your Pleasure" Two .020 Tee Dees and Their New Tanks"
---
PAST WINNERS
Page 3 of 3 •
1, 2, 3
I tried the stock fuel .... while it was better, it was still there.

I dropped to a 9x5 prop and used the same non doctored fuel ... and tried for wet 2 stroke run. Amazingly... it was almost 11k rpm before it would hold 2 stroke on the ground. Level laps it cant decide between 2 and 4.

Very nice runs.... after bumping alittle more to 11.2k .... plenty of smoke still, and just a mild burp going to inverted. Very manageable, and the motor doesn't seem to mind the RPM. And I'm still getting 5m30s on 2.5oz. Also, the spread on laptimes from beginning to end is pretty narrow ... beginning is around 5.25 and end of flight is around 5.0 ..... the 10x5 prop at best was 5.3 and finishing 4.8 .... i do like the 9x5 for consistency of flight.

I've got a new to me the last couple weeks OS 25 FP that I run a 9x4 ... at 10.5k .... and that doesn't seem to mind either. I'm just not used to running such motors that high.

I am impressed with this Enya ... it doesn't seem to mind what I ask of it.

In case anyone is wondering... 22 flights the last 2 days to get lines, prop, fuel and needle figured out. Believe it or not .... i find doing this very enjoyable. Its almost boring once i get a combo figured out ..... lol

larrys4227

Gold Member





Posts

: 338


Join date

: 2015-07-23


Location

: Lakeland, FL



Howdy folks .... now that the holidays are over --->  back to tinkering.
I have been able to sneak in some flights with this Streak/Enya-29 combo, but had some frustrations. I wasn't able to get a consistent engine run from day to day. I'd leave the field pretty happy with a setup .... comeback in a day or two .... and it won't run the same.  Grrrr ....
Just before christmas,  I decided to take off the Jim Lee venturi/NV, and replace it with the stock RC carb.  I've never done this ... always got a venturi to work.  There is a noticeable size difference between the JL venturi and the carb opening.
I wired it open and started testing.
It didnt take long to find a setup .... 10/20 fuel, 10x5 TFPP prop, 9.6KRPM, and 60 foot lines.  3oz of fuel gets me 6 minutes and laptimes from beginning to end are 5.1-4.8
Theres still alittle burp transitioning from upright to inverted, but its not slowing down and easily manageable.
I've had the plane out 4 different days, and haven't had to touch the needle, other than a click one way or the other.  I'm very pleased that the runs are repeatable, and it flies really strong.
So, I guess the problem was the JL venturi .... while it fit the Enya29, it was labelled for a 35.  Yeah, I could reduce the throat size, but this is a simple sport plane.  And considering I've never run a plane with a wired carb .... I think its kinda neat.
I got a couple New Years Day flights in down to MCRC ... and it was the first time anyone else had watched this setup fly.  They were impressed and thought the flights were great!
I look forward to the next couple outings .... the plane needs the CG adjusted, but have been holding off until I got the engine running consistently. I might even add a tongue muffler, but I'm disappointed in the weight of it .... while its alot smaller, it weighs just as much as the stock muffler.
This has been a great project and look forward to flying it alot!!

larrys4227

Gold Member





Posts

: 338


Join date

: 2015-07-23


Location

: Lakeland, FL



Larry, the burping your experiencing is more than always going to be there. But, looking at your pics, It appears your using a Fox plug. A hotter and better quality plug could possibly fix that burping as it sounds like the plug is drowning a bit. A Enya #3 would work very well. If I'm reading your post correctly, you say that you have a tongue muffler but it weighs the same as the stock? I can't say enough good about Randy Smith's tongue mufflers. They're very light and they also are generally sized correctly. RSM tongue mufflers in my opinion have too small of holes and this generally requires a additional row of holes. This isn't always easily accomplished by most hobbyists. It usually is easier to drill through the existing holes and break out the other side. Randy's tongue mufflers have enough holes and are spaced far enough apart that if the need arises one can just open the holes to the next drill size. Randy generally recommends this as well.

Ken Cook

Top Poster





Posts

: 3918


Join date

: 2012-03-27


Location

: pennsylvania



Hey Ken --- Thats a Thunderbolt plug in there ..... I tried an OS plug, but it was worse (I feel) because it didn't have the idler bar.
The tongue muffler I got was the Big Arts (Brodaks) Enya 29-35 .... when I first got it, I was amazed at the weight. Its turned me off from even trying it.
Now that its running good ... I should really have some Enya plugs to try. Some guys swear by them and all they use. Maybe I need to see what the hype is all about.

larrys4227

Gold Member





Posts

: 338


Join date

: 2015-07-23


Location

: Lakeland, FL



I know several CL guys that will use an RC carb exclusively due to the runs they provide. It has something to do with the small inlet and the length of the carb throat which causes better atomization. That's what I was told... Personally I shy away from RC carbs mostly due to the weight. I usually have to play with venturi sizes to get it right.

I'll second the crappy Fox plug. Every Fox plug I ran was crap. I love Fox engines, just not the Fox plugs. Thunderbolt RC longs work very well and are my go to plug. I have also used Glo-devil and they too are good plugs. Pricey, but well worth it. If Ken says use an Enya #3 then try that first. His advice has always been spot on for me.

That stock Enya muffler is a serious chunk of lead! I would love to see the tongue muffler you tried. I have never seen one that weighs as much as a stock muffler. Usually they are way lighter than stock.

Glad you got some good flights in though.

Edit: you replied while I was typing so disregard some of the advice...

Ron

Cribbs74

Moderator








Posts

: 10824


Join date

: 2011-10-24


Age

: 46


Location

: Tuttle, OK



Page 3 of 3 •
1, 2, 3
---
Permissions in this forum:
You
cannot
reply to topics in this forum