Cox Engine of The Month
March-2023
rdw777's
"Cox .020 w/Homemade Throttle - Pageboy"
---

---
PAST WINNERS
It's been since the week before Christmas. Over that soggy windy time I had made changes to my three main fliers and I've been itching to test them out. Thursday was a complete surprise that popped up between endless bad-weather days, and when the afternoon forecast was updated, we scrambled like a chinese fire drill calling, texting, and emailing each other about going flying.
First up was the Oriental, who's .40fp has been running away since I rebuilt the nose. I've flown it about five or six times since its post-repair maiden(I flew it into a dust devil back in late summer). I'm in denial that it's vibration in the repaired engine mount. I rebuilt it strong and stiff. but it ran perfectly before the wreck. I was testing two additional head gaskets, and it ran beautifully, just like old times... until it started to lean out and sagged in the first loop of the OH8. I bailed out and proceeded to fly about 96 more laps(felt like it). I have a spare head and Bob is going to radius it for me to additionally lower the compression. I also have a head-bolt hole problem in the crankcase, so I may need to use my spare crankcase when I swap heads.
But!
...But, this plane flies so much like it's on rails, I just love having its handle in my hand. She, in all if her fatass 50 ounces, turns effortlessly, confidently. It really soothes some of my nemeses. Before I go all radical with engine work, I'll blow out the filter and make sure it's not just a booger.
I took a break to rig up the Shoestring. Wayne flew JFA President Jim Malek's big RC foamy T-28 Trojan. Wayne is a damn good RC pilot, he just greases touch and goes, dead center of the runway. And Bob flew his Euclid. It had a big patch on the wing. He told us this is the first time it's been out of the hangar in 20 years, and dirt daubers had built a big crusty mud nest inside the wing.
 He cleaned it out and bolted a Surpass 40 fourstroke in it. It was one of his few muffled engines. It looked great in the air to me. I love the look of it, it's Bob's own design, and a one of a kind model. After the flight he said,
This plane sucks!,
and that he was going to abandon it at the field for whoever wants it. Lol A while later I noticed the engine and tank were gone. Damn... not a thing wrong with it. Wayne took it home. I turned it down since I have plenty to work on, including Bob's old Pieuma(Feather).
Here's the Euclid and the Trojan: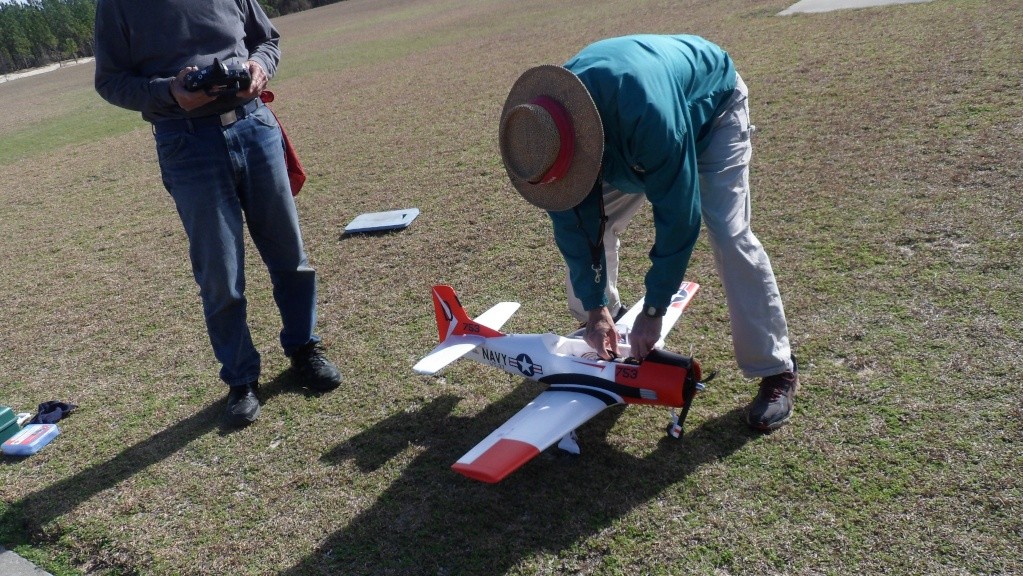 Later I'll post a video including the Euclid, and the twin Fox powered Jezebel again.
Last time when I tried out the Shoestring with its new Max-S .35, I really liked it. It has a great loud growl with no muffler, and with the RC carb it ran steady but too slow with an MA 10x4. Bob made an aluminum venturi for it and I put a stock OS NV in it. I upped the pitch to 10x5 or 6 to give it a little more authority, and boy it has it now. The new venturi helped get an easy needle setting, and it sounds sort of Fox-like. It flies at a great speed with a distinctive 4-2 break and lots of horsepower for climbing into wingovers and such. About 5 seconds, and I wouldn't want it any slower for such a small plane on a windy day. So the old SS, my first stunt plane is a pleasure to fly. Boy, she's twitchy though. It's no wonder I had such a hard time learning the beginner pattern. Maybe I need a narrow combat handle for it. It turns loops the size of a hula hoop Lol.
Here's my tour of the pits:
https://youtu.be/F3p9WzaAT0g
Wayne flew his new Ringmaster and I busted the rudder off launching it. I didn't think I'd touched it when it flew off during his rollout. But after some CA, next time I launched it I saw how my gloved wrist must have pushed it over. It's in an inconvenient place for the pit guy... actually I always thought it was in a dumb place anyway... sorry Ring lovers. I bet he cracked the rudder himself before I ever touched it. He also flew his Primary Force. That's the coolest looking profile ever. I want one of those. Both of his planes have LA25s.
I finally figured out how to get these action shots with my phone: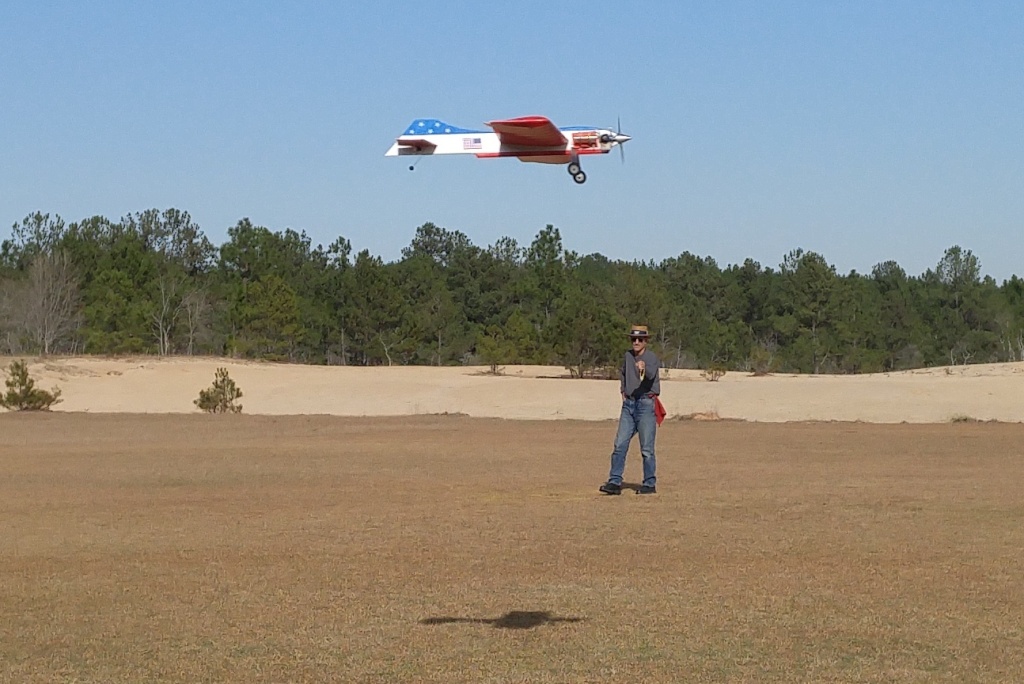 As for the Cardinal, three or four of my peanut gallery want me to try assorted things like a different prop and two different mufflers on the Cardinal's LA46, so rather than argue, I'll hope some of their ideas is magic. They don't all quite agree with each other
. I felt like I'd been honing in on the run I want with a Zinger 11x5 and a light little OS #746 muffler, straight through with the stinger straight out the back. I ground the stinger off and opened it up to +3/8". I thinned the rear half of the case too. That idea came to me a long time ago when I got Mark Boesen's Pro BB Thunder Tiger .25, and it came with one that had been seriously thinned all over, super light with a big hole. Anyway the thing is, the Zinger I use is a wooden old style, straight, flat tipped 11x5. Perfect steady beautiful 2-stroke song and 5 second laps. But I don't want to fall in love with a prop that can't be dependably replaced. The new wooden Zinger I tried, a mild scimitar shape, sucks. The performance fell on its face. So I bought an assortment of MA('cause it resembles the shape of the old Zinger), and APCs. The one everyone agrees is the magic prop for C/L LA46s is the APC 12x4.
So I bolted the APC on it with a tongue muffler and put her up for a flight. Bingo! That was everything I want in a run. Tune it so there,s the slightest wet crackle when held level and a clean 2 stroke when held up vertical. And best of all, it's repeatable, no need to bother with a tach. I did tach it, but didn't write it down. I busted out a couple of decent patterns. My outside maneuvers are all much better and more comfortable than my insides, so a little elevator trim maybe for next time.
Later, I'll crunch and post some video of Bob snatching his planes around in his usual high speed freestyle stunt form. All in all, it was a pretty decent way to start the year in flying.
Rusty

RknRusty

Rest In Peace





Posts

: 10869


Join date

: 2011-08-10


Age

: 67


Location

: South Carolina, USA




fredvon4

Top Poster










Posts

: 3964


Join date

: 2011-08-26


Age

: 67


Location

: Lampasas Texas



Sound like a fun time man that's a big prop on a C/L plane but , if that's what it takes and makes things better (and sounds like it did) Why not . You guys just leave planes like the Euclid to be had by someone else just because it didn't fly well
cant imagine how many I would have left there with that attitude
I sure Wayne will straighten it out and fly it in front of him with authority , Too bad he took the engine /tank I am sure you were eye-balling that Surpass 4 stroker . Thanks for the report as always glad you had a good fun day in the beginning of 2016 more to look forward to! Eric

getback

Top Poster










Posts

: 9418


Join date

: 2013-01-18


Age

: 65


Location

: julian , NC




Kim

Top Poster












Posts

: 8240


Join date

: 2011-09-06


Location

: South East Missouri



Rusty, did Bob see the Oriental fly? Does it execute this sagging problem if you tried the same maneuver early on in the flight? I have some growing concerns on how the tank is feeding. This certainly sounds like the problem. By the time you enter the overhead 8 doing the pattern, your probably less than 3/4 of the way empty. This sounds like the problem is with the uniflow pipe. Have you tried moving the leadouts fwd a touch to see if it resolves this problem? If you open the needle a click, does this still happen? I've also seen this happen due to air leaks at the venturi. The case is heating up and expanding allowing just enough of an air leak to cause this situation. Ken

Ken Cook

Top Poster





Posts

: 5105


Join date

: 2012-03-27


Location

: pennsylvania



Thanks for the replies, guys. Fred, I do like those Thunder Tiger props, I've used a few, and it worked best on the Magnum, and also my old Skyray, the Dirty Bird. Eric, the 12x4 seems to make the LA46 happy, and the Cardinal is a big plane at 51 ounces and 54" wingspan.

Ken, yes, Bob watched the Oriental flight. In fact while he was walking it back to the pit, he touched the bypass(no cowl) and it was burning hot. I had done the V8 and hourglass and it was still giving me a 4-2 break. When I entered the first loop of the OH8 it sounded like a normal 2 to me and sagged, so I aborted and it was screaming lean by the time I leveled off.

I only flew one flight and parked it, so didn't try a richer click. The venturi is a good idea, I believe it's probably old and dry. I'll take it off and re-seal it with RTV. I wouldn't have thought of the leadouts, but the yaw angle could certainly be a possibility.
Rusty

RknRusty

Rest In Peace





Posts

: 10869


Join date

: 2011-08-10


Age

: 67


Location

: South Carolina, USA



---
Permissions in this forum:
You
cannot
reply to topics in this forum