Cox Engine of The Month
May-2018
Kim's
"War Dog hauls the 2M B.O.T. out of Uncle Wayne's backyard"
---
PAST WINNERS

Saturday February 27 was our MCLS club meeting at Watt Moore's house in Chester, SC. It was a big day of flying. I couldn't fly that day, so I had more opportunity to take pictures and videos, and there was plenty of material. However a movie & slideshow I made is still lost in the limbo of recreating my computer system on a new Win10 machine, and I'll either find it or remake it, so I'll make a thread later on it.
Today we met up at Fort Jackson. It was Wayne, Bob, and their friend Jim Stoia, me, and later Jim Malek showed up and provided comic relief. I've been cleared by the flight surgeon to fly again, so I took my Cardinal and Shoestring. Beautiful blue sky and the temp got up into the mid 70s. Jim Stoia came with Bob with a 30 year old Ringmaster, and he hasn't picked up a handle in about that long either.
When I rolled in, Wayne was by himself flying an odd old plane of Watt's, called an Akro-Bat. He and I flew it this past weekend. We'd borrowed it from Watt the previous weekend, to tinker with and trim, and it was only ever flown by several people one day about 12 years ago. The pilots that day were Watt Moore, Allen Brickhaus, and Dan Banjock, I think someone else like Bob Hunt or one o' them "Big Guys." The Akro-Bat is one funny looking bird, with an upright engine, a guppy belly and stab the size of a barn door.
All of the pictures I posted have a large version if you click it up.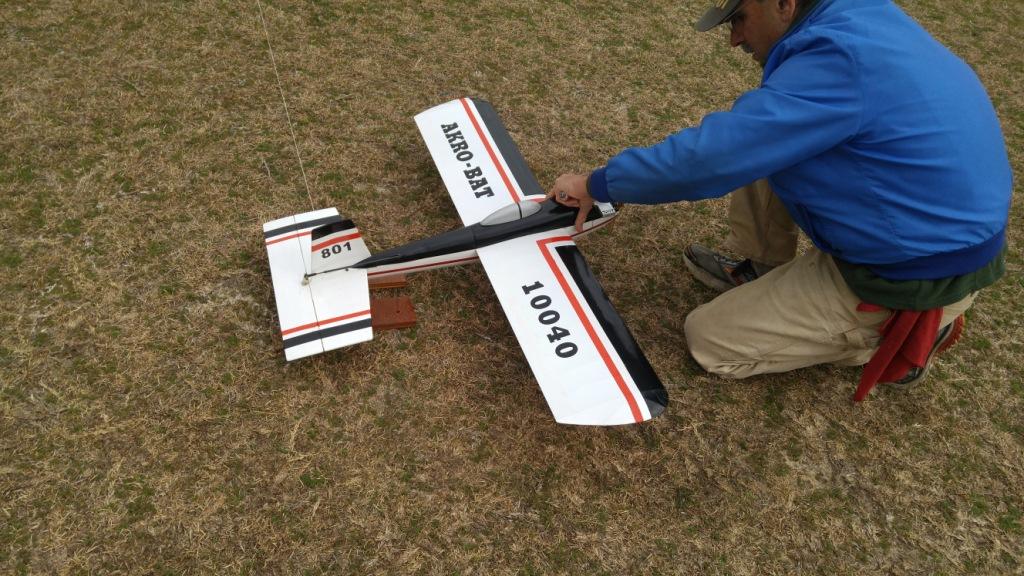 It's even funnier looking in the air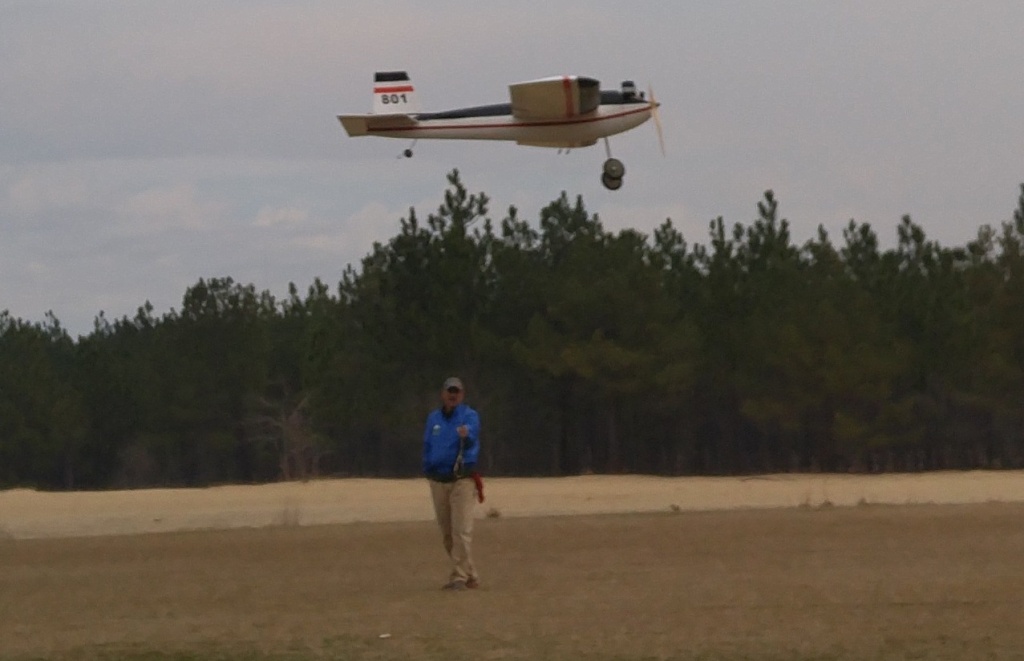 I took these three pics last weekend
He flew his Primary force too, but after the first flight the monokote on the LE was parting company with the wing, so he grounded it.
Jim's old Ringmaster had a Max-S .35 like my Shoestring, and considering he'd grown cold for 25 years he flew it pretty well.
Unfortunately I cut the video after he landed and didn't get the sight of him stumbling and falling down Lol. That was a missed Kodak moment. I'll get the movies up later.
Bob brought a very old plane which I forgot the name, with a loud obscure engine, as well as his twin Fox .19 powered Jezebel. I got some of his flying on video. Other than combat, I've never seen anyone fly as fast and wild as Bob does. I'm surprised I even managed these photos, it's a blur to the naked eye Lol... but really entertaining.
This is the one who's name I forgot... maybe the Excalibur??, not sure, Ken may know.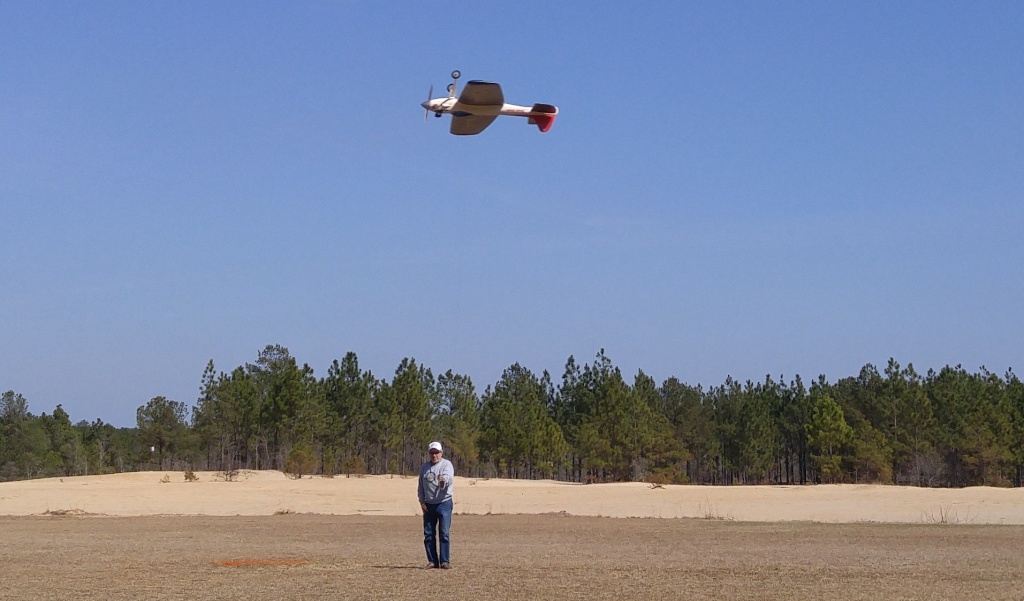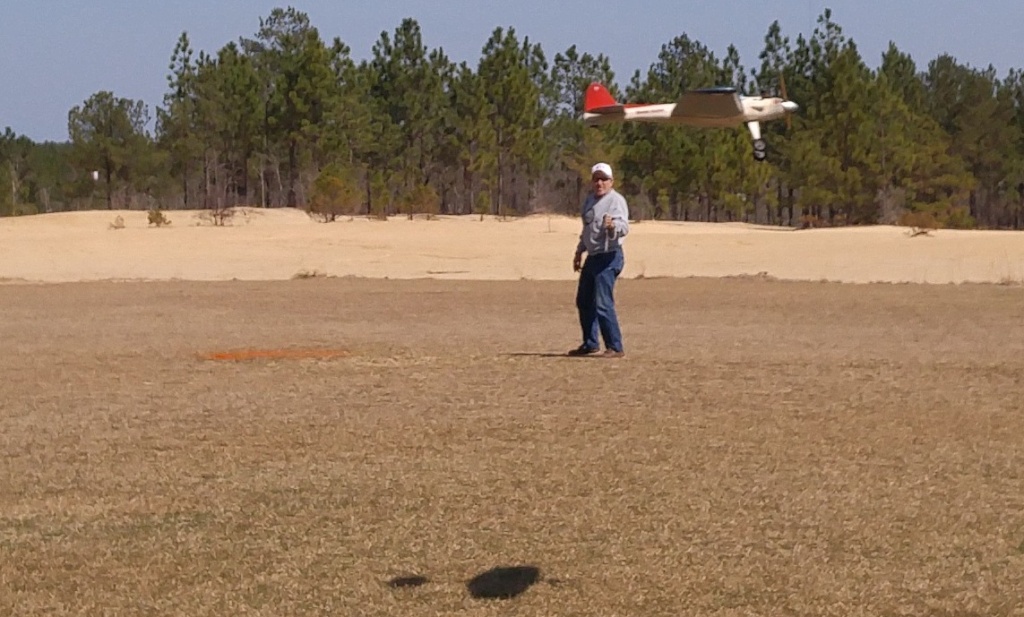 This is the Jezebel
I flew the Cardinal and Shoestring, and I'm flying the Cardinal fairly well. I s'pose if I want pictures of me in my reports I should get a hat cam.
See y'all later, and I'll make those movies to add to this,
Rusty
Cool Pic,s and nice report Thanks Rusty , I thought you were already cleared to fly or did I miss something? Ether way good to see your out and enjoying this FINE weather were having , I am going to get out there and fly some soon had some tractor work to do yesterday on the carry all then got the tillage tool on and tore up the garden area (1 of them) and paying for it to day !! lol I don't think that plane looks that funny maybe just ME
Be looking for the videos . Eric

Beautiful still shots Rusty. Up close and personal. Looked like a great flying day.

Mid seventys here in WV yesterday. Supposed to push 80 today.

Bob
Diamond Member





Posts

: 2918


Join date

: 2014-08-18


Location

: West Virginia



Hell Yes that was entertaining !! You boys are getting an early start and the weather is just about right . Not bad for 30 Year delay and you cant beat that SMILE at the end

getback one time !!
getback wrote:...Not bad for 30 Year delay and you cant beat that SMILE at the end

 getback one time !!
Yeah, but I cut the camera too soon after his first flight, when he spun in and down... after a soft rolling landing. I missed a Kodak Moment!


 That must have been that stupid look he gave with a jerk behind him , I was wondering what he was looking at


 getback


Similar topics
---
Permissions in this forum:
You
cannot
reply to topics in this forum