Cox Engine of The Month
April-2019
MauricioB's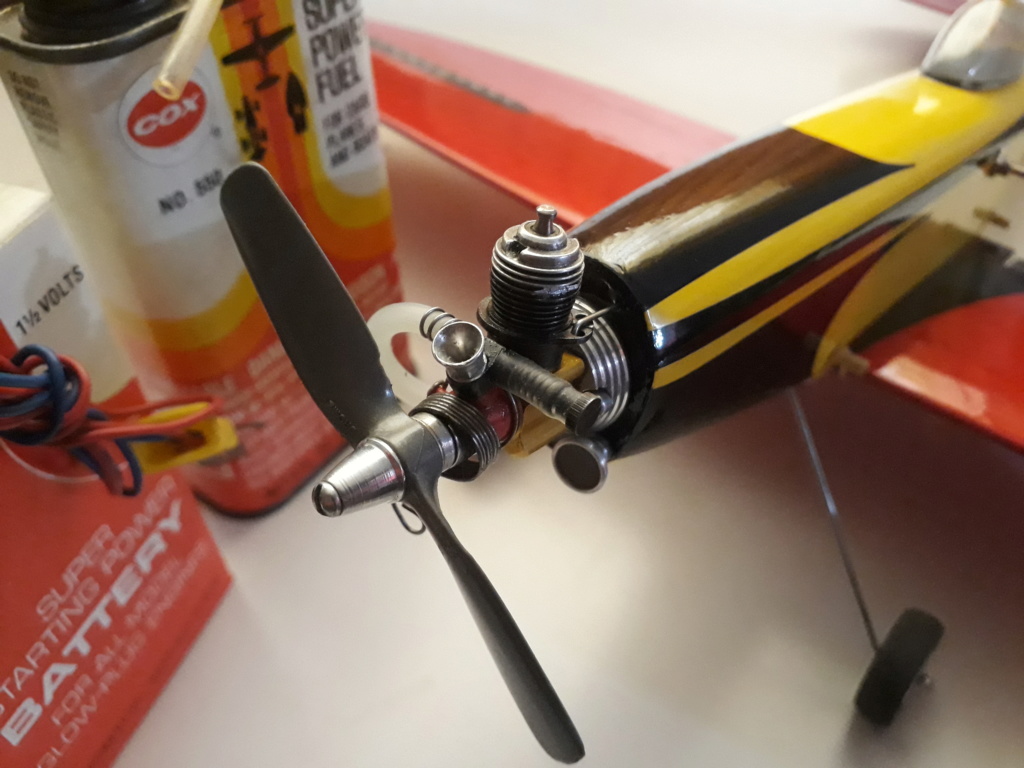 "Tee Dee .010 r/c"
---
PAST WINNERS
Page 24 of 24 •

1 ... 13 ... 22, 23, 24

Ah, I found it. I fixed the rule but had to check the box to update existing listings.
Last edited by 1/2A Nut on Mon Apr 15, 2019 10:44 am; edited 7 times in total
The OEM backplate weighs 5.8g and this one weighs 8.9g. So that's +3.1g, now subtract the mount at 13.3g and it's -10.2g not counting removing the lugs which is another -2.2g so total 12.4g or .5oz less. That adds up!
Yes very true, 12.4g on the nose of the plane makes a big difference with the CG for .10 to .15 size planes.
Proportionately it would look about right, but I wonder if it is too short. The F2A speed pipes for a .15 are a fair bit longer, and they are running around the same RPMs, around 40,000. They mostly have interchangeable tailpieces of different diameters for fine tuning. TBH, I have not seen one for a few years and don't know the exact dimensions. I would think that length with a smaller diameter would be close to ideal, or a good starting point. What kind of pipe parts did you scare up there? Looks interesting.
Gold Member





Posts

: 117


Join date

: 2013-01-18


Location

: Leamington Ont. Can.



Here closer to scale:
7.75 plus the distance to the center of the piston.
1675 WS x 140 ET / 7"  = 35k
TD .020 has hit these numbers;
All carbon 3x3
Best Static 30,684 / 87 mph / Per Prop Calc.
Best pass 37,304 rpm
Doppler Reading best pass 107 mph down wind.
3.5 x 3.5
Doppler Reading 105 mph down wind
Best pass 30,742 rpm
3.37 x 4.5N Prop
Best pass 28,585 rpm / 122 mph down wind.
I saw that listing and noted how that pipe was built. It would be an expensive pipe.
Yes fancy pipe AC-29 engine with the tune pipe made by Cyclon out of  Russia.
Alberto is selling the setup: $385
https://www.ebay.com/itm/Speed-Engine-AC-29-with-tune-pipe/323774503905?hash=item4b6276dbe1:g:H4EAAOSw7Khcr3yQ
Given the size for the TD .020 this would be more feasible, say around $65 bucks a pop would be worth it. I am down for
3 of them! 2 for projects 1 for bench testing engines / props. Manifold and header would be a steal at $80 considering the
micro engine cool factor.
Have you already sent the final round of testing for the plug adapters?
That .29 is tempting. A BB OS is almost that much, and not anywhere near the technology. Too bad it's the last one. No parts when stuff breaks.
Gold Member





Posts

: 117


Join date

: 2013-01-18


Location

: Leamington Ont. Can.



Page 24 of 24 •

1 ... 13 ... 22, 23, 24


Similar topics
---
Permissions in this forum:
You
cannot
reply to topics in this forum