Cox Engine of The Month
November-2018
1/2A Nut's
"Speedy Teedy .020"
---
PAST WINNERS

Hi there. I have just a quick question regarding the running of my first TD engine. I am pretty sure the answer is yes, but just wanted to ask. Can I run a TD .051 on a clunk tank set-up? The TD is all original, and the tank is one made by me pictured here. I am assuming to hook the clunk line to the needle/venture? Thank you in advance. I am hoping to give it a whirl sometime this week.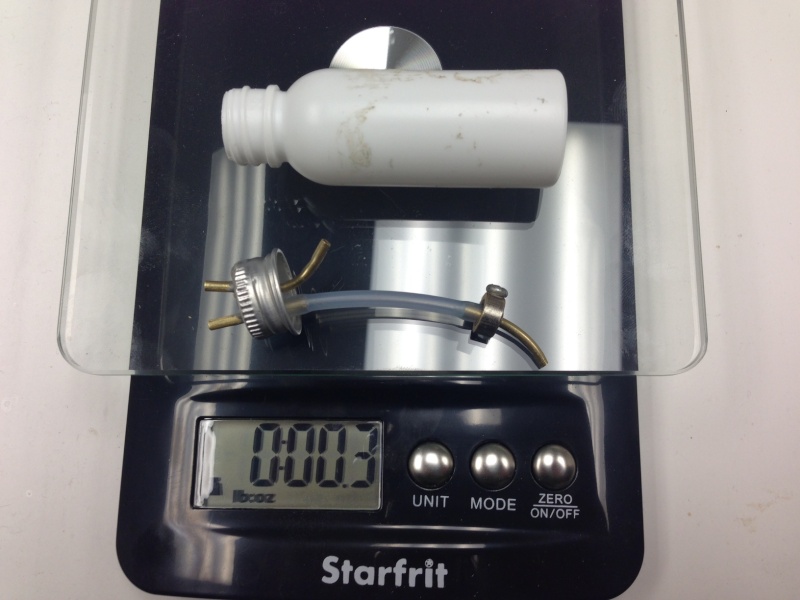 And sorry for my ignorance, at what height would I best have the tank set up at? Center of tank with center of needle?
Yup you guessed right! yes you can run a TD on a clunk tank. Just keep in mind that the TD doesn't have as much draw as lets say a medallion .049 so line placement is more critical with TD running on no pressure. The clunk (Feed) line goes to the spray bar/needle assembly and the feed line should be as close to center to the NV and as close as you can get it to the engine without pinching any lines, this will help the engine draw fuel reliably. Also about the tank, there are clunks available Hobbico and Dubro are a few that make em that you can use that sit near the bottom of the tank and have a siphoning groove on the end in the event that the clunk gets butted up against the back of the tank so as to not cut off fuel draw your clink will work however just make sure that you cut the end of the pickup into a point (two angles opposite each other) to keep it from being blocked off.
Hope this helps! (Bandit)
Last edited by TDbandit on Mon Apr 25, 2016 2:32 pm; edited 1 time in total
Platinum Member





Posts

: 868


Join date

: 2014-12-01


Age

: 47


Location

: Fort Valley Georgia



Helps a lot. Thank you for your help.
Hi New.
I had a tough time cranking my first Tee Dee. It was my first rotary valved engine too, so I'll tell you what I learned from my goofy experience.

There is a fine line between the tank positioned too high and too low. If it's too high, fuel will continuously siphon into the engine(while not cranked) and flood it. In fact that's the way usually I set up for a bench run, but once I see fuel fill the line up to the engine, I clamp it off. Then I prime and crank, un-clamping the line while the engine is running on he prime. Once you find your needle setting it's very easy to repeat every time once you get the hang of it. If it does get flooded, and it will, just keep flipping until it burns off and it'll eventually start, and you can un-clamp and it'll keep running.

If you set it up low enough to not perpetually siphon, then cover the venturi with a finger, pull the prop through and watch it draw fuel through the line. Then prime the exhaust and crank. If you think the venturi is still dry, put a drop in it too. If it's a little lower the fuel will run back away from the engine leaving you high and dry, and it might not have time to pull it back while running on the prime. Btw, remote NVs on other engines can be maddening about that too. Once it finally cranks, and if you have a small prop on it, it will scare you under the table! Lol.

And once you get to the point that's it's so easy and dependable, a Tee Dee is all you'll want to use... along with Medallions.

Rusty

P.S. I find TDs easiest to back-flip when cranking. Turn the prop in the normal direction till it stops, and then slap it backwards. Works for me. I've started using a chicken stick too. My fingers are too tired to take that kind of abuse anymore.
Moderator




Posts

: 10639


Join date

: 2011-08-10


Age

: 62


Location

: South Carolina, USA



Thank you for the help and tips. I could not find any plastic haemostats locally, so I had to settle for a larger metal pair. Hope they will be alright. I knew I bought them for something.
Diamond Member





Posts

: 2969


Join date

: 2012-10-02


Location

: Ohio



New,
If you PM your address to me, I'll send you some plastic ones. I can get them from my dialysis clinic to replace my stock now and then. They are a must have item for my flight box. You'll need them when you start using bladders on those badass TDs too Lol
Rusty

Moderator




Posts

: 10639


Join date

: 2011-08-10


Age

: 62


Location

: South Carolina, USA





Similar topics
---
Permissions in this forum:
You
cannot
reply to topics in this forum